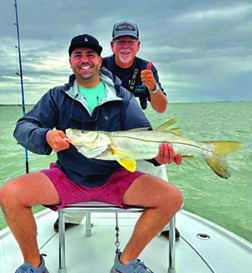 By: Capt. Greg Poland
It's a great time to be in the backcountry and the snook fishing has been as good as I can remember. We are catching lots of snook from 2-12lbs and lots of juvenile tarpon as well, my clients have had luck with everything from live bait under a cork to soft baits on a jig head. The tackle I like to use the most is a medium size spin rod, 12-15lb. class, spooled with beaded line and a fluorocarbon leader the length of the rod. I will rig one with a sinker then a swivel and a 3-5ft of 40lb leader and a circle hook so the bait can swim around but be anchored to the bottom and the other rod will be rigged with a R & R cork which you can find them at most tackle shops and a 6ft piece of leader and a 3/0 circle hook. My 3rd rod will have a jig head and feel free to use your favorite soft rubber paddle tail or favorite lure so you can cover more area while the live baits do their thing.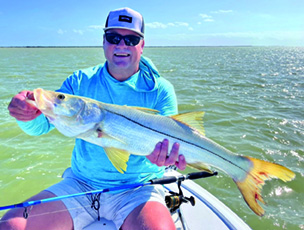 If you are looking for a guided trip, I have some open dates and would love to get you out on my brand-new Contender Bay Boat! The crew at Gus' Toy Box in Key Largo worked with me to customize this boat and I can do everything from snook fishing in the Glades to kite fishing on the edge of the reef.
They will also be rigging a custom Bimini top by the next time you read this article which can put it up in 2 minutes for that mid-day sun, but have it down for my fly fishermen. I also run trips on private boats so if you have a boat but would like some help figuring out your electronics or finding a new place to fish give me a call and let's spend a few hours out on the water.