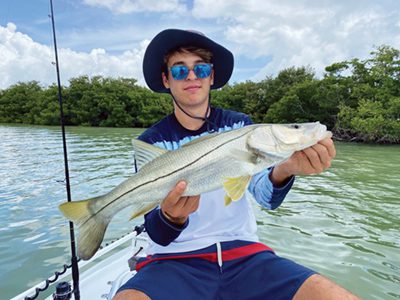 By: Capt. Greg Poland 
I have to say it's about time! I don't know about you, but it seems like we have been in an oven for months. The cold snaps will be rolling in and along with that the bait will get a bit easier to find. I have not looked in the shrimp tank at the bait shop in months but that should start to change soon.
As you get geared up for the winter fishing season here are a few things you will need to fish the backcountry of the Everglades National Park or the Gulf of Mexico when the spanish mackeral should start showing up. I like a spinning rod with medium action and either a jig head or circle hook depending on weather you are working the rod or letting it sit on the bottom and I always use beaded line with a rod length of fluorocarbon leader.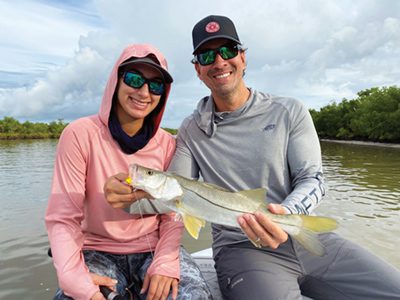 After you get settled in a spot to fish, cast out the bottom rod with a live bait, I like to put a sinker above a swivel with 3-4ft of 30lb fluorocarbon and a live bait and let it sit. While that rod is fishing off the back of the boat, I have my clients cast the rods with the jigheads along a shoreline or a channel edge and by doing this you will figure out where the fish are holding. Depending on the conditions, I might fish different sizes of jigheads and don't buy those cheap jigheads the hooks will just bend, and you will lose that big snook you are trying to catch.
I buy my jigheads from Islamorada Fishing Outfitters as they have a small selection so there is no confusion, and the hooks are better quality than the run of the mill jighead at the same cost. Randy is a fishing guide and only sells what he uses on his boat! As the water temp cools off start venturing into the Gulf for spanish macks, which is one of my favorite things as we simply catch lots of fish and everybody has a great time. With this style of fishing, use light to medium spinning rods, as many live shrimp as you can afford, and a few boxes of chum.
A few years ago, I bought a Chummy Hoop chum bag and it changed my life. I got so tired of those cheapo white chum bags and it's been worth every penny. They are available online or at just about every bait shop in South Florida and so easy to use and clean up. I will write more about the macks as they start showing up when we get a few cold snaps so you're ready when they get to town.
If you would like to get out and help me break in the new boat, give me a ring or send me an email.
— Contact Capt. Greg at 305.393.3327 or email gregpoland@icloud.com
Instagram: gregpoland Facebook: Fishing in the Florida Keys with Capt. Greg Poland