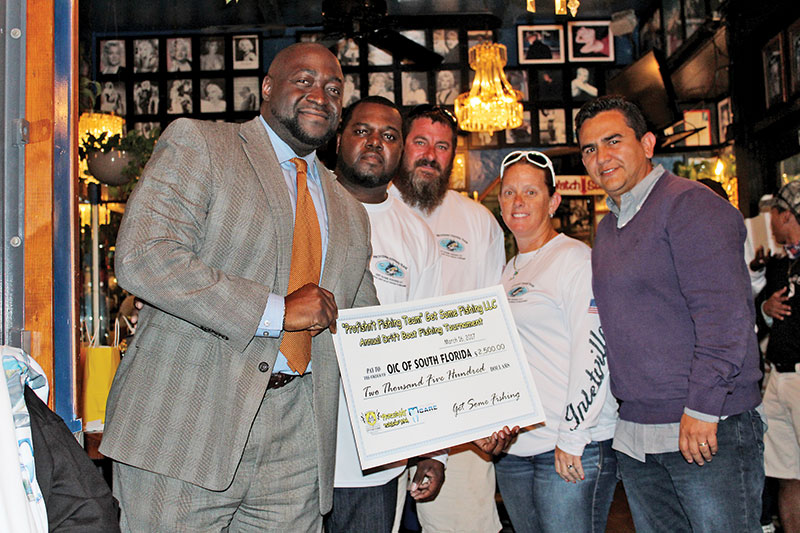 The Profishn't Fishing Team, Get Some Fishing LLC Annual Drift Boat Tournament to benefit the OIC of South Florida was held March 15th and 16th.
To kick off the event, a party for anglers and sponsors was held at the Floridian Restaurant on Las Olas Blvd in Fort Lauderdale. There was plenty of food and drink along with some great fellowship. A silent auction and raffle helped to raise $3600 for the Opportunities Industrialization Centers of South Florida. The not for profit charity is a community based work­force development, education and training organization that prepares individuals for the world of work by reducing barriers to employment, providing comprehensive vocational skills training and fostering youth aspirations through prevention and intervention strategies that support positive youth development and strengthen families. Tournament organizer, Steven Rogers shared how the OIC organization helped him to become the man he is today by providing him with a much needed hand up instead of a hand out.
The next afternoon, thirty of the best drift boat fisherman in South Florida went toe to toe aboard the pride of the Fishing Headquarters fleet, Catch My Drift out of Fort Lauderdale for six hours of fishing. As Capt. Brett fired up the twin diesels, the anglers congregated at the bait station to prepare their baits for the first drift. It was interesting to see how each angler prepared their baits differently. I didn't realize there were so many different ways to plug or butterfly a ballyhoo. Each angler was allowed to bring two outfits on board, but only allowed one line in the water at anytime.
Shortly after clearing the inlet, Capt. Brett set the boat up for the first drift and it was on. Almost immediately, mutton and yellowtail snappers were hitting the deck. There were several nice red groupers caught as well, but had to be released. The bite continued for most of the afternoon and good numbers of fish were caught. Overall, it was a great day of fishing, but the big fish just weren't around or weren't hungry.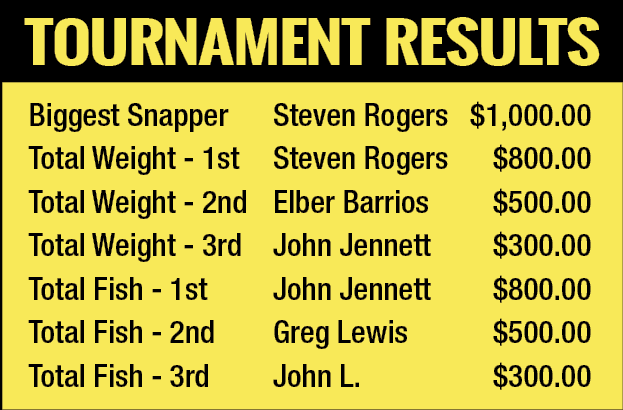 Thanks to all of the anglers for their participation. It was a pleasure to meet and spend time with each of you. Profishn't Fishing Team, Get Some Fishing LLC, Life Dental Care, Floridian Restaurant, Fishing Headquarters, Gettin Jiggy, SeaUsmile Lures, Wynners Circle, Tug My Rod, True Love Tattoo and First Place Trophies of America were all sponsors and deserve a special thanks. Please do what you can to support these local businesses. Coastal Angler Magazine Fort Lauderdale looks forward to partnering with this event for years to come.
~ Gene Dyer