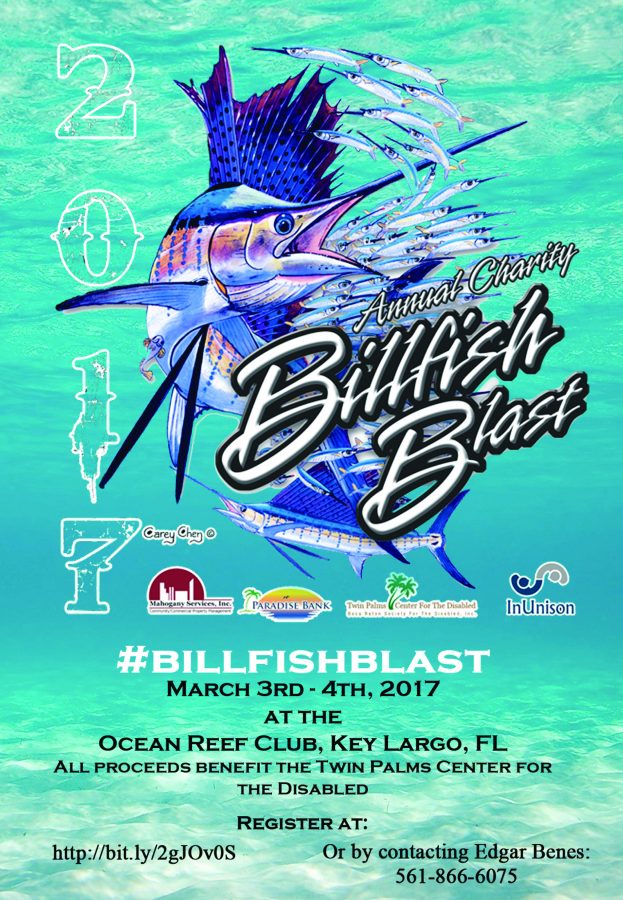 Paradise Bank and Mahogany Services Present the Annual Charity Billfish Blast At the Ocean Reef Club, Key Largo, FL
– All Proceeds to Benefit Twin Palms Center for the Disabled –
Dates:
Registration and Captain's Meeting – Friday March 3rd, 2017 from 7:00- 10:00pm, Ocean Reef Club, Key Largo, FL
Tournament – Saturday, March 4th, 2017 8am-4pm – Offshore southeast Atlantic Ocean with weigh in at the Ocean Reef Club Fishing Village to follow.
Awards Ceremony & Raffle – Saturday March 4th , 2017, from 7pm-11pm, Ocean Reef Club, Key Largo, FL
Sunday: All Tournament events are done – Enjoy the day and have a safe trip home.
Entry Fee:$1,500.00 per boat which includes four registered anglers – All entry fees will go directly to Twin Palms Center for the Disabled. No refunds will be given for entry fee. Entry fee deadline is February 15th , 2017, after February 15th , 2017, the entry fee is $1,750.00. Entry will include dinner tickets and drink tickets for both Friday night and Saturday night for the four registered anglers; however six anglers are permitted to fish and will be responsible for their meal and drink tickets available upon request. Extra meal and drink ticket will be available to purchase for guests in attendance.
Lodging and Boat Slips: All reservations for rooms and dockage must be arranged by each entrant directly with the Ocean Reef Club. The reservation desk of the club may be contacted by calling 1-800-741-7333 or email reservations@oceanreef.com. Please identify yourself as part of the Paradise Bank Fishing Tournament. Boat slip reservations must be made directly with the dock master, at 305-367-5908.
Licenses: All anglers must possess necessary valid fishing licenses.
Tournament Hours: Saturday – Lines in at 8:00am, Lines out at 4:00pm. Weigh in will be held at Orvis Outfitters between 4:00pm and 5:30pm. Boundaries are between Triumph Reef (Latitude 25˚ 28 minutes 59 seconds) and Elbow Reef (Latitude 25˚ 8 minutes 40 seconds). Committee boat will monitor VHF channel 78.
Equipment – All fish must be caught on rod and reel. The angler must fight and bring the fish to the boat unaided by any other person. Kites may be used, electric reels permitted for kites only. IGFA rules. No professional anglers allowed. Six line maximum.
Live bait will be available for purchase but must be reserved a week prior to tournament. Contact Edgar Benes for more information: 561-866-6075.
Registration – All anglers on board must be registered. Up to six anglers may be registered.
Eligible Fun Fish – Tuna, Wahoo, Kingfish, and Dolphin. All fish weighed in must be fresh fish caught the day of the tournament. Anglers are encouraged to release fish not being entered. Minimum weight 10 lbs.
All billfish are eligible. 100 points will be issued for each billfish released which must be called in at the time of release. During the last 10 minutes of the tournament, all hook ups must be called in.
Categories – Top Boat – Two prizes, one for heaviest fish of eligible species of fun fish and most billfish releases.
1st, 2nd and 3rd Place Dolphin                       Most Releases
1st, 2nd and 3rd Place Tuna                            Top Male
1st, 2nd and 3rd Place Wahoo                         Top Female
1st, 2nd and 3rd Place Kingfish                       Top Junior-15 years or younger
1st Place Male Angler (heaviest fish)
1st Place Female Angler (heaviest fish)
Top Junior Angler (heaviest fish)
Top Captain (heaviest fish)                              Top Captain (most releases)
Top Mate (heaviest fish)                                   Top Mate (most releases)
First Billfish Release                                          Last Billfish Release
There will also be a Hard Luck trophy awarded to the best fish tale heard at the awards ceremony.
Protests – Any protests must be filed in writing with the committee prior to the close of weigh in. All decisions of the tournament rules committee are absolute and final.
Release of liability – It is expressly understood that all participants enter at their own risk and that the sponsors and charity and their officers and directors and all persons connected directly or indirectly with the operations of the tournament shall be exempt from any liability for loss, damage, negligence, harm, or personal injury including attorney fees, by any participant, entrant, sport-fisherman or their companions, boat captains, mates, crew members, guests, vessels and equipment which may occur during the tournament
Consent – By signing the entry form, the angler agrees to follow the tournament rules and that the tournament may use, without payment or restriction and photographs in which he or she appears for any purpose including but not limited to advertising, commercial or promotional material without compensation or restriction. All anglers are required to sign their entry form as certification that they have read and agree to abide by all the rules and the above liability release. No entry will be accepted unsigned.
Prizes: The prizes will consist of cash awards, trophies, tackle, trips, hotel stays and many other exciting items.
SCHEDULE OF EVENTS
Friday March 3rd, 2017:
7:00 pm – Registration (wristband distribution) & Captain's Meeting. At least one angler from each boat must be present to register.
8:00 pm – Casual Dinner
Saturday March 4th, 2017:
8:00 am  – Lines In
4:00 pm – Lines Out – Weigh In at Orvis Outfitter's until 5:30 pm
7:00 pm – Dinner and Awards Ceremony
Sunday March 5th , 2017:
Check Out and you're on your own! Thank you for your participation and have a safe journey home.
Any questions regarding the Fishing Tournament may be directed to the committee c/o Edgar Benes, (561) 866-6075 (cell) or (561) 999-1993 (office).