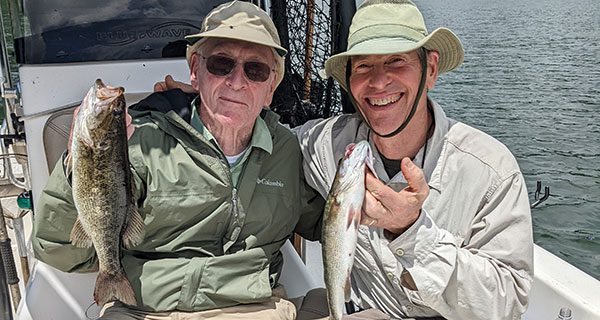 By Capt. James McManus
April showers bring May flowers" but March brought a lot of rain, so I'm hoping for a showering of fish in April. I love this time of year for guiding because fish are easy to locate and entice into the boat.
With stripers, there are still some birds around to help, while our mountain lakes have most fish pasted to the banks in spawn mode. Smallies may be through with their rite of spring, but our spots and crappie still have plenty of business to do. It reminds me of pond fishing back east where most bass made beds right against the bank. You can fish beds in our mountain lakes, but the banks get deep quick, so beds are hard to spot.
Our biggest hindrance to catching spawners, and especially crappie, is the rising water levels. I realize TVA has an agenda, but there couldn't be a better plan of attack, if you were trying to eliminate a species, than by screwing with water levels. Just when they feel the urge and seek out shallow brush in what was 3 to 4 feet deep on Monday, TVA closes the gates, and it may be 15 feet deep by Friday. Seems to me there should be a better option for their schedule.
There is also the mess that comes with quickly rising water levels, when everything on the banks floats into the middle of the lake. With the money made from power generation, some should be okay; enough whining! I am about to get my boat back from its spring tune-up, and there are many days coming that are perfect for loading the boat. Be careful out there, take kids when you can. Our family just moved next door with 5 young'uns, so if you see a Blue Wave loaded with screaming kids, it's probably me.
Thank you Lord for blessing us with our beautiful waters.
Later, Capt. James.
Capt. James McManus owns 153 Charters. Give him a call for a great day on the water at (828) 421-8125