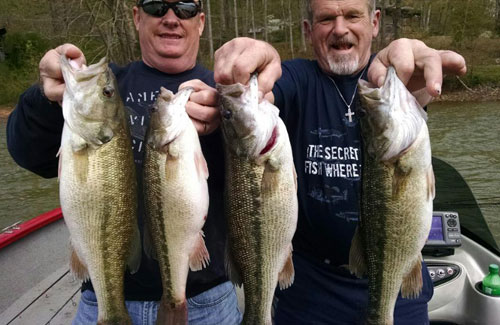 By Aaron Kephart
April is around the corner, and with it should come a lot more stability in terms of water temperatures and patterns. While we are pounding the big prespawn smallmouth at the moment, I am looking forward to next month. April is one of my favorite months to fish and guide simply because of the diversity in species and tactics that are productive. While I am happy to guide for smallmouth, spotted bass, largemouth, crappie, trophy trout, or stripers on any of our area lakes (especially Hiwasee, my home lake) this time of year, limited space demands I narrow my focus a bit. This month I would like to focus on the smallmouth and spotted bass fisheries available in April on Apalachia and Chatuge.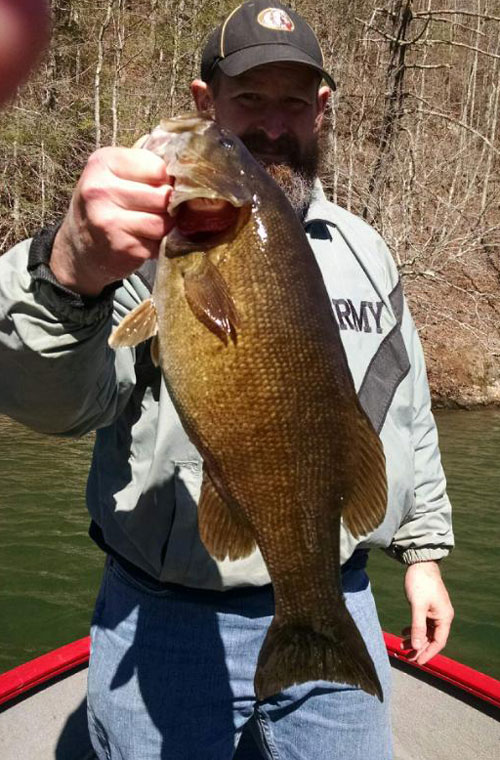 Smallmouth on Apalachia should be firing on all cylinders in preparation for the spawn. They will probably be spawning on the first full moon in the month, but spawning smallmouth are some of the more aggressive fish I have ever fished for. Based upon water clarity, wind, and cloud conditions, a whole host of baits can catch these hard-pulling trophies this time of year. We often have success on tubes, shaky heads, jigs, spinnerbaits, and jerkbaits. Live bait can also be exceptionally productive this time of year, but remember to use a circle hook to keep from damaging the fish. They are too precious a resource to kill this time of year, especially the big 5 and 6 pounders. I would also ask that you release your catch this month, as I feel that keeping spawners does double damage to a fishery. As an example of the kind of fishing that is possible this time of year, we caught 29 smallmouth off one stretch of bank on a single pass on Apalachia, on a guide trip mid-April last year. As always, exercise extreme caution on Apalachia due to the nature of the lake (a river run reservoir), and I always recommend you go with someone who knows the lake before trying it yourself.
Spotted bass on Chatuge are also typically wide open this month. While I am happy to provide live bait for guide trips, it really isn't necessary on Chatuge this time of year for an angler with manageable skills. This month offers the tail end of the jerkbait bite. It also offers a decent swimbait bite, at times, and can provide an absolutely phenomenal fluke bite. You can also catch a lot of fish on a shaky head and tube, depending on how the fish are setting up and what depth they're in. Spotted bass on Chatuge just keep getting bigger, often averaging 3 pounds each, nowadays. I had two clients catch 17 spots over 3 pounds in one morning trip, April 14th of last year.
If you are interested in a trip, please give me a call at 865-466-1345. As of this writing (March 10th) I only have 5 available April dates left. I am also booking for May and June (topwater and night fishing time). I have over 25 years of experience on Murphy area lakes, and numerous references available upon request. Keep up with us on facebook@mountainlakesguideservice, and check us out at mtnlakesguide@outlook.com.