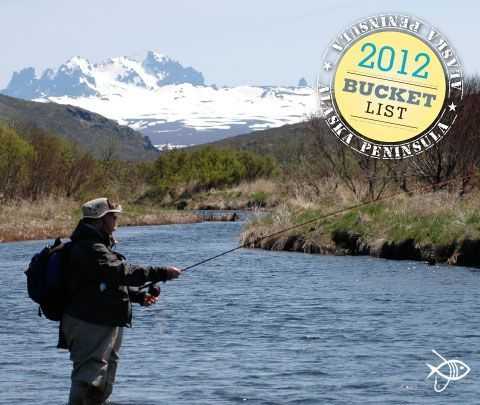 Christopher Batin
On the surface, it's the ultimate Alaska dream trip; trophy grayling to 20 inches, slab-sided king salmon, and hooking 10 to 14-pound chum salmon, cast after cast, hour after hour. At day's end, you strip out your flyline and let the current carry it downstream to the fish because you don't have the energy to cast it.
This camp begs the question: Are you tough enough to pay the price? Not in dollars but in endurance and stamina. To enjoy world-class fishing, can you endure a rustic tent camp, sneer at clouds of mosquitoes nicknamed "Brown Bombers," and trek a few miles each day in chest waders over ankle-wrenching tundra that would hobble a moose?
If so, you might be a good candidate for Alaska Outpost Camp located on the remote Alaska Peninsula. It's the rough and rugged Dr. Jekyll side of Alaska fishing; an "Are you tough enough?" challenge for both men and women who want the best of the best, and are willing to put creature comforts on the line to get it in a wilderness of volcanoes, typhoon-strength storms and brown bears.
The fish here are no wimps. Prepare to bare knuckle it out with pure, piscivorous brute force. Catch one and another will take its place. They don't rest, and they don't stop biting. Ever. So steel your mind to be satisfied with merely going the distance.
There are many fisheries here. Some you'll like more than others. Allow me to introduce you.
In early June, expect five-pound rainbows stacked in large pools, gorging on out-migrating salmon smolt. In July, forget the fry or nymph patterns. These meat-hungry bruisers want six-inch muskrat patterns with leather shoelace tails. Float them along grass-lined steep banks where the rodents drop into the current. I hooked one that was like a Poseidon missile exploding out of the water, twisting and shaking until it belly-flopped back into the current, and continued downstream with seven more jumps. Wicked.
Grayling are normally dainty feeders, but when they exceed 20 inches, they have mouths large enough to stick your thumb into. Try it on these fish and you'll get bit hard. Ornery, aggressive, and mean, they will also try to inhale big mouse patterns. At hookset, they'll spin reel handles to bust any moose-joint knuckled bubba who tries to manhandle them. Expect to catch the big males, all day, non-stop.
Chums are so plentiful here the stream bottom seems to move every few seconds. Chums resemble circus clowns with their calico outfits, big doll eyes and a perpetual grin. Don't trust them. They devour flies with gusto, will more than likely break at least one fly rod, and attract rainbows and grayling, who want to feed on their eggs. Wilderness fishing a la carte at its finest.
Big kings mean extreme flyfishing. They fin lazily beneath the surface, no more than a roll cast away, their thick, slab shoulders easily cutting the current with each tail stroke. I tell myself I need every bit of an eight-weight for these brutes; better yet, I unpack the 10, just in case there is a 35 pounder that still remembers its way back to the sea.
One cast is all I need to verify the slab does remember, and at its speed, it was headed for the East China Sea. With each fish, the battle strategy is the same: Hookset, dig in heels for the first explosive charge, then an offensive charge-and-chase through willow thickets and grass-rooted tussocks.
My backing hums with tension as my fly line disappears around the bend. At over 42 pounds, I am happy to release the fish to finish its spawning run.
I drag myself back to camp, proud that I went the distance, but ashamed that I looked like a piece of wind-hazed moose dung: dehydrated, without form or function, and smelling badly.
Camp is sanctuary and healing. Meals are great, with soothing camaraderie. Each night, the panoramic tundra offered a different performance, with an orchestra of territorial ptarmigan belting out a staccato of froggy croaks. There was a herd of caribou bulls prancing down the gravel bar, heading into the breeze to rid themselves of pesky biting flies. And of course, a brown bear ambled slowly along the far ridge in the dusk of the midnight sun, looking for its share of salmon bounty and, fortunately, disinterested in our camp of sweaty anglers. We escaped the fate of being human dinner bells.
I have seen several reincarnations of this camp since the 1980s, but one thing is constant: The fishing just keeps getting better with each visit, and Rus Schwausch's reincarnation is among the best. It's a comfortable, rustic camp with great comforts and a shower, but I warn you: The sportfishing will spoil you forever, that is, if you are up for the challenge.
Contact: Epic Angling and Adventure, www.epicanglingadventure.com
Chris Batin is editor of The Alaska Angler and author of numerous books and DVDs on Alaska fishing available at www.AlaskaAngler.com