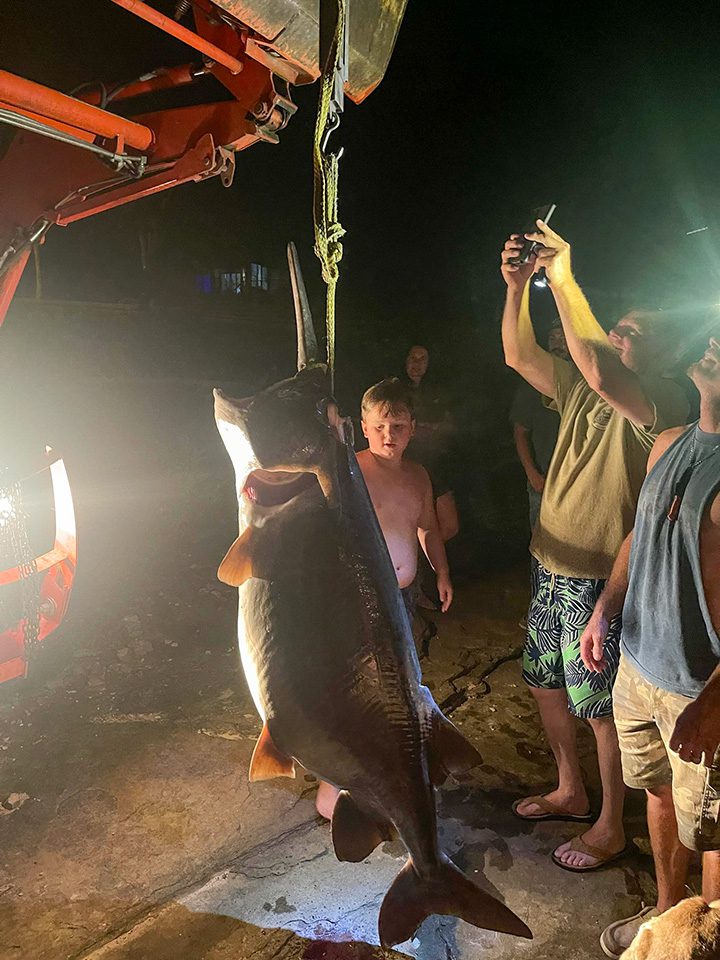 A monster 165-pound paddlefish recovered from Beaver Lake in Arkansas would likely have set a new world record if it had been caught on rod and reel.
On its Facebook page, The Arkansas Game and Fish Commission reported the incredible fish, which will not be considered for a state or world record because the injured fish was recovered by a person who saw it floating on the surface and swam out to retrieve it. The giant fish had been hit by a boat propeller, which severed its spinal cord.
Regardless of the method of take, the fish was very impressive. It weighed 165 pounds on uncertified hanging scales and measured 6 feet, 3 inches from the tip of its long snout to the top of its tail. The current world record, which was snagged with a rod and reel from Oklahoma's Keystone Lake in June of 2021, weighed 164 pounds.
Paddlefish are an interesting species. These prehistoric beasts' bones are made of cartilage, like sharks. They grow to enormous size filter feeding on plankton, and are considered a delicacy on the table by anglers who pursue them. Because they filter feed on tiny organisms rather than chasing down prey, the best way to catch them is to snag them, which is often achieved trolling specialized snagging rigs in waters where there is a paddlefish snagging season.
There is currently no snagging season on Beaver Lake. This impoundment of the White River in the northwest Arkansas Ozarks has a small population of very large paddlefish, according to AGFC, which is considering allowing a snagging season in the future.
For more information, see www.agfc.com/.