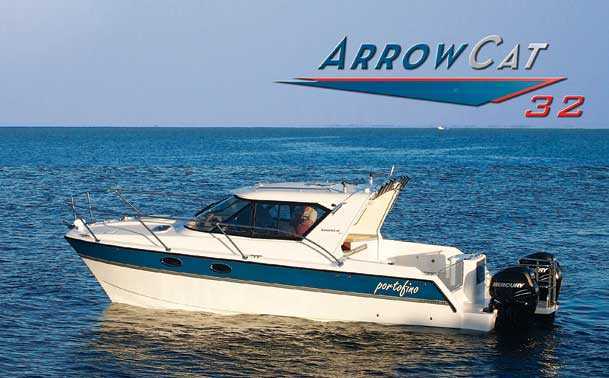 Overview
ArrowCat Marine has announced the introduction of its newest model, the ArrowCat 32. Featuring advanced, offshore-capable catamaran hull design, ArrowCat's new 32 offers a larger, more functional working deck to meet the needs of the blue-water angler, while integrating long-range cruising accommodations into an overall arrangement focused on the full scope of family and fishing enjoyment.
Performance
Built using the highest quality components and All-Composite construction methods, the ArrowCat 32 provides superior safety and seaworthiness in the roughest  waters. Its' unique hull design offers the best in planing hull technologies, producing extraordinary stability along with more speed achieved, using less fuel; resulting in best-in-class fuel efficiency.  The ArrowCat 32 comes standard with 225 hp four strokes, which offer great cruising economy (10gph @ 20knt) and speeds ranging solidly into the 40's. The ArrowCat 32 can also be equipped with up to 250's per side, yielding higher top and cruising speeds and maintaining the ability to travel 100 miles offshore.
Handling
The ArrowCat 32 handles the roughest conditions with ease, featuring a very sharp entry angle, slicing through waves and resulting in an incredibly smooth offshore ride. Utilizing a full planing hull design by Roger Hill Yacht Design and composite structure engineering by SPHigh Modulus, the height of the tunnel, combined with the lift of the planing hull and reserve buoyancy in the bow design results in incredibly stable and totally predictable characteristics in beam and following condition, further contributing to offshore confidence.  Tracking of the symmetrical planing hulls is impeccable, delivering unparalleled speed and fuel efficiency from trolling to top speeds.
Specifications
L.O.A : 31'4 ft. / 9.6m
LWL: 24'1 ft. / 7.34m
Beam OA: 10 ft. / 3m
Draft: 22 in. / 0.6M
Displacement: 7,800lbs. / 3,583kg
Fuel – 152 + 38 gal./175L
Freshwater – 44 gal./ 166.5L
Max HP – 2x 225-250 HP
Aft Deck Dimensions – 8'-6" x 6' +platform
Insulated Livewell and Fishboxes
[easy-social-share]