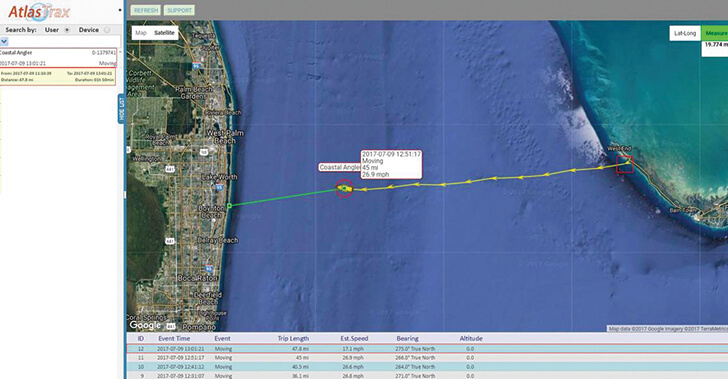 Over the years, I've been fortunate to cross the Gulfstream many times for the purpose of fishing the beautiful waters of the Bahamas. We have always filed float plans with the Coast Guard and U.S. Customs through the Small Vessel Reporting System and shared our plans with a few friends and family members just in case we ran into a problem or broke down.
Recently, we had the opportunity to go to West End for a long weekend of chasing yellowfin tuna out of Blue Marlin Cove Resort and Marina. Prior to our departure, our friend Carolyn Stash at AtlasTrax USA offered to loan us a Sea Trax II GPS tracker for the trip and provided a live hyperlink so that our families and friends could see exactly where our boat was at all times with a simple click of a mouse.
Through the hyperlink and google maps; our exact position, distance traveled, and average speed were all right there on the computer screen. Carolyn even went above and beyond by personally monitoring our entire trip. With cell phone service from the Bahamas sketchy at best, it was comforting to know that my wife could see that we were back at the dock each evening safely. We even had the peace of mind to know that our boat was being monitored even when it was in the slip so we could sleep at night.
We never did find the yellowfin tuna that we were looking for, but we did catch a bunch of flag yellowtail snapper each day. On the second day of fishing, while yellowtailing just off West End, we noticed a huge flock of birds working just a mile or so due west of our location. After quickly pulling the anchor, we ran toward the birds to find a huge school of football sized blackfin tuna busting the surface. We set up our spread of three small bullet type lures, positioned the boat just in front of the school and it was on. Within 20 minutes, we had three triple headers and two double headers and put 13 footballs on ice in the fish box.
As all good things must come to an end, we loaded the boat back up on Sunday morning for our return trip home, pulled out of our slip around 11 AM and pointed the bow west for the run home. Three hours later, we were back home safely and cleared customs after a short wait. While we were waiting to clear customs, Carolyn called me to personally welcome us home. It was pretty cool to look back at our trip through the hyperlink and see a recap of our entire trip. The Sea Trax II worked great, and service was even better. Thanks to AtlasTrax USA for the Bahamas peace of mind.
Learn more at www.atlastraxusa.net. Gene Dyer is co-publisher of Coastal Angler Magazine, Fort Lauderdale.