By Michael Landress:
We blasted through the Boynton Inlet on the first full day of fall and set lines in 33 fathoms near one of the many reefs just a short pelican's glide offshore. It was ramp-to-reef in minutes for the five of us, Capt. Chris Lemieux, Carson, Jeff, Mike and his father-in-law, Joe. It's one of the many perks we enjoy fishing out of Boynton Beach, also known as the Gateway to the Gulf Stream.
Our goal this day was modest, to catch and release Florida's premier game fish for our senior angler, Joe. During his 84 years, Joe had never battled a sailfish.
Unfortunately, any hope of doing so on the reef was quickly trammeled by a school of ravenous rainbow runners that pillaged our lively baits at an astonishing rate. A relative of the greater amberjack, rainbows are feisty on hook and line, but offered no food value for the men of this vainglorious crew.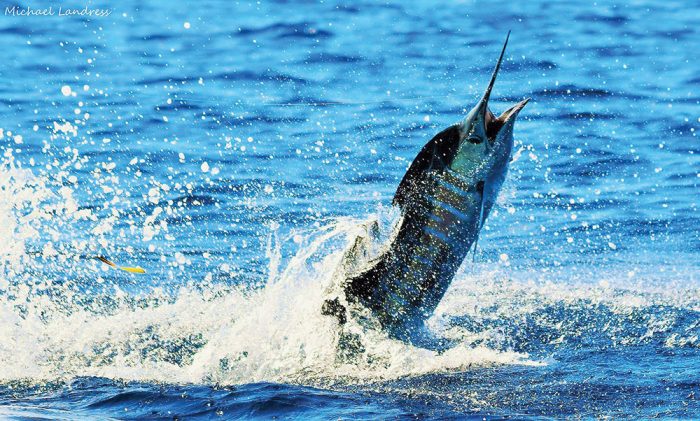 We decided to run farther offshore into deeper water to hunt the harlequin green and yellow denizens of the deep—dolphin! After a short run on a flat sea, we arrived at a large patch of pelagic weed drifting in 800 feet of 86-degree water. Baitfish soon rained down upon the blue water after being violently wacked from a cozy dip net by the well-placed palm of our determined captain.
After a few minutes, it became evident this seemingly perfect, floating asylum harbored zilch predators. Then, a dark silhouette suddenly appeared against the morning glare 50 feet from the bow of the Conch Cruiser. Shark or marlin I thought. "Sail, sail, sail!" we screamed like school boys.
It was Florida's fish, the sleek marauder that we sought earlier on the reef.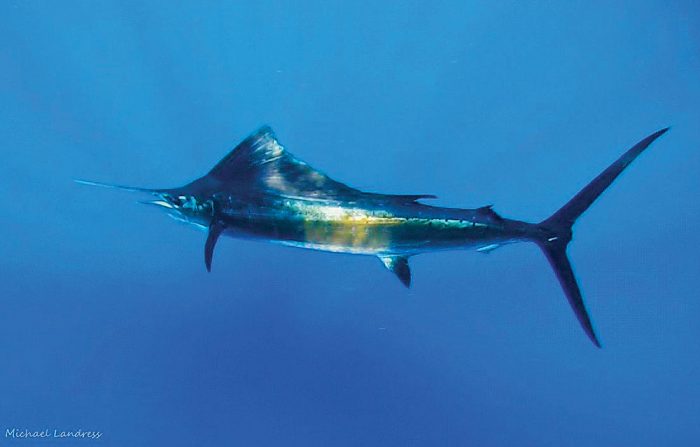 As she laggardly cruised on the surface with sail raised, Chris pitched a live threadfin herring a few feet in front of her… a perfect cast. Enticed by the presentation, she gobbled the bait and the fight was on.
Lit-up and furiously angry, she raced across the ocean at warp speed. Chris barked for Joe to take the rod, and the grizzled angler complied. After 20 arduous minutes, first mate Carson captured leader and the billfish was free.
Underwater GOPRO footage indicated a successful release as her large symmetrical tail propelled her into the depths. There is no photographic evidence of Joe's multiple naps later that day, but more importantly a fine and weary man was able to complete one of the items on his (chum) bucket list: dueling an autumn sail!