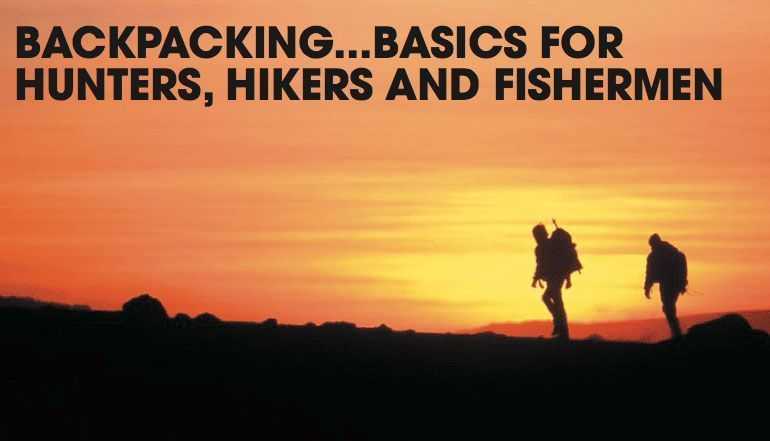 By Richard Griggs
Backpacking equipment has come a long way. Technology and product development have allowed improvements in pack design, synthetic insulations and waterproof/breathable fabrics. But in many ways, the planning and preparation have remained unchanged.
Go light, but right has been the mantra of backpackers for years. Now it's easier with improved gear, quality outfitters and information on the internet. Nevertheless, when selecting gear, scrutinize the actual weight. A pound saved on a tent, a pound on a pack, a pound on a sleeping bag, six ounces on a stove, eight ounces on a sleeping pad etc….. all adds up and can keep you from hauling unnecessary weight.
A backpack that fits your torso, is sized for the load you expect to carry, and is correctly adjusted, is the main ingredient to carrying any load efficiently and comfortably. Brand is not particularly important, nor is internal frame vs. external. Proper fit to the shape of your torso is critical. A good fit almost always means you need to try the pack on, with weight in it. Is it comfortable in your lumbar region? Is head movement restricted? Does the waist belt allow for proper adjustment? Do the straps suit the shape and contours of your neck and shoulders? Only trying it on will tell for sure. A simple torso measurement is only part of the equation.
Buy a pack with sufficient capacity. Some shoppers opt for smaller packs thinking their load will be lighter. Then they realize they must strap gear to the outside, thus reducing the pack's efficiency and its comfort. An internal frame pack carries most efficiently with all your gear inside. Shop carefully to get a good fit and adequate capacity in the lightest pack you can find. The modern external frame packs perform quite well and are still the choice of many. This is especially true for folks who need to carry heavy loads, tools, odd shaped equipment, or hind quarters and rack from a trophy hunt. Ultralight packs are only for ultralight loads.
Sleeping bags have changed due to advances in synthetic insulation. Now a quality bag from a well-known maker will rival the lightweight and compressibility of an average goose down sleeping bag. It will weigh about 2.5 lbs. for a 20-degree rated bag…almost two pounds lighter than a synthetic bag from the past generation. However, for the serious backpacker needing maximum warmth, compressibility, light weight and broad temperature comfort range, you still cannot beat a premium goose down bag. Make sure you know the total weight of the bag…."fill weight" is only part of it. Remember a sleeping bag's warmth depends on a good, insulating mattress pad.
Tents have gotten lighter and better due to changes in fabric, aluminum tent poles and size. This is an area where a careful shopper can save a good bit of weight. A tent is your primary shelter, so quality and dependability is key. A discount store tent is probably not up to the challenge of backcountry weather.
Today, however, a properly rigged hammock and tarp can be a good, lightweight shelter. Many hikers are finding this can be a comfortable option when level ground is hard to find. Some extra insulation can make a hammock a good option even for winter camping.
Careful research and shopping can be the key to successful backpacking. The right choices on primary gear as well as accessories will insure a lighter, more comfortable, and safer trek into the backcountry whether hiking, hunting or fishing.
Richard Griggs has owned and operated Carolina Mountain Sports in Statesville, NC since 1998. The store specializes in fly fishing and hiking equipment as well as canoes and kayaks and outdoor accessories. Richard has backpacked year round in the Appalachians from North Carolina to Maine since the 1960s. More info is available at carolinamountainsports.com.