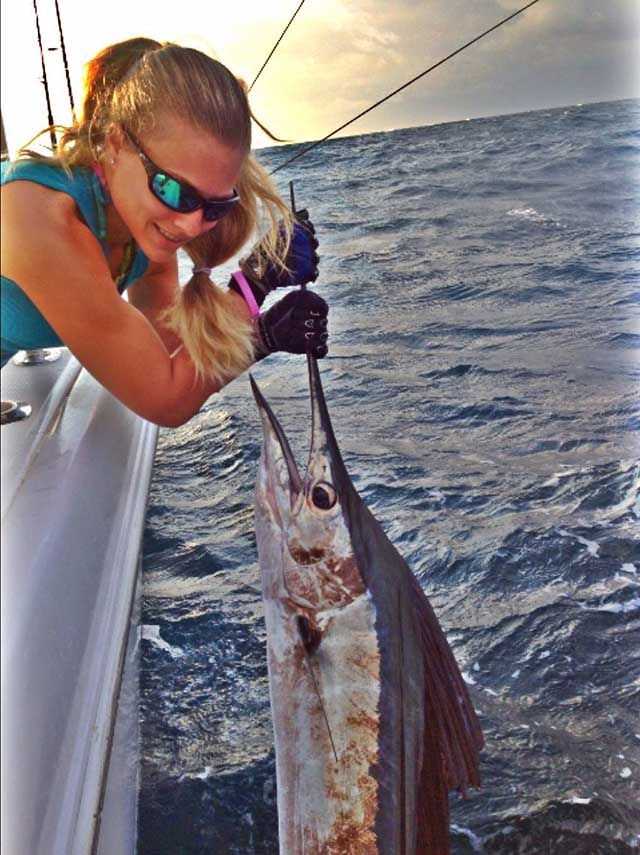 Abaco Inshore
Capt. Tony Bain from South Abaco Adventures shares, "During the next few months the water temperatures will start to cool down and we will begin to see a lot larger schools of bonefish and permits on the flats. There will also be our friend, the Barry (the barracuda) along with the other usual suspects lemon, nurse and reef sharks. We may find a tarpon or permit and the yellowtail snappers are reappearing."
South Abaco Adventures team will target bonefish with 6- to10-pound spinning gear and 8- or 9-weight fly rods. The spinning rods we will tip with small pieces of conch meat or shrimp. The barracuda, with its sharp teeth, will be targeted with 15-pound spinning gear tipped with light green lures.
Inshore waters will be trolled for cubera snapper, amberjack and yellow jacks in 10 to 15 feet of water. We will troll with 30-pound conventional gear using red and black skirts.
Bimini Offshore
Capt. Chase Camacho, stationed at the Bimini Big Game Club tells us, "The water starts to cool down in September and the fishing becomes more active. It's wise to run a deep planer in order to pick up some of the bigger dolphin, because this is where you will find them. Tuna will be spotty, but each catch will be beefier, so hold on tight.
Deep drop has been the best so far and picking up yellow-eye snappers in 650 to 750 feet of water can fill your cooler very quickly, Don't forget to try for queen snapper in about 1400 feet of water. These fish are very concentrated and easy to find IF you have a good depth sounder.
Yellowtail, grouper and bottom fishing have remained strong in August and if it's a repeat of last year, September will be even better. Your best bet for bottom fishing has been south as far as Sandy Cay and as close as Cat Cay.
Northeast would be the Gingerbread Grounds. If you care to anchor up and do and all nighter, you'll be surprised with your haul. The sunrise and sunsets are breathtaking.
Up by North Issac's, if it mirrors last year's action, we expect tuna to cool, but again bigger dolphin to show in that area. Best bet would be to troll in the drop off from the bank in about 450 feet of water and work it all the way to North Issacs."
Bimini Inshore
Bonefish Ebbie tells us "While Bimini is renowned for its fantastic bonefishing, another prize species that can certainly bend a rod is permit. September will bring great permit action for the angler who wants something a little different. The fish will be on the larger end of the scale for sure based on what we saw in August, typically in the 30- to 35-pound range, and some larger. While the day time temperatures are still on the warm side, the waters surrounding Bimini will begin to cool due to the short length of day. This will bring more bonefish out onto the flats for longer periods of time. You will still find fish in the deep channels and edges, however, and particularly near moving water. There will be more singles and doubles cruising further out onto the flats and you will see more tailing than over the last couple of months. For even more diversity, you will be able to target tarpon, barracuda and jacks as well. Live bait (crabs and shrimp) will be most effective. Nearshore reef fishing activity will include all variety of snapper, muttonfish, grouper, trigger fish and more."