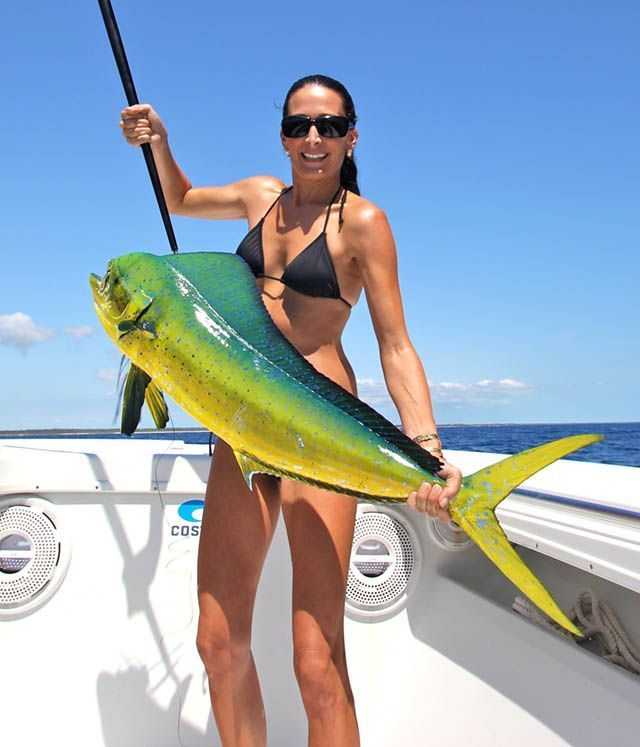 Abaco Offshore
Offshore forecaster June Russell from Blackfly Lodge, Schooner Bay, reports very large early schools of dolphin have arrived and suggests you add yellowfin and blackfin tuna to your catching list. June recommends trolling with skirted ballyhoo and to put four to five lines out at time, then to sit back and wait for the double or triple strikes that are sure to come. She said to watch for the frigate birds, which are chasing the schools up onto the reef, and to troll in 200 to 300 feet of water. June says bottom fishing is great as well and will continue to produce a nice haul of yellowfin rock fish and some large yellowtail snappers.
Abaco Inshore
Capt. Tony Bain, from South Abaco Adventures in Sandy Point, reports bonefish are already schooling on the flats and that a recent half-day fishing charter in mid-March yielded nine bonefish releases, as well as a nice sized permit. On windy days, inshore trolling has been productive resulting in mutton snappers to yellowfin groupers, and the ever-acrobatic barracuda. For details on tackle and bait, check out his full South Abaco Inshore Forecast at www.cambahamas.com.
Grand Bahama Offshore
Capt. Johnaceo "Nay Nay" Saunders of La Bohème Sportfishing tells us this time of year several species of fish are biting off of Grand Bahama including blue marlin, white marlin, sailfish, wahoo, tuna, dolphin and king mackerel. Live baiting, dead baiting and artificials trolled at speeds of 7 to 15 knots are tempting the fish. He recommends fishing Tuna Cayon and the Wahoo Highway for the best results.
Grand Bahama Inshore
Capt. Whitney Rolle at Firefly Bonefishing in East Grand Bahama says the island is having an early start to the schools of bonefish that move around the island collecting fish as they prepare for spawning season. Typically this behavior would begin in mid-April, but this year the pattern began in early March. He attributes the change to a warmer winter and warmer water, and offered this, "Now let me warn you, there is a time for fishing and a time for catching, as we say in guide land and this is catching time." His recommendations for bait and tackle can be found on his Grand Bahama Inshore forecast at www.cambahamas.com.
Bimini Offshore
Capt. Chase Camacho from Chase N Dreams Yacht Charters, based out of the Bimini Big Game Club on North Bimini, shared that in March dorado, and blue and white marlin, were showing up. To find the dorado, as well as yellowfin, he said to look for the flying fish in the 250- to 500-feet of water range; they'll let you know that you're in the right area. Capt. Camacho also reminds anglers to be prepared: check lines for fraying and replace snap swivels to ensure the fish gets into the boat.
For more reports and April fishing forecast from across The Bahamas, visit www.cambahamas.com.
Photos below are from The Bahamas Coastal Angler Magazine fishing reports and forecasts for April. Visit the site for all the catch and island details!