[dropcap]H[/dropcap]ere are the latest fishing reports and January fishing forecasts from our fishing guides and charter captains in The Bahamas.
Grand Bahama
According to Capt. Whitney Rolle of Firefly Bonefishing, January is a great month for inshore and flats fishing in the Bahamas, especially East End, Grand Bahama. "The water is not cold so if you want to fish for bonefish they are still high on the flats." There have been some recent reports of tarpon catches, and Capt. Rolle says there is always shark, barracuda, jacks, and permit to bend rods.
Abaco
Kevin Sawyer from Island Boy Tackle in Marsh Harbour confirms that the wind in December made it challenging to get offshore, but that in January, conditions should improve. He said there has been a very strong wahoo bite, which should continue this month. The fish aren't huge, but are there in good numbers. Mahi-mahi should begin to show this month. Reef and bottom fishing has been good, with anglers bringing in plenty of yellowtail and mutton snapper. Kevin reminds us, "As we turn the corner into the New Year, the Abacos are heading toward the best months of offshore fishing."
Nassau
Capt. Teddy Pratt reports that with a little chill in the air, the wahoo are biting really well, with hookups in the 25 to 60 pound range. He recommends trolling the ledges, either at slower speeds with ballyhoo and lures, or high speed with only lures. A few mahi-mahi and kingfish should be in the mix this month as well.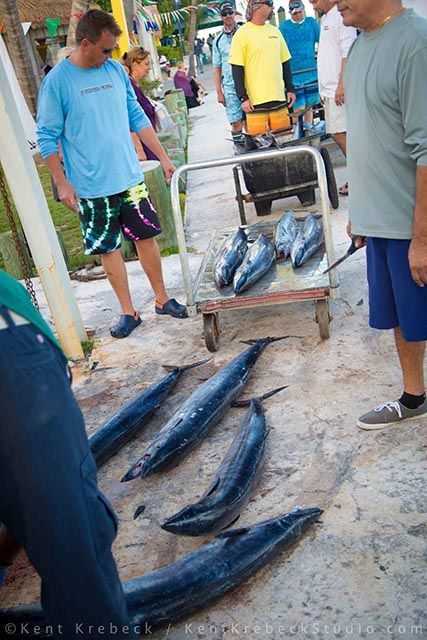 Bimini
Bonefish Ebbie reports that with the colder surface waters due to wind and overall temperature, bonefish will tend to be hanging in deeper water. He recommends targeting the tidal channels and creeks on the incoming tide, which will bring in warmer water with the tidal exchange. The good news is the fish on average will be larger, but the bad news is schools will be smaller. Permit, barracuda, and an occasional tarpon will also be in the mix this month. Natural baits (cut shrimp, conch, crab) will work well, as will standard flies. Nearshore catches will include yellowtail, triggerfish and a variety of grouper including strawberry grouper. 
Long Island
Capt. Luke Mallis of Reel Addictive Charters tells us, "January is the best month of the year for catching wahoo in Long Island."  The majority of the fish have migrated into the Bahamas, congregating around favorable structures such as Diana Bank and Simms Bar. Capt. Luke tells us he has had trips in January fishing Diana bank where he simply cannot set more than two lines in the water before getting a strike. Go get 'em wahoo slayers!
For more detailed reports and other island forecasts, please visit www.cambahamas.com.