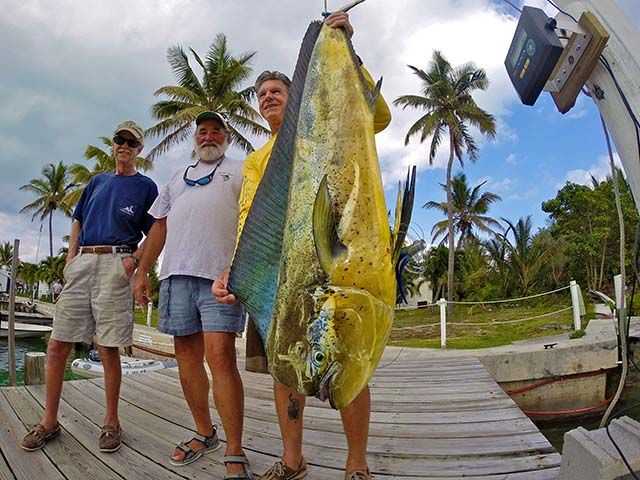 Grand Bahama Offshore
Capt. Johnaceo "Nay Nay" Saunders says the Grand Bahama offshore fishing forecast for June is nothing short of "Hot, Hot, Hot!" He also shared that Tuna Canyon, due south of Lucaya, is buzzing with tuna, and mahi mahi of good size are being caught.
Abaco Offshore
According to Treasure Cay Marina Manager Cliff Bootle, "While wahoo have all but disappeared, anglers can look for an abundance of good size yellowfin tuna with mahi-mahi in the mix as well." Cliff says the reef fishing should be great as well, with plenty of mutton snapper, yellowtail and grouper.
From South Abaco, June Russell from Blackfly Lodge at Schooner Bay reports, "There are still some wahoo to be found 'down south', but the yellowfin tuna bite has been fantastic. Just look for the birds." June said there has been tons of dolphin as well. This is a great time of year to be fishing Abaco waters.
Bimini Offshore
Capt. Chase Camacho, Chase N Dreams Yacht Charters, based out of the Bimini Big Game Club on North Bimini reports, "Blue marlin has been spotty and finicky so far, so expect to see more knock downs this June than last year. These fish have been so picky as they show up in your spread, charging your baits and then just seem to fade into the blue, just inches before they have reached the hook! We have made every type of offering, including the bait and switch routine (pull the bait, while floating another one down to them) to entice them to bite, but they don't seem to want to play any of our games." Capt. Camacho also says deep dropping has been very steady.
North Eleuthera
Capt. Ryan Neilly (Spanish Wells Fishing) fishing out of Spanish Wells predicts the top three fish in June will be yellowtail snapper, mutton snapper and yellowfin tuna. He shared the best locations for yellowfin tuna will be Pinnacle Bar Point, Shallow Ground Point and James Point—all have been the hot spots for the last two months.
Exuma
Capt. Doug Rowe, of Fish Rowe Charters in George Town, reports strong catches of mahi-mahi and that Highbourne Cay and surround areas will be prime spots for white and blue marlin. If marlin is your game, Capt. Rowe recommends going big on lures and to use a ten knot troll. "Blue and white lures will always be strong here and catch anything that swims."