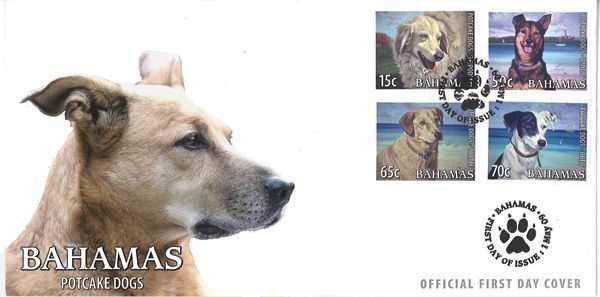 What's a Potcake?
"Potcake" is the Bahamian term for the thick, leftover food that remains in the bottom of a pot of peas 'n rice after several reheatings. Traditionally, Bahamians fed potcake to the oudoor, indigenous dogs that freely populated the Bahamas. Hence the dogs have come to be known as Potcakes.
Although officially considered mixed-breed dogs, the Royal Bahamian Potcake is a recognized breed in The Bahamas. They have distinct characteristics of size and temperament. This is because, until very recently, all island dogs shared the same isolated gene pool. This makes the Potcake an extremely unique species of canine.
As a general rule of thumb, Potcakes have smooth, short fur with little or no undercoat, cocked ears, a hound-like rib cage and long terrier-shaped faces. More rare are shaggy or rough coat Potcakes but they do occur naturally. While the "typical" Potcake is brown, colors range from parti to black, white, cream, yellow and red. Adults stand about 24 inches high at the shoulder. Normal adult weight in the bush is about 35 pounds. Healthy, homed Potcakes can weigh anywhere from 45-55 pounds, depending on bone structure.
Potcakes are genetically-engineered to tolerate heat, long-term physical stress, extreme competition for food, and a low protein diet. As pets, Potcakes comprise the "traits of the Potcake breed" and are highly-intelligent, fiercely loyal, and very enthusiastic, bonded companions. These dogs are generally uncommonly smart, easily-trained, and make loyal and loving companions.
Meet Coastal Angler Magazine's Potcake ambassadors, Sapona Desdemona, Peaches and Caddy
Sapona was adopted in February 2013. When she arrived she was 9 pounds. Now at nearly two years, Sapona weighs in at 52-plus pounds. WOW! She carries all the characteristics of the "typical Potcake", loves meeting new people, loves the water, and loves her family immensely.
Peaches was welcomed into our household in November 2013. She was six months old, full of spunk and antics, and was welcomed wholeheartedly by Sapona. Peaches now weighs a little over 44-pounds and loves to "kill" her toys, chase lizards, and antagonize her Potcake sisters.
Caddy joined the pack in July 2014. Caddy was one of five Grand Bahama Humane Society dogs coming in to Fort Pierce International Airport aboard a private plane from Grand Bahama. All were to be going to a rescue facility in Colorado. Well, Caddy ended up escaping from the aircraft on the runway — becoming the runaway on the runway. Caddy managed to evade rescue attempts for over two months. With enormous concern and assistance from volunteers and two animal loving St. Lucie County Sheriff's Deputies, Caddy was finally "recovered" and ended up at Guertin's Landing for some very much needed rest and relaxation. After a few days with her, we couldn't bear the thought of traumatizing her with another airplane ride, so we officially adopted her. Her Potcake sisters love her dearly and Caddy is one affectionate, loyal and playful dog! We believe she was a little over two when we adopted her and she is 34-pounds, up a couple of pounds after some good food and love.
There are many organizations that Potcakes can be adopted through. Here are a few to checkout, and if you do contact them, let them know that Sapona Desdemona from Bimini referred you.
And, to give your dog some island flair, check out the cool attire offered by Potcake Collars, receiving a four paws up rating from our three Potcakes!
Last, if you aren't able to give a Potcake (or a Potcat) a home, consider making a contribution to one of the rescue organizations that help the animals.
To learn more about "Amigo the Potcake", the inspiration behind the Potcake Commemorative Stamp, visit http://www.amigosfund.org/ and also check out the video below.
Caring for your Potcake or Four-Legged Friend
Check out the various links below, offering insight to traveling with your dog to The Bahamas, as well as caring for your furry family member while at home:
• Compiling a first-aid kit for your four-legged friends
• The Dog Days of Summer: Safe Summer Fun with Man's Best Friend
• How to Take your Family Dog to The Bahamas