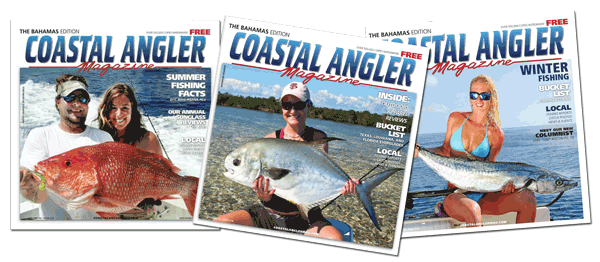 Welcome to the Bahamas (Flahama™) edition of Coastal Angler Magazine, designed for the enjoyment of anglers, boaters and outdoor enthusiasts of all types! One of the largest outdoors publications in the United States (circulation 500,000+), Coastal Angler Magazine covers the Bahamas, as well as over 54 markets in the United States (New England, Mid-Atlantic, Southeast, Gulf Coast, Great Lakes, Rocky Mountains, West Coast,  and Hawaii).
Here's what is waiting for you in every issue of the Bahamas Coastal Angler Magazine:
Fishing and boating tips
Conservation news from the Bahamas National Trust, Friends of the Environment, Cape Eleuthera Institute, and more…
Catch photos
International, national and regional outdoors news
And more!
Please join in our discussion here and check back for the latest fishing and boating news, special offers, behind-the-scene stories, and some friendly Flahama™ fun (the best of the Bahamas and a little bit of Florida) fun!