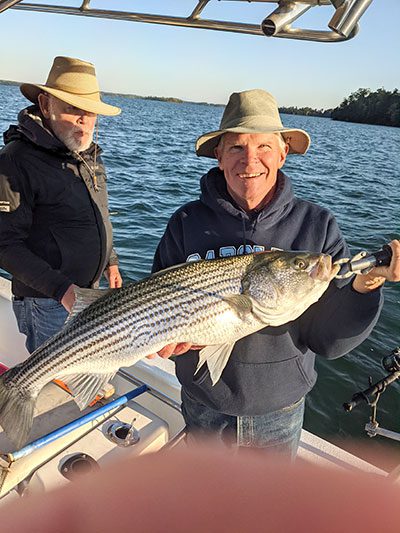 By Capt. James McManus
I love it! That first day, when the winds calm, the sun's warm, and there are no distractions to keep me off the lake. February can be an exciting time to be on the water, with fish coming out of winter doldrums. Spawning season is just around the corner and fish are typically in as good a shape, real fatties, as they will be all year. They are also shallow, or headed that way, which is a pretty big deal on our mountain lakes. A good cast towards the bank will put your baits from the surface down to 45 feet or so in most places. Our bass can be anywhere in that range and barring a really cold blast, shouldn't be any deeper.
After some shad die-offs because of the cold, there won't be as much competition for your offerings as in the fall. This can make for aggressive feeding, especially if the weather cooperates. Baits are as varied as your personal tastes but I typically stick with natural size and color with depth controlled by whether I go plug or jig. My go-to plug shallow to 20 or so feet is a Rapala jerkbait, my deeper jig combo has an eighth oz. head with a Kietech or Zoom swimbait. As crawfish start to move around, a lipped crankbait is killer at times. I like to still target points where there is a gravel clay base with a few big rocks thrown in. As our lakes start to refill, our fish move so it sometimes takes a little scouting.
My only problem this year is that I am building us a new house. Our daughter's family is bringing their five adorable kids and moving into our old house so we will have quite the crowd on East Fork real soon. Trying to finish the house in time to take grandkids for some spring fishing, which includes lots of snacking, netting, swimming and occasionally catching, can't wait. Remember to take time to take kids whenever possible, bundle up if you get out and be safe. 'Til next time, Capt. James.
Capt. James McManus owns 153 Charters. Give him a call for a great day on the water at (828) 421-8125