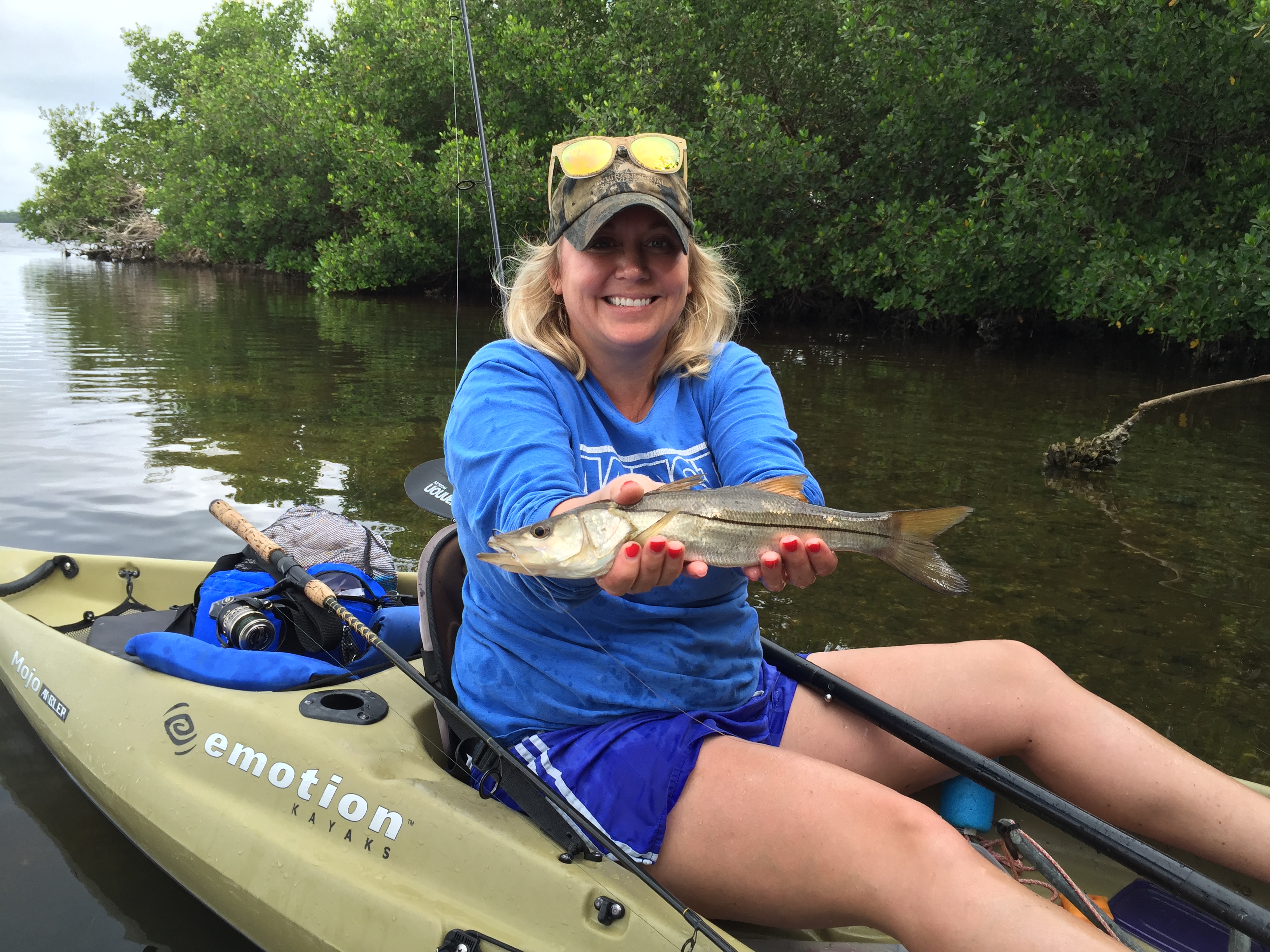 Kayak fishing presents a number of challenges when it comes to fishing with lures or bait.
Kayakers tend to favor lures as a rule. I've personally found artificials (as they are called) to be very effective in shallow water. Top water and suspending twitch baits, followed by soft plastics with a jig head are three of the most popular. These are very effective in skinny water as the fish will always see or hear them. One disadvantage to overcome is your low angle of sight, it takes real practice to feel the action on the end of your line. Top water action is imparted by the angle and twitch at the tip of your rod and while you may be great at this from the beach or boat, you will need to relearn this from the seat of your kayak. Another thing that effects lure action is that your kayak is either moving toward or away from the lure unless you're anchored. Lures are a great way to search for fish as you can cast a lot and in any direction, they are also easy to store and transport. I find traditional tackle boxes hard to use in a kayak, so I prefer a soft sided tackle bag with individual cases. While fishing with lures requires patience, practice and time, once mastered is highly rewarding. Fortunately for us the three main shallow water fish here in S.W. Florida, snook, redfish and spotted sea trout, will all take an artificial lure most of the time. Watching a redfish rise on a top water plug is perhaps the pinnacle of artificial, shallow water fishing!
Live or frozen bait can be a challenge to the kayak angler but is easy to overcome. Most kayaks have a place in the back for a sheet rock bucket and a simple battery run aerator. This is really all most kayakers will need, a few dozen shrimp and maybe a few finger mullet or pinfish. As a reminder, please tip your local bait guy or gal, as they are up as early, if not earlier than you are to provide you with bait! You will find over time that fishing with live bait also increases the number of kinds of fish you'll catch here.  At Gulf Coast Kayak our guided trips are focused on the educational side, so while we supply all the gear including rods, reels and lures, we also try to include some live bait to help our clients understand the many ways to hook and fish with bait. The learning curve with bait is very small, a few simple lessons and tips regarding type of bait, local presentation and location and you'll find your catch rate increasing. Frozen shrimp are a fine alternative to live bait and most stores will have a freezer full of them, just keep them frozen in your cooler until you need them. There is a saying here that if you want to catch fish, bring bait!
Regardless of fishing method, every trip is a chance to practice, observe and learn from experience.
It's a wild world – get out there!
Fisherman Dan