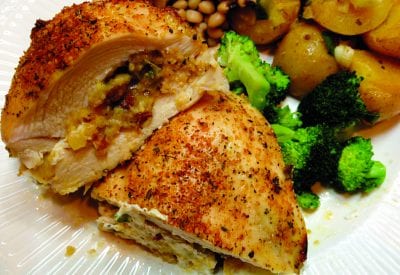 by Jim Baugh Outdoors
For the stuffing we use a pepperidge farm mix and simply make on the stove top. When the water is added put in two cups of raw oysters and stir well. Use this mixture to stuff a fresh cleaned chicken.
Place the chicken with Oyster Stuffing into a deep roasting pan with a wire bread rack in the bottom. (the chicken sits on top of the rack in the pan)
Rub the chicken first with olive oil then with poultry seasoning and place some rosemary under the skin.
Pour three cups of white wine into the bottom of the pan along with fresh rosemary, celery chopped garlic and one chopped onion.
Bake at 450 degrees for the first 15 minutes then reduce to 375 for the remaining bake. Baste the chicken with the wine sauce half way through baking. Once done, let rest for 10 minutes before serving. Use the wine sauce and drippings for gravy.  Delicious!