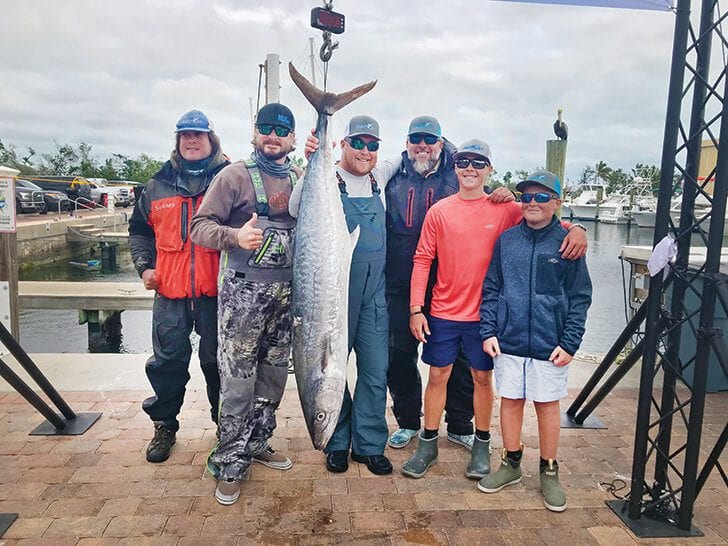 Team Beach Marine Products is rode a high headed into the second leg of the Meat Mayhem Tournament series at Palm Beach which took place March 8th-10th. Rod man Teddy Beach used one word to describe their $10,000 win at the January Key West Kingfish Mayhem: "Monumental."
In rough conditions, the team weighed in a 65.2-pound kingfish on day two to win the first event of the three-leg series. But things weren't so rosy on day one.
With a 6:30 am Bimini start, the team headed west out of Key West Harbour Marina aboard their 39' SeaHunter "Prowess" toward the Dry Tortugas. Passing Marquesas Key, there were 8- to 10-foot swells. Beach said they were glad to have their Seakeeper stabilizer when it came time to set out the spread.

"When we got to the fort, in 120 feet of water, the waves were stacking up past 10 feet," he said. "Fishing conditions were tough. Water clarity was junk; it was just milky."
Team Beach Marine fought all day to find clean water. They lost four fish on the first day of the tournament and did not land a single king mackerel.
The team, captained by Billy Delph, decided to make a move on day two. They left the docks that morning in 35 mph winds with 10- to 12-foot seas. They headed west where they had located a temperature break in 95 feet of water.
"We knew the area we were targeting," Beach said. "And we knew it would pay off when the water clarity was good and the temperature was right at 78 degrees."
Several days prior, they began catching blue runners and penned them in two 300-gallon Beach Marine Pro Pens with false bottoms. So, they were fishing good, fresh and healthy bait as they slow trolled the break.
The results were impressive. Along with two sailfish, they caught 15 kingfish. The smallest weighed 28 pounds, and they had four heavier than 40 pounds. Their back-up fish weighed well over 50 pounds, but the largest of the day was a 65.2-pound king mackerel.
"When Daniel Delph stuck that fish, the mood on the boat was monumental," said Beach. "We called it a day. We were sitting at the dock at 1:45 waiting for weigh-in."
Watching the weights after the 4:30 p.m. check-in, Beach Marine's 65.2 was enough for the win. Team Xtended Play took second with a 62.4, and Team Tuppens took third with a 59.2.
"Team Beach Marine Products is blessed to have such a great group of fishermen on board," Beach said. "Our team efficiency and confidence are incredible. It just flows."
The team consists of: Billy Delph, Travis Holeman, Teddy Beach, Daniel Delph and David Delph. They thanked their sponsors: SeaHunter Boats, Furuno Electronics, Beach Marine Products, JL Audio, Seakeeper and Bass Pro Shops.
Following the March 8-10 Palm Beach Mayhem, the third leg of the series is the Ft. Lauderdale Meat Mayhem April 26-29. Teams with the heaviest combined weight of one kingfish from each event will be competing for more than $20,000 in prizes.

For more on Meat Mayhem tournaments, go to www.meatmayhemtournaments.com. For information on Beach Marine Products' bait pens, go to beachmarineproducts.com.