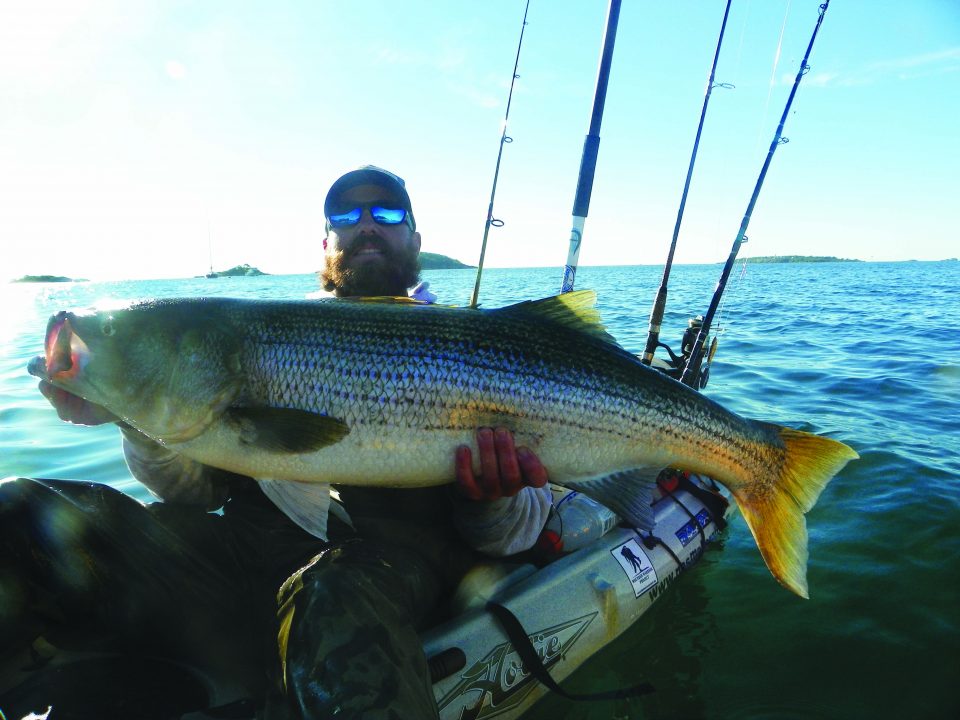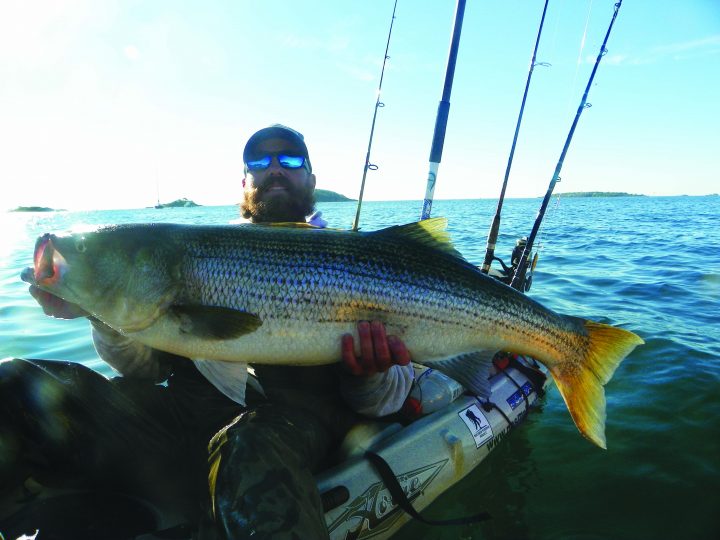 By Guide Rick Buss:
What a great time of year to be a kayak angler! All things considered, fall is my all-time favorite season for kayak fishing. Bait fish abound in our harbors, and stripers are starting to school up and attack the clouds of food in preparation for their long swim back to their winter haunts in the Hudson River and Chesapeake Bay. As the waters cool and hold more oxygen, the stripers are more alert and ready to put up the best fight of the year.
If you're a plastic boat angler, you're probably aware of NewEnglandKayakFishing.com (NEKF), an online community of like-minded folks who fish in the salt as well as fresh water. During the fall, they have a lot of mini-tourneys where people who have met and corresponded online can put some faces with the names.
I just fished in the "Search for the Silver Sow" tourney that took place on Cape Ann. Fishing times went from midnight until noon on Saturday, followed by an award BBQ at Stage Fort Park in Gloucester.
The crew met in Magnolia around 3 o'clock in the morning. We often refer to each other by our crazy screen names, "Billy Bass", "Sparky", "Mark N mayhem", "Rookie", "Divebuss", and a few other non-mentionable characters. Most of us were dragging eels about 30 feet behind us at a slow troll, 1.5-2 mph while watching the rod tip for that bump, bump, just before the reel starts to sing. Slowly tighten up the drag and let the circle hook do its job. "Fish on!" And the sleigh ride begins. A lot of big fish were fought that night, sometimes they won, and sometimes we won…either way "what a hoot."
Everyone caught fish up until dawn before the bite finally died. We all hauled out, hit a local Dunkin Donuts, and then headed over to Manchester Harbor for the next round. Tube & worm and soft plastic baits were the preferred lures, producing plenty of willing combatants. After a couple more hours of fishing, we all headed to the BBQ where we compared pictures of our fish.
The winning fish was a 46 inch giant caught by Erick "Cartman" Attridge. Erick was awarded the prized Silver Sow, a quirky-looking ceramic pig that will sit in his home until it is passed along to next year's winner.
Sound like fun, what's holding you back from giving it a try? Feel free to contact me or check out our website to find out about the next great adventure.
Guide Rick Buss, (617) 719-2036, www.belleislekayakadventures.com. Kayak specialist and fishing guide Rick Buss fishes, dives, and snorkels off his kayak. He runs his guide service out of Belle Isle in Winthrop but can deliver kayaks to your location.