Outdoor Edge's new ReelFlex Pak is the ultimate fillet knife kit for the serious fisherman.
The kit includes three fillet knives, in 6-, 7.5- and 9.5-inch blade lengths so you have the right knife to match your catch. Designed to meet the cutting demands for all fresh and saltwater species, the knives are crafted from German 4116 stainless steel, known for its corrosion resistance and excellent edge retention. The blades are double tempered to provide a consistent flex and taper ground to eliminate friction and promote an effortless cut while filleting fish.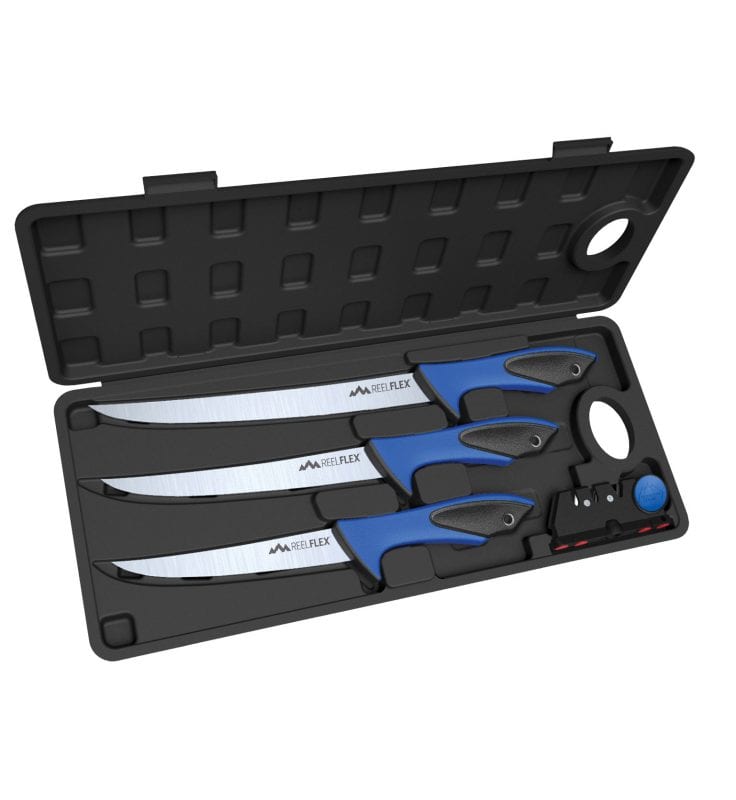 The handles incorporate Jerry Hossom's iconic design and ergonomics with the safety and function fishermen need. The handles are constructed of blue rubberized TPR to ensure a comfortable, non-slip grip, even when your hands are wet and slimy and also feature a polypropylene core for the correct amount of rigidity.
Everyone hates a dull knife, so Outdoor Edge has included a two-stage knife sharpener to keep your edges razor sharp. Finally, Outdoor Edge designed a durable hard-side carry case to keep you organized on the boat and at the dock. With an MSRP of $64.95, be sure to look for the ReelFlex Pak this fall and holiday season.
The Reelflex Pak is available from Amazon here
Visit www.outdooredge.com for more information