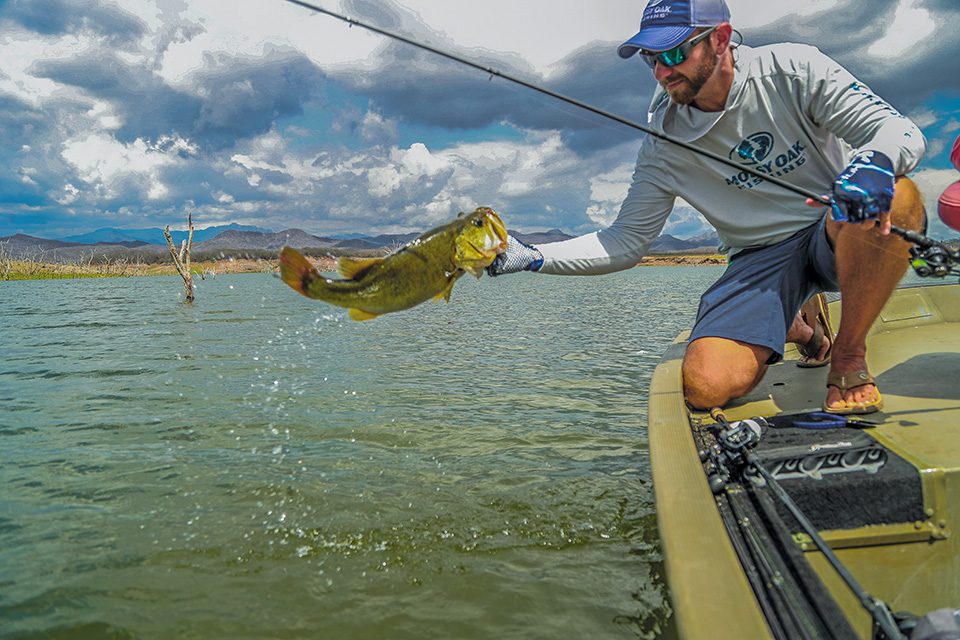 By Brandon Lester
This summer I took my second trip to Mexico's famed El Salto. It didn't disappoint, dishing out some of the meanest 7- and 8-pound bass I've ever seen. Of course, we caught numbers as well, but this time I slowed down and enjoyed everything Angler's Inn at El Salto has to offer.
On this trip, the lake was down 45 feet. El Salto is an irrigation lake, so water gets used a lot in summer. Low water levels concentrated the fish. We caught a bunch on lipless baits, a few on jigs and a good number on crankbaits. By and large, though, the best pattern was a Texas-rigged worm. It's awesome how the lake is different during different seasons. It makes each trip unique.
On the first day, guides feel you out to make your trip as fun as possible. Everyone has a different goal. Some guys want numbers; some want their best shot at a 10-pounder. On Day One, we landed 70 to 80 fish, easily, but I didn't catch any over 5 pounds.
On Day Two, my very experienced guide took me after the big ones. We fished for bass suspended in standing timber. It was a little harder to catch them, but the fish were much bigger. Down there, you can pretty much catch fish any way you want, but you can't catch big fish doing whatever you want.
The guides at El Salto have the big-fish patterns nailed down through the seasons. Last year, I went in January and we caught big fish deep cranking, so the pattern had changed completely. One thing that didn't change was how mean the fish are. That brings me to my other takeaway: Big fish require the best gear you can throw.
I fished extensively with the new 11-inch X Zone Blitz Worm, in both plum and red bug. They bit the fire out of both colors. The bait has very little salt content, so it floats off the bottom, which gives it much better action. The baits are also very soft and easy to rig.
Mustad just came out with a complete line of tungsten, and I put it to the test. We used a 3/8-ounce tungsten bullet weight, and loved it. The Mustad line has Titan X finish on it, which is awesome. Most objects in nature aren't shiny, so this matte-style Titan X finish is more natural. The sizes are etched onto each weight. It's a nice touch that makes selection easier.
A 5/0 Grip Pin Big Bite hook is the perfect big-bass hook. There were a few sessions where I caught at least 50 fish on one hook. That's one of the best things about a Mustad hook. Drag it across rocks and set the hook over and over. The points on their hooks will not roll.
Feel free to ask me on social media about the trip and any of the gear mentioned here.