Blackbeard's Outdoor World has a rich history. Harold Wilson started the company in 1988 It was recently sold to Larry Miller. However, you can still find Harold in his office providing expert service to a large customer base. He also enjoys a front row seat to the growth and exciting expansion of his dream.
Larry Miller's plan for his new business is simple… provide quality products and amazing service to the customer. He believes the new ownership can honor the hard work of Harold by sticking to this principal.
Miller executes his plan with a great, experienced team sharing a common goal. The years of experience are impressive. Among the team members are: Russell Asher, with 31 years in the boat and personal watercraft service department, Wesley Minnish, with 20 years of experience in the camper service department, and Robert Turbyfill, General Manager, with 23 years of retail sales experience. That's a total of 74 years of experience among just 3 team members, folks!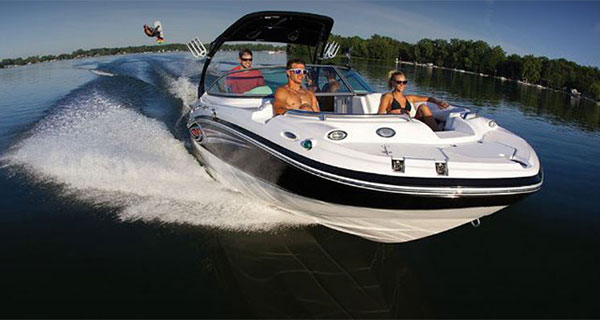 "It's about God and family," Miller says. "I want to finish my days having honored the Lord and loving my family! I figure I'm not alone, many people find great family bonds in the outdoor world. I hope they will come to Blackbeard and find a great deal, great service, and possibly even some new friends. Life's too short to forget to schedule the good times."
There are many exciting product lines dealing in everything outdoors – from boats and campers to golf carts and automobiles. We recently added a tackle shop designed with the local angler in mind. At Blackbeard's, the angler can get everything they need for a successful day on the water.
We strive to provide all of your automotive, power sports, camping, boating, and fishing needs! We carry an inventory of parts and accessories and have a Service Department to keep you one the move and having a great time. No problem is too big…We we have the BEST marine technician around, and that's a fact! We have both New and Used RV's, New and Used Boats, Used Cars and Trucks, Golf Carts (standard and customized), Jet Ski's, etc….. If you want it, we can get it. Or better yet, we might already have it!
Blackbeard's Outdoor World is locally owned and locally managed! No hidden fees and no surprises, like some or our competitors. You will have a complete understanding of the entire transaction. We don't charge "prep" or "freight" charges even thought that is generally the standard of doing business. We are new and small which allows us to have low overhead and that equals cheaper prices. Just come by for a visit and see what we're all about! You won't be disappointed in doing business with Black Beard Outdoor World!
Blackbeard Outdoor World is located at 2678 Harmony Grove Road, off Exit 90 on I-40 in Nebo and is open Monday through Friday from 9 a.m. to 6 p.m. and Saturdays from 9 a.m. to 3 p.m. You can visit us on the web at: www.blackbeardoutdoorworld.com.