By Will Cathey: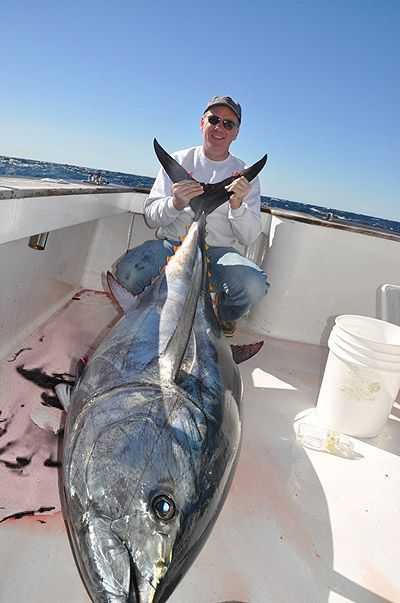 January through March off the Outer Banks of North Carolina offers anglers a chance to catch bluefin, yellowfin or blackfin tuna—all on the same day. To catch a bluefin tuna is on every fisherman's bucket list; however, after bringing several bluefins to the leader, you may lose your desire to ever catch another one. Winter bluefins can run between 100 and 800 pounds of romping, stomping, muscle fatiguing, back breaking and finger cramping experience you will ever encounter.It is much more fun to watch and tease your friends trying to catch a bluefin. Once you have screamed uncle, you can target yellowfins or blackfins.
Weather is the most important factor in successfully catching winter tuna. One would be lucky to get two blue-bird days on a weekend. Conditions can change in a blink of an eye. Slick calm seas can turn to 6-8 footers during a two hour battle. Perfectly clear skies can fog up so bad you lose sight of your outriggers. Bluefin tuna require a whole host of special gear that most private boats do not have. Bluefin tuna can destroy all but the most big game caliber equipment. The fighting chair has to be as stout as possible. A cheap chair can be ripped right off its mounting plates. Rod holders can be snatched right out of the covering boards. Bucket seats with safety lines are required. Reels have to be 80 or 130 wide internationals with 130 pound braid backing. The rods need to be of the highest quality. Hard to believe a rod can snap like a stick. Plastic gears and drag plates will explode with the first blistering run. Special sounders are required to locate those deep tuna. To properly equip a boat for winter tuna fishing requires a large investment. Experience and local knowledge are critical to maximize your chances for a memorable tuna trip. Your best bet is to hire a charter boat. There is a lot to be said for just stepping off a boat at the end of the day and not have to clean the boat in the dark on iced decks. Next time, you can use your boat and equipment.
Winter tuna charter boats can be booked out of Hatteras inlet and Oregon Inlet. A run of 30- 50 miles may be required. All charter captains will work as a team to find the fish. As soon as the temperature break is crossed, lines will be put out for trolling. The mate will have jigging rods and spinning rods at the ready for a quick change of tactics. Often the tuna will be found on the surface in huge schools, an impressive sight. The trolling rods will be quickly changed to spinning rods with surface poppers. A 300 pound bluefin crashing a surface plug will create an image you will never forget. A third technique commonly used is when the schools of bluefin tuna are found down deep. Here you will change over to specially designed jigging rods and reels using butterfly jigs. The experience of feeling a bluefin bite with a rod in your hand is not quite like a large mouth bass bite. Yellowfin tuna will be in the same waters as the bluefin. The mate may change over to lighter gear, 30-50 pound class stand-up with wind-on leaders. Yellowfin tuna are famous for wham bites. Six to eight 40 pound class yellowfins can pile on your spread. If you have had all the yellowfin and bluefin you can stand or if they have not cooperated, the captain can reposition to shallower ledges or wrecks and jig up world class blackfin tuna. Often 25-35 pound blackfin will cover you up. By-catches are common using all techniques. Often wahoos, mako sharks, false albacores and amberjacks will rudely crash the party. If all else fails, the captain may option to search for huge schools of 50 pound channel bass on the Diamond Shoals. Deep dropping is available for grouper and tile fish. Striped bass can be an option off Nags Head Beach.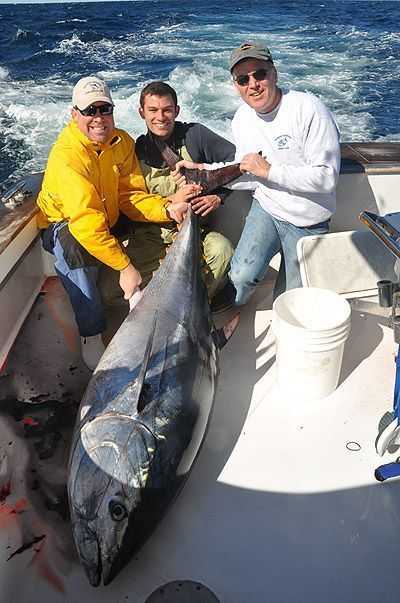 If you have never fished during the winter months, you are missing all the extra nature sightings. The air is so clear you can see for miles. The warm waters of the Gulf Stream holds a lot more sea-life than any other time of the year. Finback, orcas and humpback whales are quite common. Ten foot manta rays and huge hammerhead sharks cruise the temperature break. Bird watchers would enjoy the many pelagic species never seen inshore. Acres and acres of jumping, spinning and tail slapping porpoise will surround your boat.
If anyone ask you how do you cook your tuna, your answer should be "you don't". Raw chilled yellowfin tuna and blackfin tuna freshly caught and never frozen with Hoisin Sauce, pickle ginger and wasabi will provide an epicurean delight. The bluefin tuna has a much stronger taste. The belly meat is what the Japanese go nuts for. The meat has the color of Pepto-Bismol and the texture of Crisco.
You owe yourself a winter tuna trip if you have never been. It will be an experience you will never forget. Support the local charters, hotels and restaurants.
Hatteras Inlet Fleet:
Hatteras Harbor Marina: 800-676-4939
Teach's Lair: 888-868-2460
Oregon Inlet Fleet:
Oregon Inlet Fishing Center: 800-272-5199
Pirate's Cove Marina: 800-367-4728
Will Cathey, a Dentist from Greensboro, North Carolina, owns and operates a 51 foot Spencer named Will Power III which is docked at Hatteras Harbor Marina, Hatteras NC. Cathey, a member of Piedmont Offshore Sports Club, has been offshore fishing—splitting trip costs with club members—for 25 years.