Are you overwhelmed by the multitude of tools and often-dangerous chemicals it takes to clean your boat? Enter the game-changer: Boat Bully!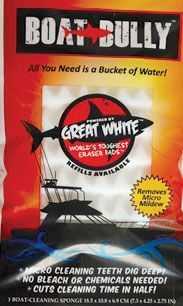 This unique product was developed by a champion angler to cut his cleaning time in half and free himself to enjoy the boating lifestyle. Unlike most cleaning products, there are no harsh chemicals to hurt you or the environment. The Boat Bully is designed for use with nothing more than a bucket of clean water!
In each Boat Bully, there is a "Great White" eraser pad with triple-strength micro cleaning teeth that dig deep and clean even micro mildew on vinyl seats, textured fiberglass, T-tops, pvc, rub rails and more. The non-scratch scrubber sponge works with the eraser pad on dried blood, bird droppings and even hard water stains. Once you are done scrubbing, you simply flip over the sponge and wipe it away!
Coastal Angler Magazine was asked to evaluate this product. After a day on the water, we first used our standard cleaning routine with a bucket of soapy water, a brush and a hose. Then the Boat Bully was brought onboard for the test. The rub rail, which appeared clean from the initial wash, regained a showroom level of white after a brief scrub with the eraser pad. The difference was so stark we had to continue the effort around the rest of the boat, which appeared gray in comparison to the areas cleaned with the Boat Bully.
The Boat Bully has two-pack refills of the Great White eraser pad available. These can be used alone in tight spots and are built strong to resist crumbling. And their uses are endless, from the kitchen and bath, to your RV or car, the Boat Bully cuts cleaning time in half. That leaves you with more time on the water!