Florida is the boating capital of the United States and leads the nation with over 915,713 registered vessels (2015). During 2015 there were 737 reported boating accidents in Florida which resulted in 438 injuries of which 55 were fatal. Of those 55 fatalities, 42% were from 'falls overboard' of which drowning (64%) was the leading cause of death.
In intro boating classes, during a man-overboard situation we were taught as our first reaction to throw a Type IV personal floatation device (PFD) to the victim. These devices usually consist of a life ring or an approved seat cushion. Under U.S. Coast Guard regulations all boats 16-feet or longer, except kayaks and canoes, are required to have at least one approved Type IV device onboard. But as most bass boaters know, there is little room for these devices up on deck or near the console. They are usually buried deep inside a far to reach storage locker where access is limited at best. During the recent ICAST 2016 Expo, a new product was introduced which solves this problem, the ThrowRaft.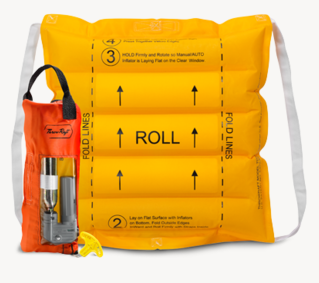 The ThrowRaft was invented by Troy Faletra of Fort Lauderdale who is an avid fishermen and yacht captain. During one outing he was stranded 9 miles offshore and it took him 16 grueling hours to get back to shore. After which he focused his energies on improving the survivability of those who have fallen overboard and his inflatable PFD came to be.
There are two models, the TD2401 and the Survivor. Both are the only inflatable throw-able Type IV PFDs approved by the U.S. Coast Guard on the market today. Simply toss the device into the water and the device auto inflates when submerged. The device can also be manually inflated with a pull of a rip cord and then tossed to the victim. The TD2401 measures 11" x 4" packed and inflates to 22" x 21". The Survivor measures 12" x 9" packed and inflates to 42" x 28" and weighs 2.5-lbs. Both devices are bright yellow when deployed and after use they can be deflated, recharged and repacked for use again.
Considering how few bass boats have a ready available Type IV device within easy reach of the console, the TD2401 is one device that could someday safe the life of your fishing partner or your life. The TD2401 is priced at $ 129.99 and they are available online at www.ThrowRaft.com.
When traveling at high speeds on the water it only takes a second to lose control and find yourself in a man-overboard situation, when seconds matter, will you be prepared?