by Bill Buckley, Contributing Writer
Happy New Year, 2018! The winter months in Southeast Florida are great for targeting a variety of fish. In the intracoastal, seawall and boat anglers can find decent numbers of sheepshead grazing along seawalls, pilings, and bridges. My friend Joe Donnelly and his two sons recently caught a cooler full of sheepshead and pompano along Boynton inlet's seawall and north jetty. Live shrimp and light tackle are very effective, with cut fresh dead or frozen shrimp a good alternative.  Lookdowns can also be caught at night with the same bait and tackle near bridges with floodlights and docks with underwater lights. From the inlet jetties, Spanish mackerel and bluefish can be caught by casting medium to small shiny lures like Clark spoons, Krocodile spoons, and Got-Cha lures. From the beaches, pompano will be feeding just beyond the breaking waves. Use a multiple hook "chicken" rig baited with sand fleas or cut shrimp. Although snook season is now closed, they can still be caught (and released) from fishing piers, along with plenty of Spanish mackerel, bluefish, and pompano.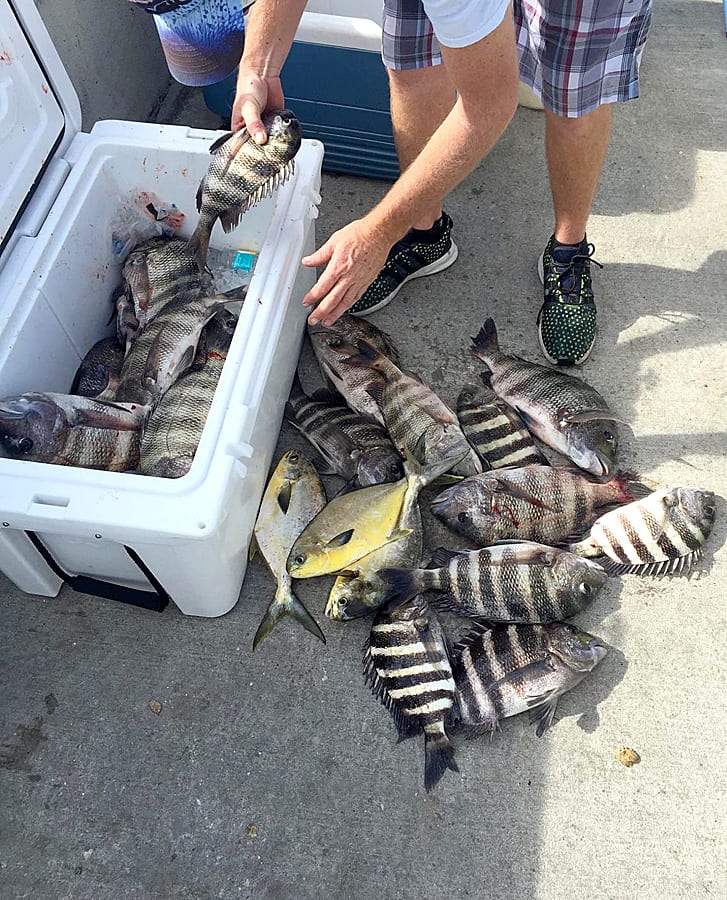 Boaters can target Spanish mackerel, bluefish, and spinner sharks in shallow water. On the reef, bonito, kingfish, and snappers will be feeding aggressively day and night. Drop live baits or frozen sardines down to artificial structures like wrecks or rock piles for cobia. Football blackfin tunas can be caught while trolling small "feather" lures in the 80-300ft depth range. "Daisy chain" style trolling lures are very effective for catching all of our local tunas. Some mahi mahi are also active inside of 300ft in these cool months, but are usually caught while targeting other species like sailfish and tunas. Sailfish are abundant as indicated by several annual high-profile tournaments that take place in January and February. Kite fishing with live baits is the #1 tactic for catching sailfish, but drifting live baits near the surface under floats also works quite well.
December through February are great months to target wahoo from Boca inlet to Lake Worth pier. High-speed trolling with purpose-built lures works well, but is not necessary.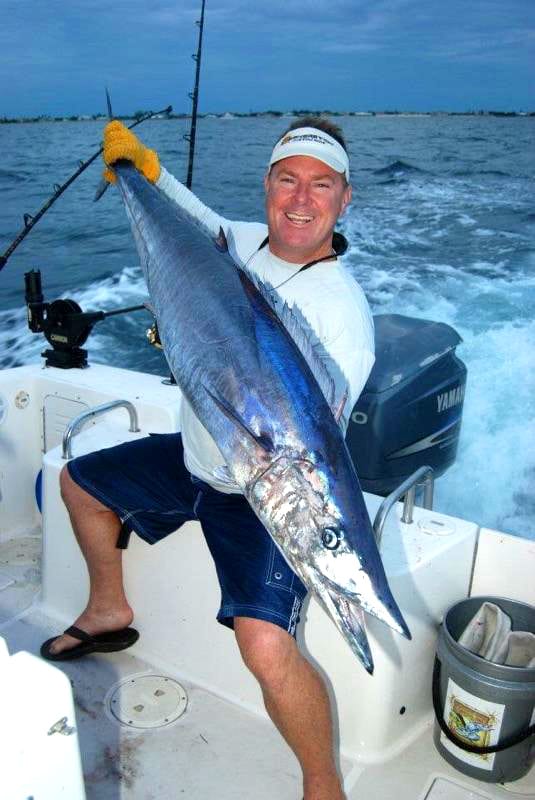 At medium 7-10kt speeds in 100-250ft depths, troll bonito strips, split-tail mullet, or Ilander-skirted ballyhoo behind planers or cigar weights. The most active feeding conditions for wahoo are during the last half of a falling tide near sunrise or sunset. Mike Murtaugh of Delray Beach caught his hefty 46lb wahoo (pictured) on a split-tail mullet in 240ft of water a little north of Boynton inlet just before sunrise last January. This month's prime days are the mornings of the 7th-10th and the 23rd-27th, and the evenings of the 5th-8th and the 20th-24th. If you can't be on the water during those times, don't worry. As long as you're trolling the proper baits you'll have a good chance at catching wahoo throughout the month.
Bill Buckley "Uncle Buck"
Graphic artist & offshore angler, Boca Raton, FL