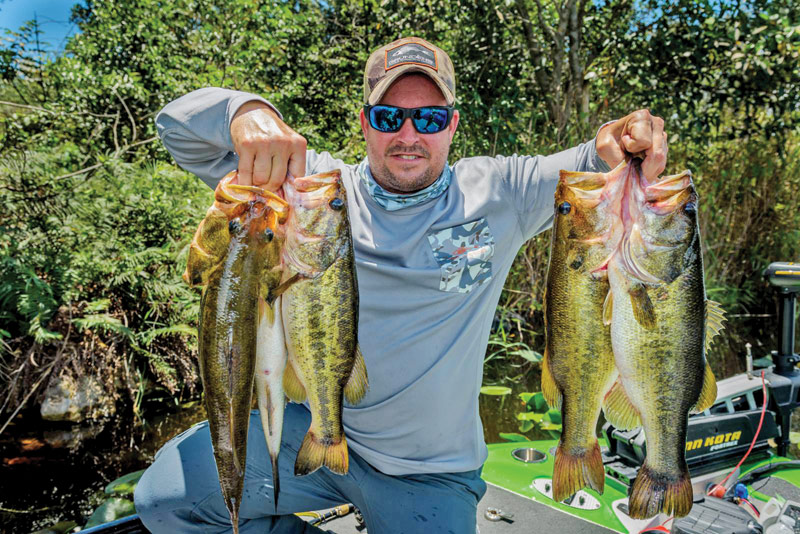 South Florida has some of the most diversified anglers on the planet and the best fishermen understand that you have to fish the conditions to be successful. For the most part, we don't have the extreme seasonal changes that they do in other parts of the country, but we definitely have extremes such as huge fluctuations in water levels and wind patterns that severely affect our fishing. After months of spawning, the fish have moved all over which makes South Florida largemouth bass hard to locate and catch at times. In August, I recommend getting out early. Beat the heat and the rain to get the best bite. If early is not your thing, August is one of the best times of year to catch monster fish at night. Whether you're a weekend angler or a seasoned tournament angler, I'm here to break down water conditions and help you pinpoint where and when to fish and share the best techniques to catch them.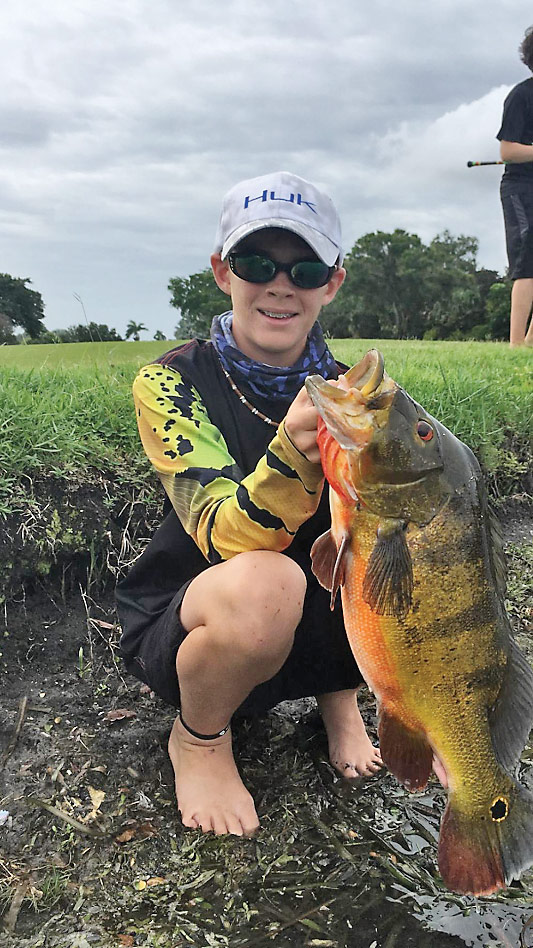 #1 Lake Okeechobee: Water depth is at 12.44 feet. This extra water is making getting around a little easier, but you should still be careful when shutting down. Start on the outside grass lines as bass are holding there. Look for areas where bream are spawning. Sandy bottom in inches of water to 2 feet, though I have found them deeper. The bream and bluegill beds look like craters on the moon. Find the beds and you will find monster bass. Use search baits like Gambler Big EZ, EZ swimmer paired up with a lightly weighted swimbait hook. Swim jigs, chatterbaits, hollow body and burner frogs will also produce. For top water action, use chug bugs, spooks, and devil horses. Flipping and pitching is also producing big bites. Baits of choice are craws, beaver style baits and flipping jigs. Work your favorite baits through the grass and hang on.
#2 Alligator Alley, Mile Markers 35 and 41: Fishing here has been up and down. One day you can be a hero with a five fish limit weighing 30 lbs and the next day a zero. It's definitely worth putting in some time. The big worm is still working here. Use 10 to 16 inch worms and work them slowly through the pads. Swimbaits, frogs and sinkos will always put a few in the boat. Worming the bottom is always a good technique this time of year as fish will seek cooler temps during the dog days of summer.
#3 Sawgrass Recreational Park: Fish are biting in the canals as well as the flats. To head into the flats you will need to display an orange safety flag 10 feet above the deck. Check regulations. Baits of choice are regular size flukes, small 6 to 7 inch worms, 5 inch sinkos. For top water, use chug bugs or prop baits. In darker water, use dark colors. In clearer water, use light colors. If you don't have a boat, rental boats are available here.
#4 Holy Lands: The main canal that runs west is holding numbers as well as good quality fish. I like to pull the boat off the edge and throw to land this time of year versus paralleling it. The reason is the heat. The fish will tend to start shallow then will position themselves on the drop offs. Throw your baits to shore and slowly bring them back towards the boat. Early morning or days with lots of cloud cover, go with top water spooks, chugs, prop baits, burner frogs, burner worms, spinner baits, regular size flukes, small worms and 5 inch sinkos.
#5 Tamiami Trail: Look for washouts, moving water or structure changes. A great way to find these secret places is to go on google maps. Look for hidden ponds loaded with snook, tarpon, largemouth bass, peacock bass or your favorite exotics. Use jerkbaits, Livingston Lures Stick Master or Jerk Master 121, Pro wake, small crank Primetyme 1.5 or 2.0 and the b Venom 6. Not only do these baits look realistic, but they have EBS technology. Electronic bait sounds that are sure to entice that fish of a lifetime. Live bait is also a great way to get hooked up.
Please make sure to clean up after yourself when fishing and pick up any trash you see that was left behind by others. Always make sure to check and follow the fishing regulations. Keep an eye out for bad weather so you have a fun and a safe trip.
Capt. Neal Stark
(954) 822-1481
Fishing with America's Finest, Inc.
"Changing Lives One Cast at a Time."
501(C)(3) Non-Profit Organization, FEIN #45-5494005
www.FishingwithAmericasFinest.org
fwaforg@gmail.com
American Everglades Guide, Inc.
www.AmericanEvergladesGuide.com
aeguideinc@gmail.com