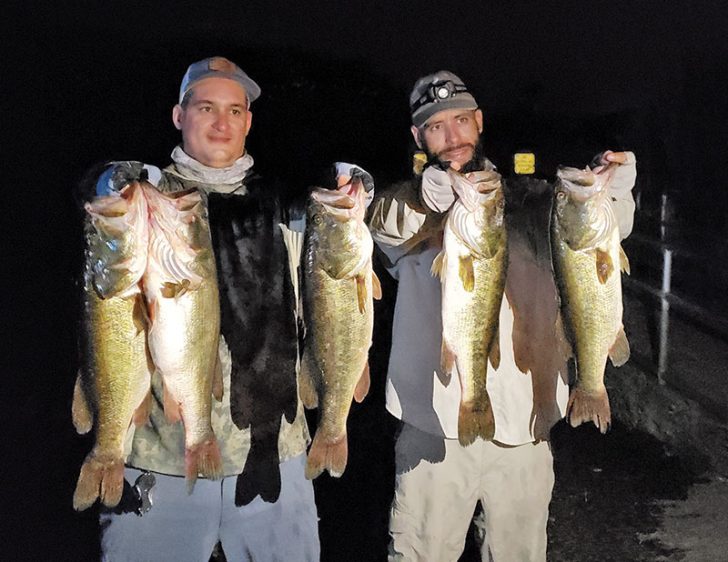 Hey guys! The smoldering heat is now upon us. This can make fishing in the middle of the day very tough and uncomfortable. With high humidity and temperatures on the deck of the boat approaching 115 degrees, fishing during the day can be flat out dangerous. Even the most hardcore anglers suffer this time of year and find it very difficult to fish. I recommend starting to hydrate at least 24 hours before your trips. Staying hydrated will increase your performance and your ability to fish.
The best way around these extreme conditions is to fish is at night. This is a great way to beat the heat and you can catch some of the bigger fish that get lockjaw during the heat of the day. Night fishing is completely different than daytime for the obvious reasons. First of all, it's not easy to see. You will need a spotlight to help you navigate, but remember that the use of lights can ruin the bite. If you want to be efficient, don't use them except for when moving from spot to spot. I typically use a small headlight to help me see while tying knots, but shut it off while fishing.
Lots of insects and toothy creatures come out at night. Alligators will come right up to the boat. The best way to fight off the bugs is by wearing long sleeve shirts, long pants and a buff to cover your neck ears and head. I typically like to spray insect repellent over my clothes, except for my arms. I don't spray my arms so I can handle fish without harming them in and out of the livewell.
Some of the best baits to use at night are those that make noise. Various top water plugs and poppers usually shine best. Buzz baits and big worms worked on top work well too. As far as the daytime bite goes, fish early in the morning and just before dark. The best baits this time of year are giant worms, swim jigs and swim baits. Fish them around and through the lily pads.
Till next time tight lines,
Capt. Neal Stark
(954) 822-1481
Fishing with America's Finest, Inc.
"Changing Lives One Cast at a Time."
501(C)(3) Non-Profit Organization, FEIN #45-5494005
www.FishingwithAmericasFinest.org
fwaforg@gmail.com
American Everglades Guide, Inc.
www.AmericanEvergladesGuide.com
aeguideinc@gmail.com