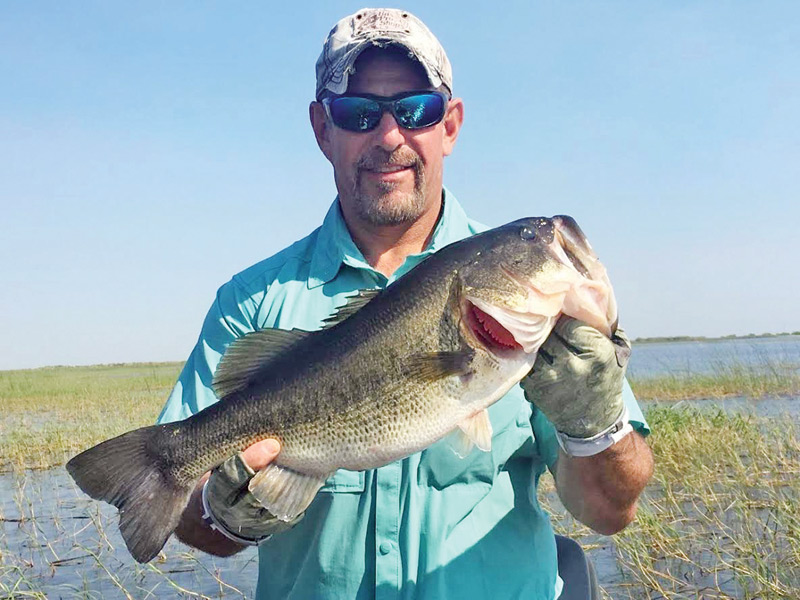 The weather is getting hot already and so is the fishing! With Lake Okeechobee and Everglades water levels being lower, it's helped to pull all the fish out of the cover. They are congregating in the deeper water canals & holes. This is making them a little easier to catch. Especially some of the bigger fish. With that being said, it creates another problem – keeping the prop in it's original shape as well as the lower unit. Be careful when going after these green monsters. Here's what I do…Stay in the channels, keep a close eye on your electronics, checking the depth of the water. If not sure, reduce speed to idle. Keep motor jacked all the way up. When taking off make sure you have more than enough water to jump up in so not to damage your prop. Here's the formula to use once you've figured out how to navigate the shallow waters. With the Summertime heat starting, look for shady places, cooler water where the fish will hide. Check your electronics for the slightest temperature change (cooler). Your electronics really come into play when finding fish. If you don't have electronics simply dip your hand in the water you'll feel the difference. Deeper water doesn't necessarily mean 10 feet. It could be as little as 2 feet and you find a place with 2 1/2 feet which can make all the difference. Things to look for are thick grass, kissimmee grass, hydrilla, pepper grass, bullrushes and cattails. Early birds will definitely get the bass and lots of them. Sounds easy enough right? Not at all. You still have to dig through your tackle bags and pick the right presentation. Well we can help you with some of that. Always make sure you hydrate, not just that day, but start the day before your adventure. Keep in mind that as the day heats up, you might need to slow down your presentation. In darker water use dark colors such as june bug or black. White will also work in the darker water as it illuminates. In clean or clearer water, use green pumpkin, watermelon or watermelon red. If you want to avoid the heat night fishing is going off this time of year. The fishing can be off the chain with monster Bass feeding all night. Top water is best. Make sure to protect yourself from the mosquitoes.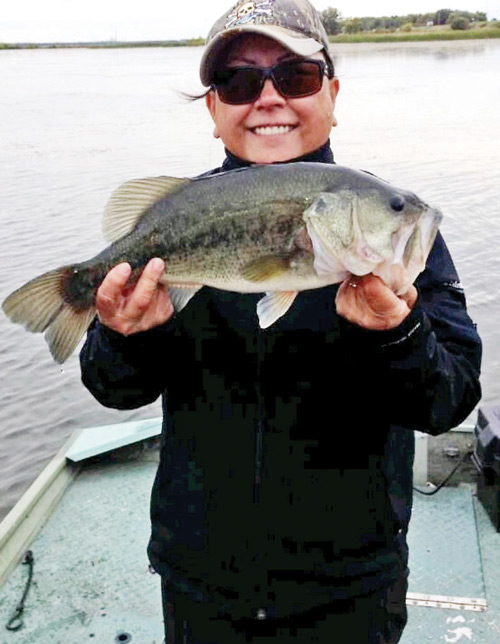 # 1 Holiday Park – The bass are in the canals, making for some really good fishing. Fish the pads and ledges. Baits of choice are: Topwater baits, flipping baits, swimbaits, easy swimmers, big worms ten inches or longer, big sinko's, frogs (hollow belly and swimming), jerkbaits and live baits.
#2 Lake Okeechobee – Water levels are very low, making the Lake complicated to navigate. There are lots of fish biting right now in the lake get out and catch some. Baits of choice are: Swim jigs with an easy swimmer or a craw as a trailer. Swimbaits, dippers, Bass Assassin Die Dapper, swimming frogs, hollow belly frogs, spinnerbaits, small crankbaits and Whopper Ploppers. Flip a jig or your favorite bait, Fat Ace or big Sinko of your choice. I like to spray them with scent. Bang is my favorite. Live bait on the Lake is deadly.
#3 Holy Land – Fish the canal edges as well as the pads. Baits of choice are: Flukes, flappin shad, burner frogs, spooks and poppers. Down deep I like a 7-10 inch' worm on a shaky head. Sinko's will always produce. You'll have to figure what color they want that day. Try junebug, green pumpkin, watermelon red. Small crankbaits and spinnerbaits will also get you hooked up.
#4 Sawgrass Recreational Park – Baits to use are flukes, Gambler Aces and Fat Aces fished wacky style. 7-10 inch worms, easy swimmers, flappin shad, bottom jigs, swimming frogs and buzzing frogs will also work.
#5 Browns Farm – Stay in the deeper part of the canals and throw to the edges. Work your presentation out of the grass line into the deeper water. Baits of choice are: spinnerbaits, spooks, poppers, wacky worms and jerkbaits.
Peacock fishing is still red hot. These beautiful fish are spawning which brings the giant females to the banks along with the males, making them easy targets. Jerkbaits, small spinnerbaits and small crankbaits are some of my favorite baits for targeting peacocks. Live bait is also very productive.
If you have any fishing questions, send them to me and I will get back to you with answers..
Till next time, tight lines and bent rods.
Capt. Neal Stark
(954) 822-1481
Fishing with America's Finest, Inc.
"Changing Lives One Cast at a Time."
501(C)(3) Non-Profit Organization, FEIN #45-5494005
www.FishingwithAmericasFinest.org
fwaforg@gmail.com
American Everglades Guide, Inc.
www.AmericanEvergladesGuide.com
aeguideinc@gmail.com