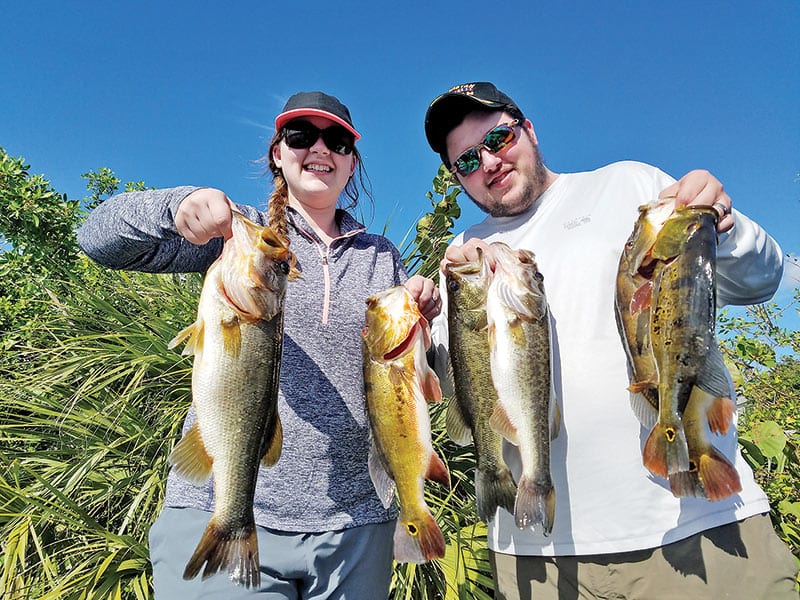 Cooler weather is here and fishing gets tough. The bite shuts down. They become fickle. That doesn't mean quality fish can't be caught though. Slow down and maybe even downsize to smaller baits. Change up your patterns more often. This is a defining time as an angler to figure how to catch them. This is also the time of year where you can find some monsters starting to move up from the deeper water as they get ready to bed. I like to look for hard bottom with different types of vegetation. They will be there tucked in keeping warm. This is the time of year where bass will be feeding up on shad. Find the bait and you'll find fish. Sounds easy, right? Not exactly, the bait will be moving around. You're going to want to match the hatch. This means throw lures the size of the bait fish you find. I like rattle traps. One of my favorites is the Strike King red eye shad. Other search baits like swim baits, swim jigs and worms you can swim work well. Once you get a few bites in an area, slow down. Start pitching jigs, small worms and Senkos for those big ones sitting there, waiting to break your arm.
#1 – Lake Okeechobee: Swim baits worked over the grass. Gambler Big EZ, EZ Swimmer, EZ Swimmer on a swim jig or a craw. Flipping is also a great way to catch giant Okeechobee bass. Y Knot, Otter, beaver, Bruiser Baits, whatever style baits you use, go with as little weight as possible. The baits you have the most confidence in will work best.
#2 – Mile marker 41: I am catching numbers as well as size with wacky rigged Senkos. For those of you who have not heard of this technique, you hook a Senko horizontally in the center. It can be fished weighted or weightless. They are crushing flukes and small worms worked from the shore into the canals. Try flipping in the pads.
#3 Holey Land: Numbers are being caught on the fluke, Senko and small 8 inch worms worked or dragged along the bottom. Shaky head rigged will also catch a bunch. I also like to work crankbaits here depending on the depth. Choose a bait with the right size bill. The bigger the bill the deeper it can be fished.
#4 Holiday Park: All techniques mentioned above will work great. I like to add a jerk bait to my bait arsenal here. If it's windy, you can also do very well with a spinner bait. Holiday Park offers boat rentals.
PEACOCK BASS!!! I've written about the the comeback of the peacock bass in previous articles and all I can say is WOW! They're everywhere. I've recently had some really big ones and a whole lot of them. The easiest way to catch them is with live bait. The best place to get this bait is at BJ's Bait and Tackle (954) 475-0248. If artificial is your thing, top water & jerk baits are the way to go and a blast. Peacocks are great fighting fish.
I am now on Pro Staff with Old Town Kayak and Canoes. I will begin fishing and exploring from an Old Town Predator 13 Kayak. I am very excited about this new venture. My son Jake has been on Old Town's Pro Staff and fishing from a kayak for a several years. He is now mentoring me in this new style of fishing. He fishes from a 12 Predator MX. The Predator is so stable it allows me to stand and cast. It's also very easy to maneuver and holds all the tackle and safety gear I care to carry. I look forward to sharing these adventures with you.
As always don't overlook the residential and urban canals. They are full of fish and don't get near the pressure that some of the local hot spots do. Remember, the fish you are catching are the future of the sport. Handle them with care so you can catch again another day. Let's all work together to protect our waterways. Now that you have all this info it's time to get out a bend that rod.
Tight Lines always. Happy and Healthy New Year!
Capt. Neal Stark
(954) 822-1481
Fishing with America's Finest, Inc.
"Changing Lives One Cast at a Time."
501(C)(3) Non-Profit Organization, FEIN #45-5494005
www.FishingwithAmericasFinest.org
fwaforg@gmail.com
American Everglades Guide, Inc.
www.AmericanEvergladesGuide.com
aeguideinc@gmail.com