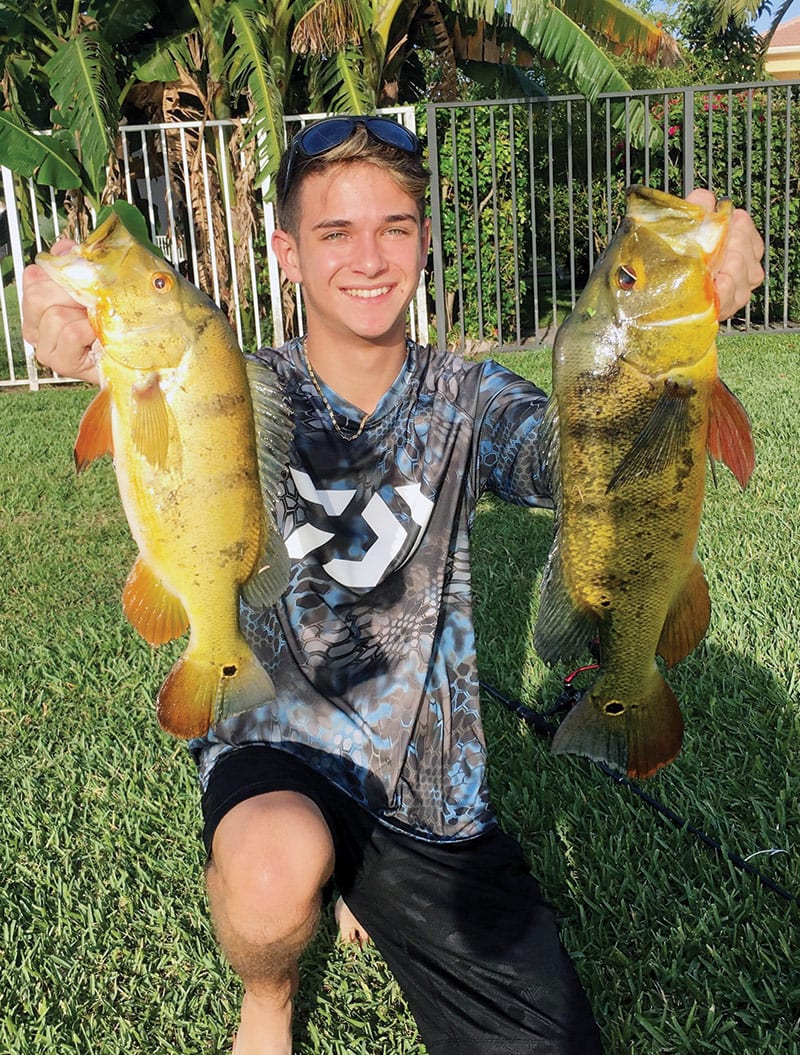 Last month I wrote about becoming a more well rounded angler by fishing your weaknesses and not your strengths! Continue doing this until you have no weaknesses and you will become a well rounded angler that has the versatility to deal with any conditions. This month I want to talk you about topwater fishing. A technique that truly shines here in South Florida. What is topwater? The book definition is when you move any type of floating or surface lure across the top of the water to cause a strike.
My definition is it's one of the most exciting ways the catch fish. The explosive strikes can take your breath away. There are 100's of top water lures out there. Let me name a few of my favorites for South Florida. The Zara Spook, a cigar shaped lure that is worked by dropping your rod tip and slowly twitching your rod while retrieving the line. This will cause a back and forth action called walking the dog. Then there is the buzz bait. Cast it out and steadily retrieve it back. The blade on this lure makes all kinds of surface noise and leaves a bubble trail. Most anglers like to use some type of trailer. My personal favorite is Zoom horny toad. Then there's the popper or chugger. These can be quickly jerked, popped, splashed or chugged and at all different speeds. Frogs are great baits for casting into the heaviest of vegetation. Cast it out, drop your rod tip and work it back to you with short pauses.
Now on to the best places to get out and throw some topwater baits.
#1 – Everglades Holiday Park: Throw along and into the pads, points and anything that looks fishy. Other top baits that are working are big worms, swim jigs, swim baits, crankbaits and senkos.
#2 – Sawgrass Recreational Park: Sawgrass is still producing 50 to 100 fish days. Some of my favorite baits are jerkbaits, senkos, burner frogs and worms.
#3 – Mile Marker 35: Work big worms through the pads. Swim baits, burner and hollow belly frogs, senkos and flukes will all produce.
#4 – Holey Land: All the techniques and lures mentioned above will work here.
#5 – Lake Okeechobee: Water here is low and dirty, but doesn't mean you can't catch fish. Try topwater with hollow belly and popping frogs. Swim jigs, bladed jigs and senkos tossed to base of the bull rush will put them in the boat.
On a recent trip through the Everglades while cruising down a canal, we passed a blue heron that goes to take off and couldn't. I came off plane and my friend asked me what's going on, what are you doing? I tell him there's a blue heron back there in trouble. We get there and the blue heron is tangled up in some monofilament fishing line. He let me handle him without snapping at me. I quickly removed all the line and he flew away. We then went on our way. On the way home, the same blue heron landed on the back of my boat as if he was saying thank you. When you come across improperly discarded fishing line, please dispose of it properly. Nature can get tangled up in this line very easily. Help to keep our shorelines and waters cleaner for generations to come.
Till next time, tight lines and bent rods.
Capt. Neal Stark
(954) 822-1481
Fishing with America's Finest, Inc.
"Changing Lives One Cast at a Time."
501(C)(3) Non-Profit Organization, FEIN #45-5494005
www.FishingwithAmericasFinest.org
fwaforg@gmail.com
American Everglades Guide, Inc.
www.AmericanEvergladesGuide.com
aeguideinc@gmail.com