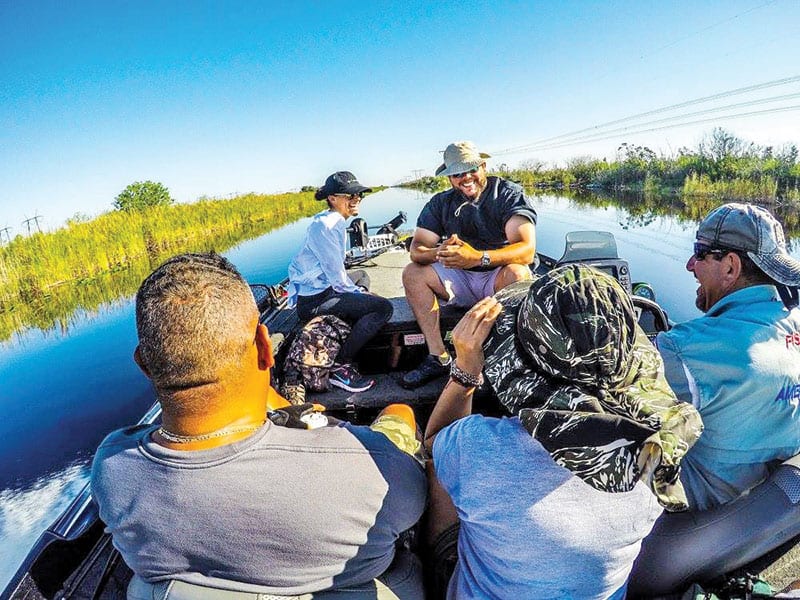 Last month's excursion, hunting invasive pythons, was absolutely crazy to experience! These giant snakes have changed what we knew to be. This month I find the bass spawn is really starting to get going as water levels have finally started to drop in the Everglades. What does this mean? It means fishing is really heating up and it's time to get out to catch some quality fish. We are experiencing some of the best flats fishing for largemouth bass we've seen in a long time.
A few weeks ago, the King of the Glades bass fishing tournament was won on the flats in Everglades Holiday Park with a five bass limit weighing 25.56 pounds. Congrats to Andy Director and Grant Lasseter on their win. Fishing the flats can be tricky.
If you are thinking of attempting to fish the Everglades flats, here are some suggestions that will be useful for a safe and successful outing. First off, you will need a 10″ by 12″ orange safety flag. Fly it ten feet above the deck of your boat so it is visible to other boaters. Be sure to file a float plan, letting someone know where you are going and when you are planning on returning. Always carry extra provisions just in case you get lost out there or have boat issues. Make sure that you have multiple ways to communicate as cell service can be sketchy at times. The best communication tool you can carry is a PLB (Personal Locator Beacon). They are more affordable than ever and will insure that help can find you in an emergency. Before exploring the flats on your own, I strongly recommend going a few times with someone that has experience.
When fishing the flats, it's extremely important to be as quiet as possible. The fish on the flats can be spooked easily and will scatter with the slightest bit of noise. Some of the best baits to use on the flats are search baits. Fish weedless swimbaits through the grass and pads. Pay attention to any movement in the grass or water. Other productive baits this time of year are hollow belly frogs, buzz frogs, burner worms, swim jigs and bladed baits such as a chatter baits or spinnerbaits. Worms worked slowly will also put a bend in your rod. Fishing throughout the region will heat up as the big girls move in to spawn. If you are going to target these giant females, please handle them with care. Release them as fast as possible and don't move them far from their nesting beds. They are the future of the fishery and we all depend on these monster bass reproducing.
My local hot spots are Holiday Park & Mile Marker 35. Sawgrass is just starting to pick up. The top technique this month is a jerk bait. Rapala is one of the originals and one of my favorites. At Lake Okeechobee, fishing is really good now with the spawn heating up. The top technique is flipping creature baits and blind casting search baits for big, bedding females and aggressive buck bass.
Peacock Bass fared well through the cooler weather we've had. They were not hit too hard. I was concerned we could lose a lot of them with the cold fronts. Peacock bass fishing continues to shine here in the South Florida.
Fish on!
Capt. Neal Stark
(954) 822-1481
Fishing with America's Finest, Inc.
"Changing Lives One Cast at a Time."
501(C)(3) Non-Profit Organization, FEIN #45-5494005
www.FishingwithAmericasFinest.org
fwaforg@gmail.com
American Everglades Guide, Inc.
www.AmericanEvergladesGuide.com
aeguideinc@gmail.com