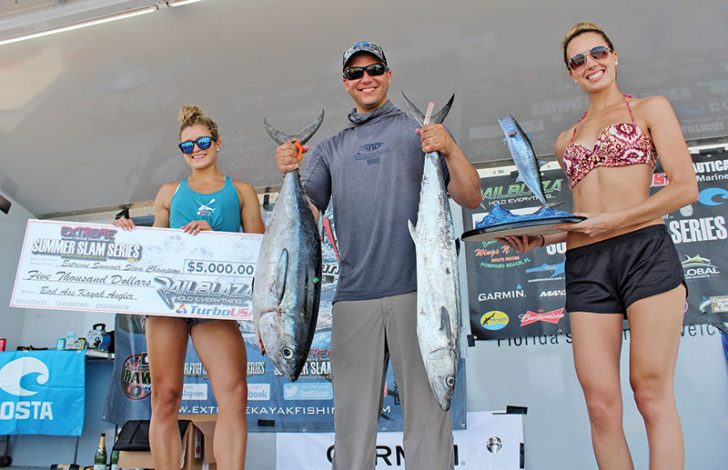 August is by far my favorite time of year to fish. Big schools of wahoo run through Pompano Beach every year in August and most of these fish are huge. Last year, during the Extreme Kayak Fishing Tournament Summer Slam part two, there was a 52 pound and 30 pound wahoo brought to the scale. Both fish were caught in 180 feet, straight out from Hillsboro Inlet. Reports are already coming in of kayak anglers hauling in some 20 to 30 pound wahoo, most being caught in 180 to 220 feet of water. In a recent August EKFT, an angler caught a 71.9 pound wahoo and another angler hauled in a 59 pound wahoo. Some of the best wahoo fishing in August is obviously going to be around the full moon with an outgoing tide. My rig of choice has always been 30 pound mono to 50 pound fluorocarbon leader tied to 12 inches of wire with a 3/0 J-hook and the important stinger rig. Almost all the wahoo I've landed were only hooked by the stinger in the throat, so make sure to use it.
Some nice mahi mahi are being caught in 200 to 350 feet. One kayak angler confirmed catching fish weighing 13 and 18 pounds. Be sure to go stealthy with 30 pound mono leader and a 3/0 circle hook. The same angler that caught those dolphin, had to swap out his wire with mono, because he wasn't getting any bites. He also dropped his hook size from 5/0 to a 3/0. Some schoolie mahi were being caught in 300 feet recently.
The kingfish bite has been very solid. Our last EKFT event saw the most kingfish ever landed in an event. Some nice 30 pound kingfish have been plugged right in front of Pompano Pier on an outgoing tide in 80 feet of water. Because of the heat most kings are being caught down deep, so make sure to bring your kayak downrigger for most success.
The bottom fishing has been consistent with some monster amberjacks being caught on the deep wrecks off Pompano Beach and Fort Lauderdale. At first light, when right on top of one of the deep wrecks in 200 plus feet, drop your glowing vertical jig and you will get an automatic strike. My jig of choice is a pink or glowing green JimyJig. If you're lucky, you might even pull up a big wahoo.
Be sure to register for the Extreme Kayak Fishing Tournament Summer Slam Part 2, scheduled for August 10th. The kick off party will be at Bru's Room in Pompano Beach on August 8th from 6 to 9pm and includes a huge raffle to benefit the Broward Children's Center. For more information check out www.extremekayakfishing.com.
Joe Hector
954-895-4527
Extreme Kayak Fishing Inc.
www.extremekayakfishing.com
joe@extremekayakfishing.com