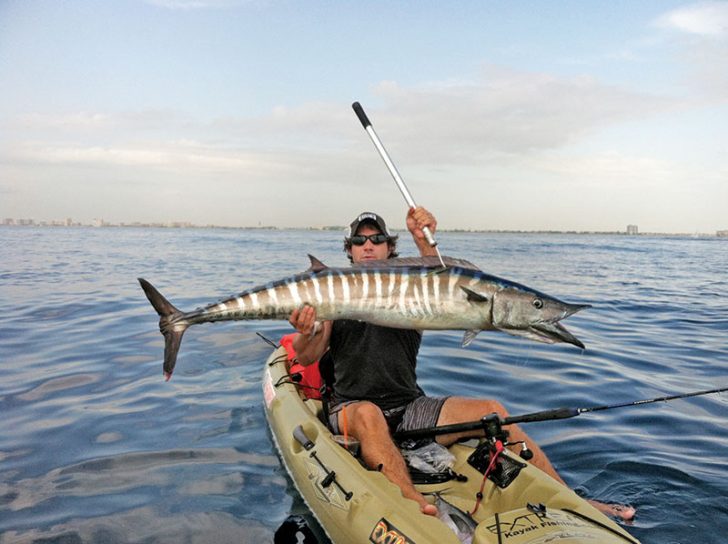 August is by far my favorite time of year to fish. Big schools of wahoo run through Pompano Beach every year in August and most of these fish are huge. A few years ago during the Extreme Kayak Fishing Tournament Summer Slam part two, there was a 52 pound and 30 pound wahoo brought to the scale. Both fish were caught in 180 feet, straight out from Hillsboro Inlet. The best wahoo fishing in August is going to be a few days before and after the full moon with an outgoing tide. My rig of choice has always been 30 pound mono to 50 pound fluorocarbon leader tied to 12 inches of wire with a 3/0 J-hook and the important stinger rig. Almost all the wahoo I've landed were only hooked by the stinger in the throat, so make sure to use it.
Some nice dolphin will be caught in 200 to 350 feet. Spinning outfits in the 20 to 30 pound range are perfect for targeting mahi mahi. Be sure to go stealthy with a 30 pound mono leader and a 3/0 circle hook. Live pilchards are the go to bait for catching dolphin from a kayak. Look for weed patches or a color change for the best chance to hook up.
The kingfish bite will be solid, but with the high water temperatures, they will be deep in the water column. Make sure to bring your kayak downrigger for the most success. If you don't have a downrigger, you can utilize a bank or egg sinker and attach it to your main line with a rubber band.
Bottom fishing will be consistent with some monster amberjacks being caught on the deep wrecks off Pompano Beach and Fort Lauderdale. At first light, when right on top of one of the deep wrecks in 200 plus feet, drop your glowing vertical jig and you will get an automatic strike. My jig of choice is a pink or glowing green JimyJig. If you're lucky, you might even pull up a big wahoo.
Be sure to register for the Summer Slam scheduled for August 29th. For more information check out www.extremekayakfihshing.com.
Joe Hector
954-895-4527
Extreme Kayak Fishing Inc.
www.extremekayakfishing.com
joe@extremekayakfishing.com