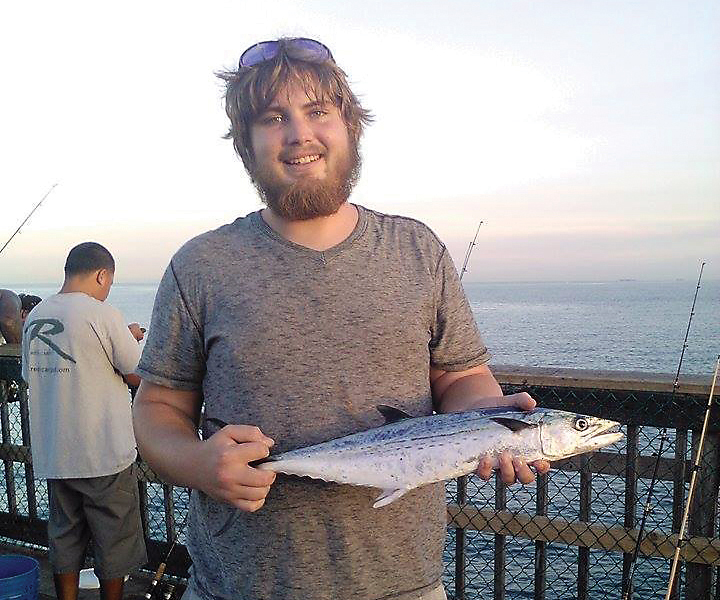 The month of December usually brings in cold fronts and a variety of species to catch. The summer bait should be gone and somewhere mid-month the mullet run should be in full effect. The real mullet run should include a ton of larger bait getting pushed down the coast and into our inland waterways. Colder water temperatures will bring in bluefish, mackerel and pompano. These are the main target species off of the piers and beach for the recreational angler. Bridges on tides changes will be hot spots. Use mullet or big shrimp and a stout rod for snook or tarpon.
I would like to share a few tips for each of the following fall species.
1) Bluefish — They are an awesome fish on light tackle and will hit ANY lure. Fast moving lures are good. They have razor sharp teeth, so a bite leader of at least 50 lb monofilament with lures. I would recommend 60 lb monofilament leader line and long shank hook for catching blue on chunk bait. They will readily eat it and you can quickly cut off frayed up line and retie the hook vs. messing around with kinked wire leader.
2) Mackerel — Use Gotcha jigs, white bucktails, spoons and crappie jigs. You can also use a bubble rig with a straw, spoon or jig to cover the water with long casts. Don't forget the timeless technique of using a float with a strip of mackerel skin and a long shank hook. Fish this rig down current and mackerel can't resist it.
3) Pompano — They run in schools and root in the surf for sand fleas. I usually fish the backside of the first wave break if fishing for them on the pier. Depending on the tide, they will move out further from the beach. The two best ways to catch the pompano are using Doc's Googy jigs bounced on bottom or a Pompano Rig with sand fleas.
We have all of your tackle needs and answers to your questions at Atlantic Bait and Tackle. Stop by and see us or visit us on Facebook at https://www.facebook.com/AtlanticBaitTackleInc
We do have a new website also for online purchases and additional fishing info. http://www.atlanticbaittackleinc.com/
Good luck and Tight Lines!
Josh Manso
aka "King of the Pompano Pier"
https://www.facebook.com/AtlanticBaitTackleInc