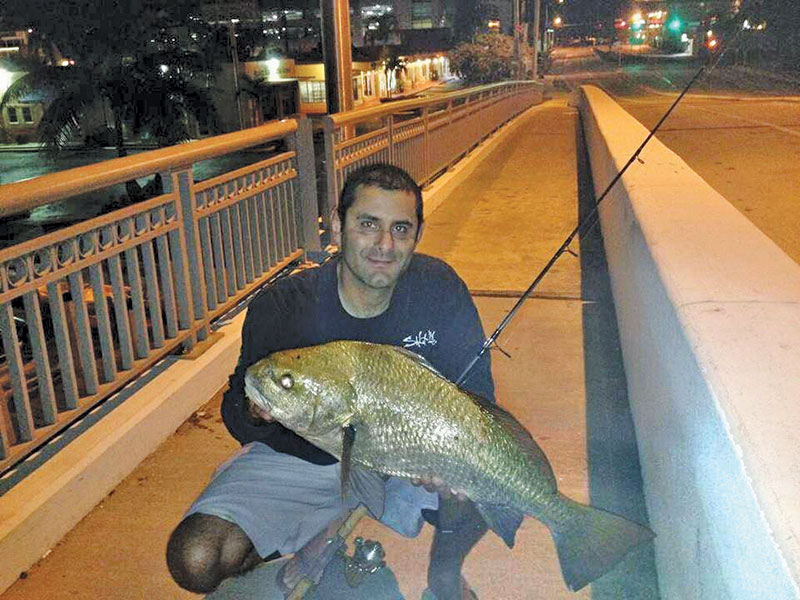 January can be cold and windy and the water temperatures will be a lot lower than the previous months. Some species will become more conservative and less active. Some species will thrive. My favorite species are black drum. I have had some decent luck with black drum over the last few years when the water temperature drops. My biggest fish locally weighed about 16 lbs. They are fair fighters for their size but I target them because they are excellent table fare.
Black Drum are very wary fish and pick up bait off the bottom with their under slung mouths and barbells. They love small crabs, oysters, clams and most other types of crustacean to include shrimp. I have caught most of them on frozen shrimp. You will get more bites on a lighter combo. I typically fish 10 lb braid or monofilament line with about a 30 lb leader. I usually find more drum in back canals on the tide change near structure. I fish down current using the lightest jig head possible. Typically, I use a 1/16 ounce jig head with a frozen shrimp (thawed out of course). Rip the tail off of the shrimp and hook the jig in the back of the shrimp with the hook coming up and back through the seam in its carapace. This is the secret to holding the frozen shrimp on the hook. I'll cast the bait and let it settle to the bottom. I then keep the tip of the rod down a little and leave some slack in the line. Black Drum are bottom feeders and will pick up the bait very subtly. You'll have to let them settle over the bait. You don't want a tight line to touch them and spook them. To check for the bite I gently raise the tip and reel up a little slack. If I feel some weight I simply reel tight and pick up the slack. The majority of the time you will hook them this way because they have very rubbery lips. If you fish lighter line, be sure to have a landing net available because they can be very large. I had a customer a few years ago that landed one pushing 40 lbs! Yes, in Pompano Beach!
The good thing about using the tackle and technique I shared is that you will get a lot of great by-catches along the way. There are usually big sand perch, sheepshead and mangrove snapper mixed in the same areas. EVERYTHING eats shrimp. If you are really lucky you will catch an occasional red fish aka red drum. They are around and usually are mixed in with the black drum this time of year. My good friend caught 2 reds, 2 blacks, a pompano and 2 sand perch… In the Boca Raton ICW! Make sure you are aware of the current regulations for all species before you harvest them for the dinner table. The current regulations on black drum are a SLOT LIMIT of 14" to 24" with one fish allowed over 24". The daily BAG LIMIT is 5 per harvester per day.
I wish you luck on catching your first black drum! If you have any questions or need any supplies, please come and see me at T&R Tackle in Lauderdale by the Sea.
For the latest fishing reports and pictures make sure to check us out on Facebook.
https://www.facebook.com/tandrtackle/
Josh Manso
aka "King of the Pompano Pier"