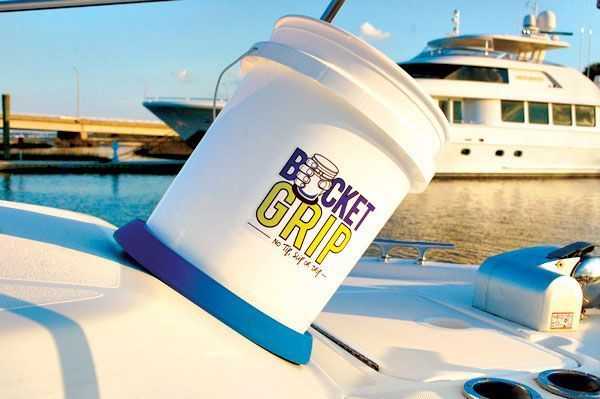 Often as anglers, we are faced with pitching decks, and slippery footing. Both of which when combined create either calamity for the angler or for equipment to be destroyed. One manufacturer has created a solution for one of the most overlooked necessary items that every boat should have. That being the Bucket Grip designed to fit around the base of most 5-gallons buckets.
The Bucket Grip is a purpose built rubber ring that fits around the base of a bucket. The weight and the material that the Bucket Grip is made out of assist in keeping the bucket upright and at the same time mitigates sliding around the deck.
The Bucket grip has several other features that are important. It is non marking, will not scratch fiberglass, teak, or gel coat. It is U.V. Resistant and will not crack and lasts a long time even in the sun.
We've personally used this product before and it was amazing, especially when on the hook bottom fishing in confused seas. Everything else in the boat is being tossed about, but the Bucket Grip kept our bait bucket firmly planted by our feet. Every boat that has a bucket should have a Bucket Grip wrapped around it.
The one feature that we liked the best: it is made in the USA.
In summary:
Stops buckets from sliding on deck
Prevents scratches in fiberglass and teak
Buckets will not fall over with brushes in them
U.V. Resistant and Durable
Floats
Fits Most 5-gallon & 3.5-gallon pails with base diameter of 10.25-10.5 inches
Made in USA
Check it out at www.bucketgrip.com or www.aquateko.com. For info, call (904) 273-7200.