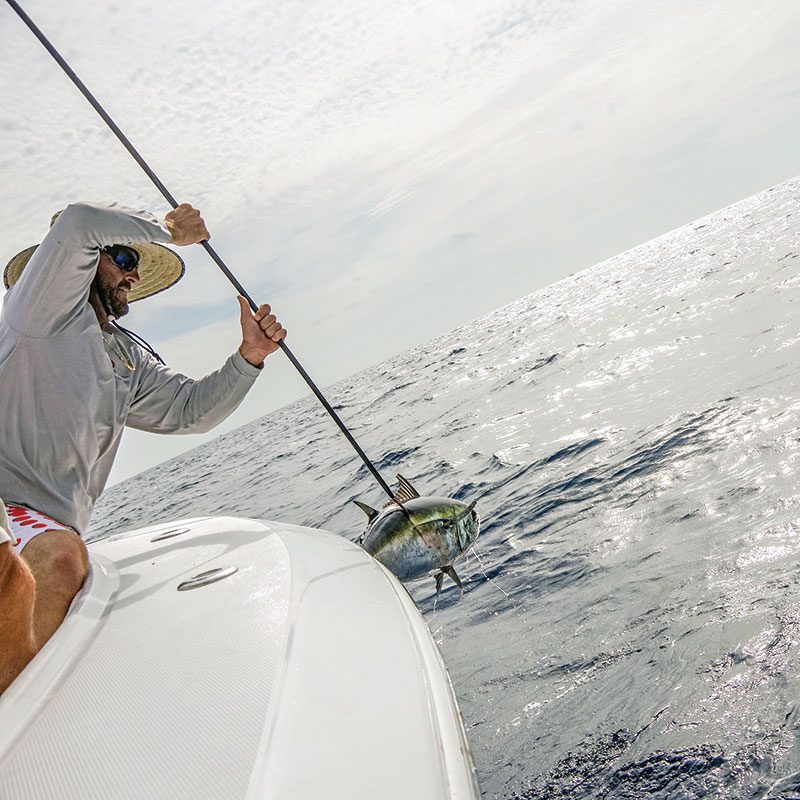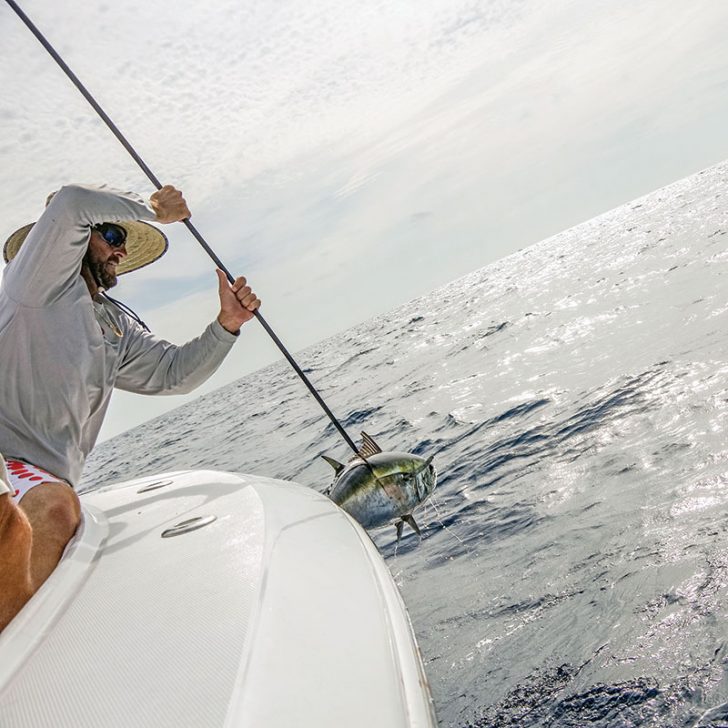 I grew up fishing the piers, jetties and party boats here in South Florida. I was eleven years old when I caught my first blackfin tuna while fishing aboard a local party boat. It may have been only ten pounds, but I was definitely proud of my catch and I've been hooked ever since. Twenty years later, I now own and operate a light tackle charter business and nothing has changed. I still love to catch blackfin tuna! Over the last month, schools of blackfin tuna have been abundant and the fish have been getting larger. April and May are sure to bring much bigger fish to our local waters. Here are some tips and techniques that I employ to catch the butterballs.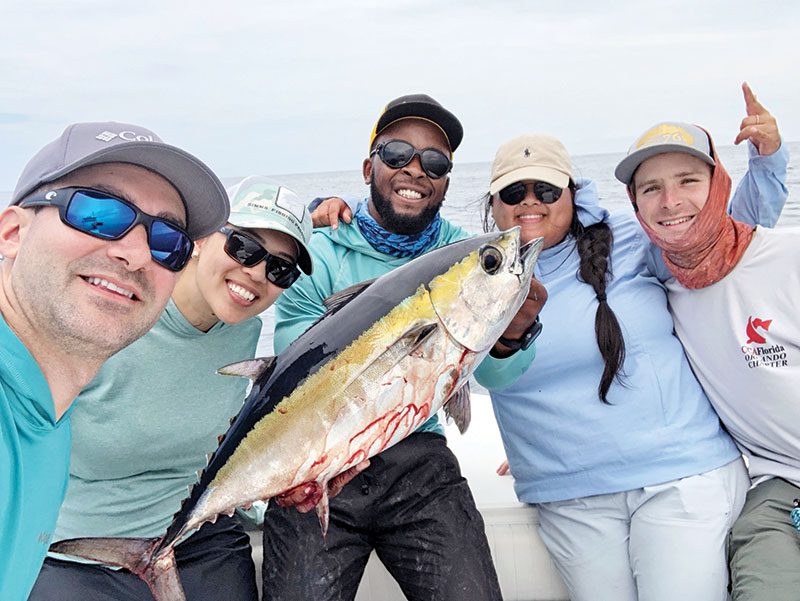 Live baiting is certainly the most productive way to target larger blackfin tuna. A variety of live bait such as goggle eyes, threadfin herring, sardines and pilchards will all produce. A typical spread consists of two or three baits fished off one or two kites. If you own a sea anchor this allows you to fish side to the sea and deploy additional flat lines. In this case you can fish two to four flat lines staggered at different depths and lengths off the opposite side as the kite. For the kite baits, you'll want 20 to 30 pound conventional outfits with high speed reels so you can quickly recover the slack that is created when the line pops out of the clip. The same set ups will also work for your flat lines, but 20 to 30 pound spinning outfits will also get the job done. Personally, I like to use a 15 pound spinner for a true light tackle experience and have landed plenty of fish up to 25 pounds. Because blackfins have very good eyesight, fluorocarbon leader is a must, but there is nothing wrong with fishing a mix of wire and fluorocarbon rigs to avoid missing a large king fish or wahoo. If you have enough bait, once your spread is out the practice of live chumming by slowly tossing out live pilchards can usually get the attention of tuna and bring them closer to your boat.
Vertical jigs and slow pitch jigs are also commonly used when fishing for blackfin tuna. They are extremely effective when fishing near the many artificial wrecks in our area. A medium/heavy spinning set up with 20 to 60 pound braided line is ideal for jigging. There are several line to line connections that may be used to connect the braid to fluorocarbon leader, but that is personal preference. Jigs range in various weights to help you cast further or get deeper.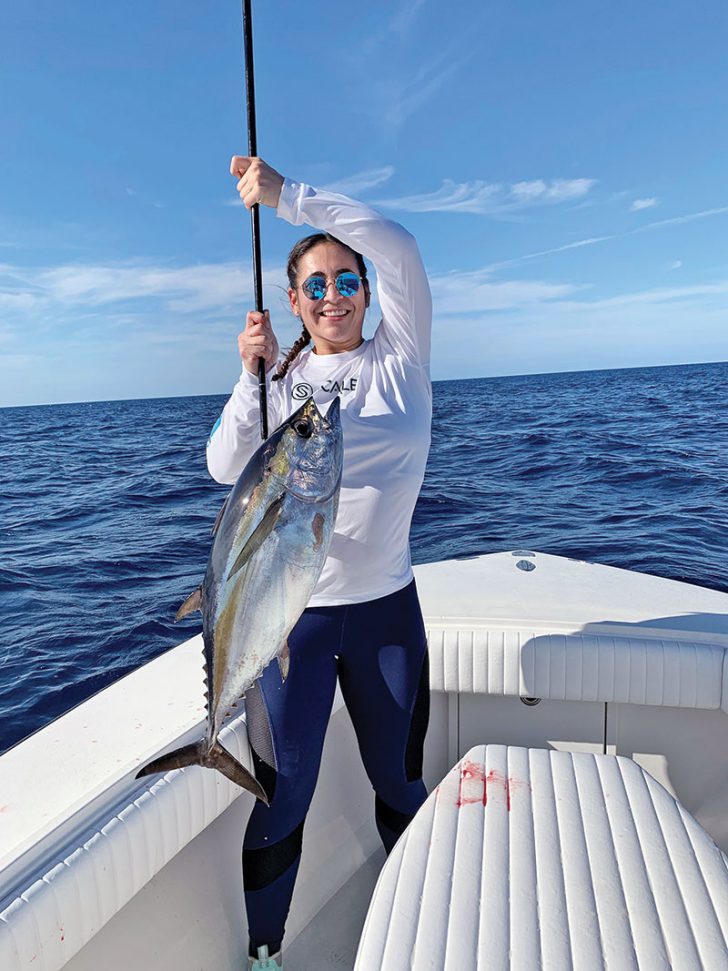 Blackfin tuna are a migratory species and are commonly found in the dark blue and nutrient rich waters of the Gulf Stream. Since the west wall of the Gulf Stream is constantly moving in and out, there is no exact depth for targeting blackfins. Some days, they can be in as shallow as 90 feet and some days as deep as 400 feet. An important key here is to fish with your eyes and not your bottom machine. Fish the conditions. Color changes, current rips and birds are all good indicators that can help you locate fish. Blackfins will also stage on structure and vertical jigging or live baiting the structure can produce fish. As mentioned before, blackfins have great eyesight, so early mornings or late afternoons when low light conditions exist are the preferred times to fish. Whether it be trolling, fishing live bait or jigging you want to be stealthy in presenting the bait far away from the boat.
Just like any other fish, landing a large blackfin tuna can be challenging, but being prepared is half the battle. A light 6 to 8 foot gaff with a 2 inch hook is my go to for fishing in South Florida. Like their bluefin and yellowfin relatives, blackfin tuna will tend to pinwheel under the boat at the end of the fight. It is important to keep that in mind and wait to take a good gaff shot. You don't want to miss the fish after all the time and effort you have put into getting to this point. Once you have successfully boated the fish, an important step in preserving the meat of your beautiful catch is to bleed the fish by slicing a gill. After bleeding, it's important to properly ice your fish. Adding a bit of sea water to the ice in your fish box will help cool your fish quickly.
If you would like to learn more about targeting blackfin tuna or would like to book a charter trip with me, check out my website at www.fishcoolrunnings.com or give me a call at 954-588-0578.
~ Capt. Jason Robinson
Photos by Chris Rabil