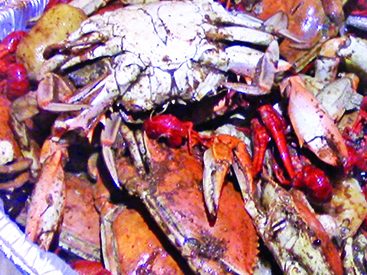 by Jim Baugh Outdoors
You will need\ Two steamer pots (preferably), Creole Seasoning, crawfish boil seasoning, 15 red potatoes, 8 ears of corn halved, 2 dozed blue crabs, five cloves garlic, Old Bay Seasoning, 2 pounds large shrimp,  5 pounds fresh live crawfish, 3 pounds of your favorite sausage, a bag of ice and a cooler, 10 lemons.
First set up both steamers outside and fill with water 50%, turn on high until it boils. Add the package of Cajun boil seasoning and mix. Then add all the crawfish and boil for only two minutes. Afterwards strain the crawfish over the second steamer (saving the seasoned water) and put the strained crawfish in a container. Sprinkle liberal amounts of creole seasoning over the crawfish then place in an iced cooler.
Next repeat the same procedure with the blue crabs but be sure to preseason them with Old Bay. Cooking time will be a bit longer than the crawfish. Cook until the crabs are bright red, then remove, strain, and place in iced cooler.
Next, in the second steamer make sure the water is boiling, add more if necessary, and put in the potatoes, onion, corn,  garlic, and lemons (sliced or halved) continue to boil for approx. 15 minutes or until the potatoes are done. Next add the sausage and cook another few minutes.
Now add both the par boiled crabs and crawfish back into the boil and cook another five minutes. Lastly add the shrimp on top and cook another three minutes or just until the shrimp turn slightly pink.
To serve, cover an old table with butcher paper or newspapers. Take the strainer out of the boil and strain out all of the liquid. Then simply dump all of the fixens onto the table and have at it. AWESOME!
The trick with par boiling the crawfish and crabs first is that a lot of the seasoning really sticks on the shells and of course they are much more marinated throughout as apposed to simply adding everything to the pot like in a traditional boil. This does require a couple extra steps but as long as the bar is open, who cares.  Loads of fun.
To watch this cooking feature and all the latest films we have produced as well as our 30 year catalog of TV Shows check out our Jim Baugh Outdoors Channel at youtube.com/c/JimBaughOutdoors  And be sure to visit our new Tideline Boats Playlist. We will have more info on the new 36 offshore soon.
Tight lines and good eats!!