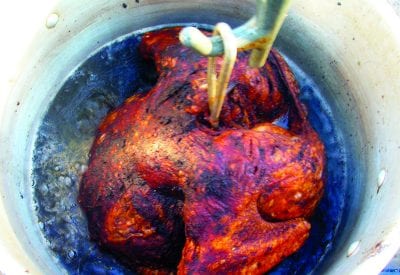 by Jim Baugh, Jim Baugh Outdoors
Well I have lots of stories about deep-frying turkey. A particularly good one is mentioned in my book, HOOKED. To say the least, deep-frying a turkey has always been a pleasure and a bit of an adventure.
The recipe is simple. Using an 8 to 10 pound bird inject it with a mix of texas pete and apple cider vinegar. Sometimes I inject creole butter into the mix. Deep-fry the bird per your fryer's instructions. I like to use peanut oil. Be sure to wear protective gear on your hands and arms to prevent burns. Also, remember there will be some splatter, so don't deep fry on your precious wood patio. That oil isn't cheap, so be sure and throw in some chicken wings, games hens, and small chickens while you're at it!
In addition to a fried turkey, you can't beat an oven-roaster stuffed with oyster stuffing! I like to do one of each so we have plenty of leftovers to dine on for days while spending time with family.
My favorite way to spend Thanksgiving outside of my own kitchen is to head to the Virginia Beach Resort and Conference Center! They lay out the best buffet you will ever see, with lots of fresh fixin's from the Chesapeake Bay. The amenities are top notch, with an indoor pool and work out room so you can work off some of that stuffing, and there's even a relaxing sauna. They sell out quick, so make your dinner reservations early. We just love the place. 757 481-9000