by Mike Hammond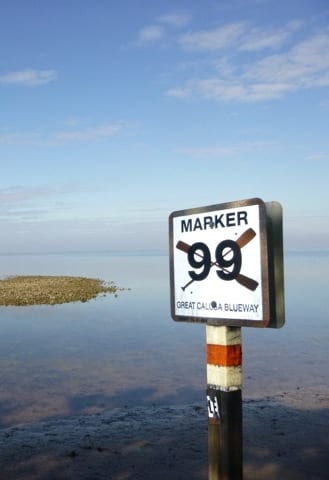 The Calusa Blueway Speaker Series was among my favorite features of the former Calusa Blueway Paddling Festival. The series was popular among local paddlers and covered an array of topics. When the festival ended, we wanted to be sure to continue the program.
Now, we incorporate the speaker series into annual Blueway programs and events. The speakers offer a diverse portfolio of expertise including history, wildlife, paddling technique, fishing and camping.
Paddlers have embraced the educational series and the program has grown year by year. This is our fourth year hosting the Calusa Blueway Speaker Series. I wonder if the community room at the Wa-Ke Hatchee Recreation Center is still large enough to host the program? Our first talk in December will be a good test.
Dan Carns is returning this year (Dec. 5th). He is one of our most admired speakers and a frequent contributor to this magazine. Anyone who knows Dan knows he can find fish and loves to share his knowledge with other anglers. He usually brings two fully rigged kayaks for a fun, interactive experience.
We will host many other engaging speakers in the coming months. In January (9th), Warren Richey will share adventures from his book and information about the WaterTribe's legendary Ultimate Florida Challenge, a non-motorize vessel race around Florida. Warren is the author of "Without a Paddle, Racing Twelve Hundred Miles Around Florida by Sea Kayak." I read the book a couple years ago and can't wait to hear him speak.
In February (6th), Parke Lewis will speak on Southwest Florida's indigenous Calusa people and the Mound House, an active archaeological dig site and museum on Fort Myers Beach. Parke is an avid paddler, American Canoe Association instructor and volunteer at the Mound House. Historical knowledge of the Calusa, provided by a local paddler, enhances the Southwest Florida paddling experience. Paddler tip: the Mound House has a great paddle-craft launch.
For our final speaker in the Calusa Blueway Speaker Series is Tommy Thompson (March 6th). Tommy has led international kayaking, cycling, climbing and trekking trips on four continents.  He is the current Florida State Director of the Florida's American Canoe Association and Level-4 Coastal Kayak instructor. Tommy has a wealth of adventures to share from many different regions, but in this series, he will discuss paddling in Cuba. We hope to have him back again next year.
Whether you want to be inspired by the adventures of another paddler, pick up some paddling tips for the next trip of your own, or just meet fellow paddlers in the area, come out to the Calusa Blueway Speaker Series.
The series is held at the Lee County Wa-Ke Hatchee Recreation Center at 16760 Bass Road, Fort Myers, FL 33908. It will happen 6:30 to 8 p.m. on Dec. 5, Jan. 9, Feb. 6 and March 6.  Lite snacks will be provided. Call 239-533-7275 for more information.
For a complete schedule and registration information, please go to: https://paddleguru.com/races/BattleontheBlueway2017
Mike Hammond is based in Fort Myers, Florida, and is a staff member at Lee County Parks & Recreation. He is the Calusa Blueway coordinator for Lee County.