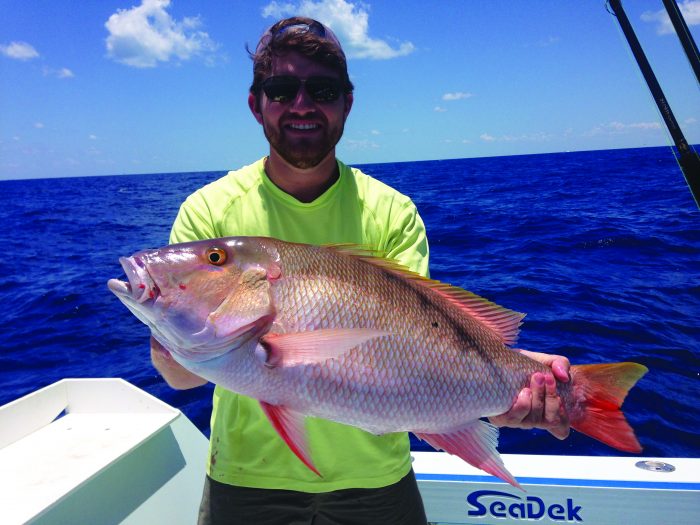 One of the questions I get most often is: "What can I expect to catch"?  The truth is that fishing and what we target revolves around conditions. During February, we typically do a lot of live bait fishing for sailfish, dolphin, kingfish, and tuna. Unfortunately, some of these fish can be hard to find when the conditions aren't favorable.  Ideally, we are looking for winds from a northerly or easterly quadrant, clean blue water, and a strong north current.
Occasionally, we run out to the fishing grounds to find green water and little to no current. What happens next? We could go through the motions but the results may not be as favorable as we'd like.  The best option in this scenario is to switch game plans and fish deeper over reefs and wrecks that don't get hit as often.
Exactly what you catch depends largely on how deep and the type of bottom you drop on. You'll have to plan this ahead of time so that you can bring along the right tackle and bait.  I normally carry at least two stout bottom rods rigged with 50-65 lb. braided line and a lighter outfit rigged also rigged with braided line. It is also important to carry a variety of heavy and light wire circle hooks, leader material from 50-80 lb. test, and various sizes of swivels.
Some of the fish you might find include but are not limited to various species of snapper, grouper, tilefish, and jacks. It is important to know what you might find at a spot before you drop on it.  If you're targeting tilefish you'll want to try dropping in depths from 300' to 700' and look for soft muddy bottom. Tilefish are caught close to the bottom on squid or other types of strip baits. Because tilefish are found so deep many anglers prefer to target them using electric reels but with todays' lines and high speed reels, many are catching them on conventional tackle.
More common targets of the deep are snapper, grouper, and jacks.  Nothing can save a charter trip like a hard fighting AJ. Although many local anglers take them for granted, these fish are a great sport, especially for those new to saltwater fishing. All of the jack species (amberjack, almaco jack, and yellow jack) will aggressively eat live bait and artificials like vertical jigs. The best places to find these fish is over high relief structure in depths from about 180'-400'.  The key is to drop your bait up current of the structure and drift back over the fish. If you're using live bait you'll need to use enough lead to keep the bait near the bottom and a leader of at least 20'.  Your bait should be tied to a beefy 7/0 or 8/0 circle hook.
Snapper and grouper are often caught using similar techniques with a couple differences.  First, snapper and grouper are often found a bit shallower in depths from 120'-280'.  Second, unlike jacks, snapper and grouper tend to stray away from the structure and often are found around smaller reefs, wreck, and areas of hard bottom.
Use these tips and techniques and avoid getting skunked when you run into less than ideal conditions.  You might not catch a sailfish or slammer dolphin but you might be rewarded with a great dinner and a great battle.  Again, the key is to leave the dock prepared for anything that may come your way.
Well, that's pretty much it for right now. I will be conducting several fishing seminars at the Bass Pro Shops in Miami. Topics, dates, and times will be announced both on my FACEBOOK page and website (link below). Also, don't forget that you can keep up with all of the action by following us on FACEBOOK, Instagram, and Twitter. If you like watching some of the action, be sure to check out my YOUTUBE page for the latest video additions.
Capt. Orlando Muniz
Nomad Fishing Charters
www.fishingchartermiami.com
(786) 266-0171
Sponsors and friends:  Mercury Marine, Bass Pro Shops, Offshore Angler, Tracker Marine, Gray Taxidermy, Baitmasters, Orca Coolers, SeaDek, Costa Del Mar, and Yo-Zuri.