December 11, 2017 – Captain Judy's Sound and Artificial Reefs Fishing Report
…and It's time to do a little holiday singing! Brought to us by Captain Steve "Triple Trouble" Howell!
Fishing statement: To try to insure that fishing stays in the hearts of those that love it and to help the ones that are going too!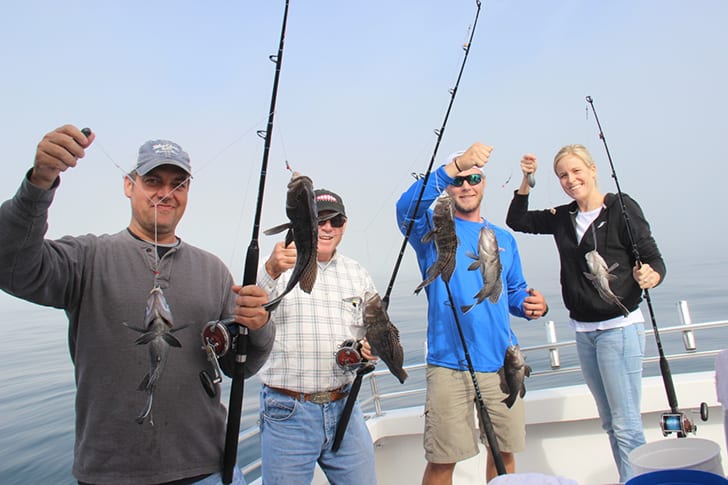 Crop Duster Justin Houston with his father Crop Duster Robert Houston, Crop Duster Lance Lofton, and Ashley Houston (Ground Controller) are all holding a double black sea bass hook up. I think all of these Crop Dusters would look good in flapping leather chin strapped caps and big colorful scarves! (See this rest of the story under artificial reefs!)
Sound Fishing at Its Coldest!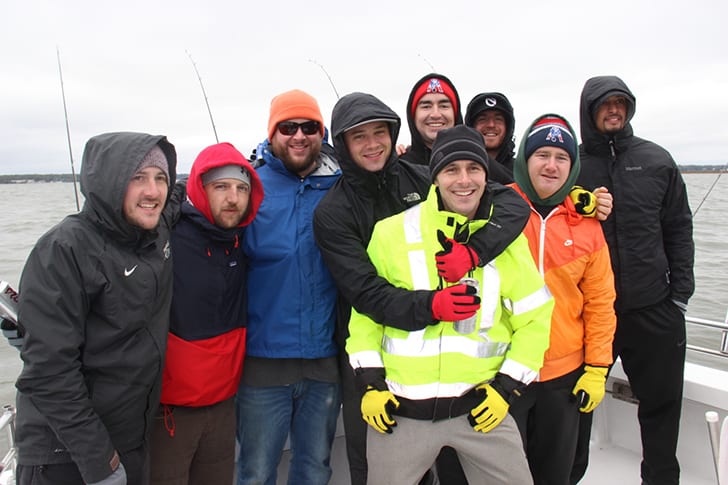 Please meet Honey, Baby, Darling, Boo Bear, Binky, Mister Cutie, Dreamboat, Romeo, and Sugar Bear! All visiting from New Hampshire! I left the names out to protect the innocent!
I just love me some New Hampshire boys! This nice looking group came to Savannah, Georgia for a bachelor party and to fish with us! Well, as you know, if you live on the coast the offshore fishing this past weekend was a bust due to high winds causing rough sea conditions. However, after explaining to the group that we couldn't go offshore to catch some genuine red snapper they all decided to take a glorified cold windy boat ride! And if they happen to catch any sort of fish that would be a bonus. So therefore I took them to the sound, anchored, and we started doing a little bottom fishing. What were we using as bait? Georgia Wild Raised Shrimp! How do I know that? Well, since Miss Judy Charters is now in the bait business we are trying to carry live Georgia shrimp, dead shrimp, mud minnows, and fiddlers. Now, we don't have all of this kind of bait all of the time. So I suggest giving me a call on my cell 912-429-7671 (Captain Judy's cell) before heading this way.
Back to my New Hampshire Boys….The current was raging, the water was muddy, the winds were howling, but it seemed it didn't matter to the guys. They were having a great time. What did we catch? 7 whiting, 2 stingrays, and one clump of purple sea grass. Since I didn't think we were going to get a bite, all of this was a serious bonus. What was the water temperature at 9 AM? 56.5 degrees! What was the water temperature at 10 AM? 55.4 degrees! We fished from 9 AM till 11:30 AM and after I noticed some serious purple lips we started heading back to the dock! As these true fishermen disembarked from the Miss Judy Too they all said, "They had a great time and that they would be back!" They had, had so much fun in the downtown Savannah, staying at the Westin Riverfront Hotel, and fishing with us that they certainly would come again. And heck as one of the guys exclaimed, "We are not all married yet, there are three single ones left, and we will see you again!" My first mate on this day was Wendy Clark and we both watched as they loaded in their Uber's and off they went on another Saturday adventure!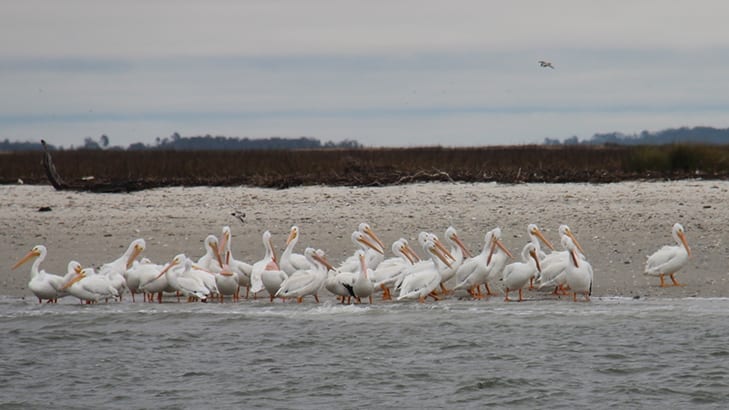 What a beautiful site! Well, the white pelicans sometimes referred to as rough billed pelicans are back. While riding by Cabbage Island in the Wassaw Sound yesterday there they were. Huddled up in a tight white group. The fact of the matter is I saw the white as soon as I rounded the river's bend at Landing Harbor! So of course I had to stop by and take this picture.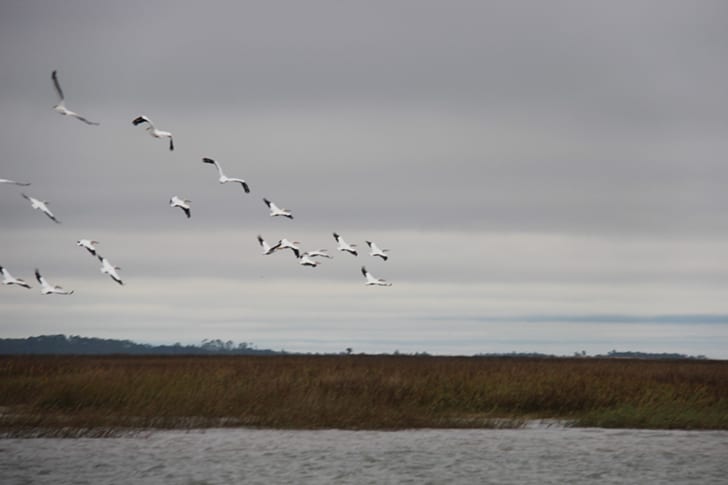 Of course as soon as I got the pictures of the white pelican sitting on the beach and put my camera up, they took flight. These sea birds are extremely graceful in the flight! However, I have watched them waddling around on the beach, which believe me is a sight to see. They have short legs and webbed feet, which aren't too good for balancing their big bodies. So therefore, when they do waddle they spread their wings, which stabilize their badly needed balance!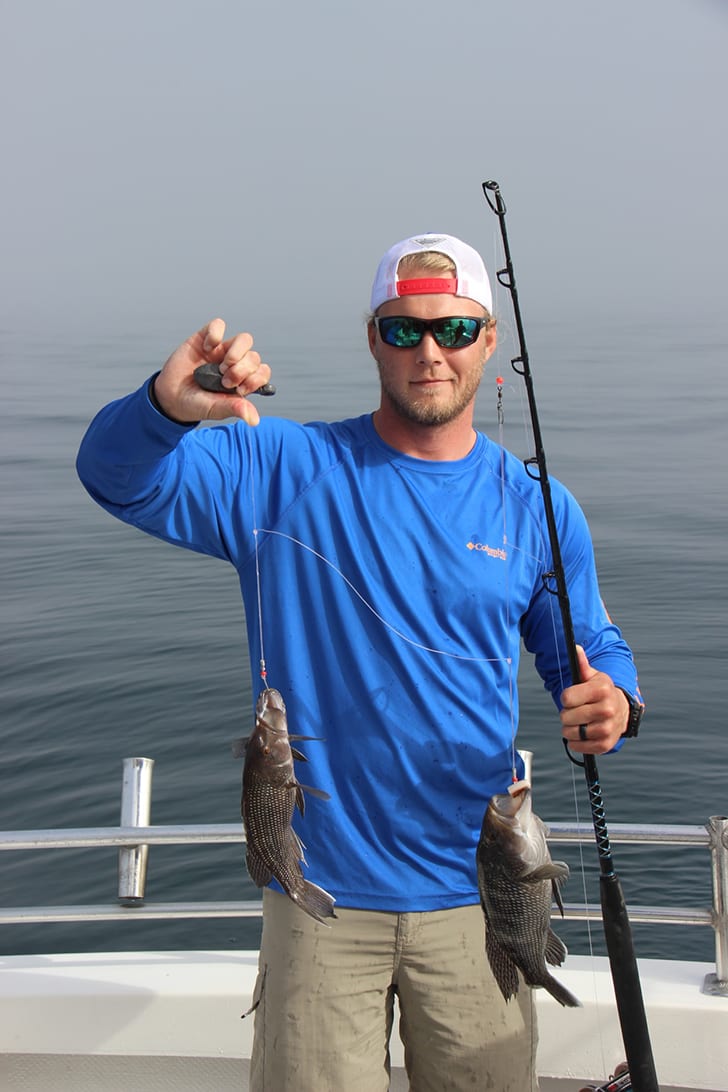 Offshore Artificial Reefs Report
Before the winds started howling at the end of this week I got to take some very interesting people fishing. Robert Houston, Justin Houston and his wife Ashley, and Lance Lofton. They were all from Murray, Kentucky and what did they have in common? The family and business associates were here for a Crop Duster's Convention! Yes, you read right!
Now, when I think of crop dusting I imagine a pilot with flapping leather chin strapped cap, big colorful scarves, Snoopy, and the Bloody Red Baron! I know none of this has anything to do with crop dusting! However, I bet I got you humming! Ten, Twenty, Thirty, Forty, or more the Bloody Red Baron was rolling out the score! Etc, etc..
On their fish day, the fog was so bad that we had little to no visibility most of the time. We left my dock at 7 AM, kind of strolled towards the Wassaw Sea Buoy. It took 2 hours of making way at 5, 6, to 8 knots to get to this point. On our way we encountered boat traffic, some crazy low flying sea birds, and lots of submerged/floating debris. Also known as flotsam/jetsam!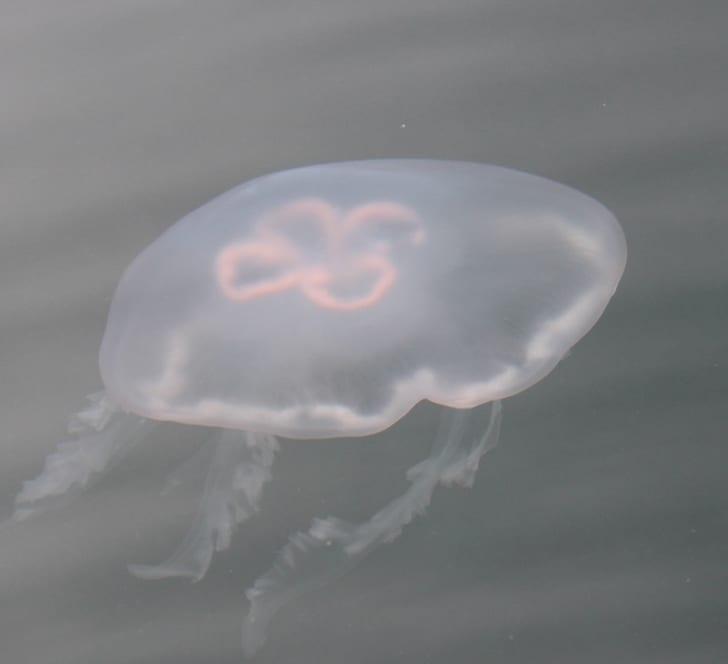 The Miss Judy Too has lots of great navigational equipment from GPS with Auto pilot, sonar, radar, and of course satellite radio! My dash is loaded with all sorts of lights, bells, and whistles. However, I am from the oldest of sea schools when it comes to navigation. And my father always told me you have to make a decision on whether you are going believe in your instruments or not. Believe me when I say, "It is possible for even a seasoned old bird like me can get turned around in the fog!" However, on this day I was "spot on!" My GPS turned itself upside downwards.
Now this happen sometimes, I don't like it, but I know there is always a chance. So therefore during a blinding fog why not? Once this happened I just maintain my current course and waited for it to right itself. Well, it didn't, I had to re-boot meaning cut her off and start all over again!
I kept saying to the customers please let me know if you see anything. If you do please don't hesitate to let me know. Before finding out exactly what my fishing party did for a living I didn't know that they did know what I was going through! Once I found out that they were pilots I knew that they understood! I kept thinking and according to the weather report the fog would lift my 10 AM. But looking at the fog cover and not seeing much of the rising sun I knew it would be much later. As it turned out it lasted for the entire offshore 5 hour trip that turn into and 8 hour trip!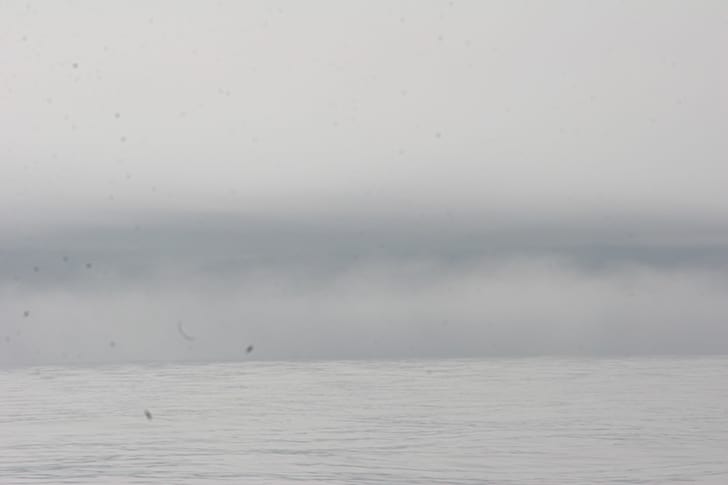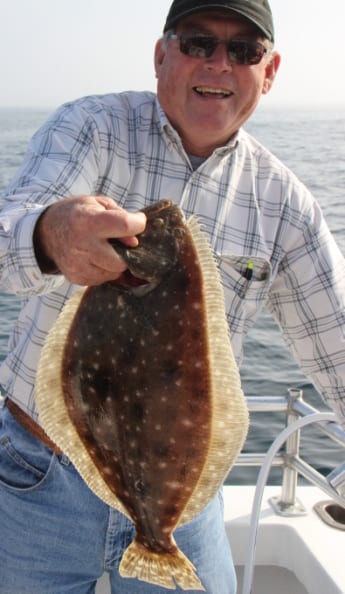 Please meet the alder Crop Duster Robert Houston (Air Works!) who also is a farmer of grand portions! As they told us the story about how they got into the business I could tell they loved the art of crop dusting as much as I love fishing!
While fishing with Captain Judy Helmey and Captain Deidra of Miss Judy Charters, Robert Houston caught this nice flounder. What did it eat? A small piece of squid! Thanks goodness we had a big dig net or this soon to be Crispy scored flounder would have never happened! As you can see in the distance, I did find some clearing in the fog, but I had to go about 15 miles offshore to find it!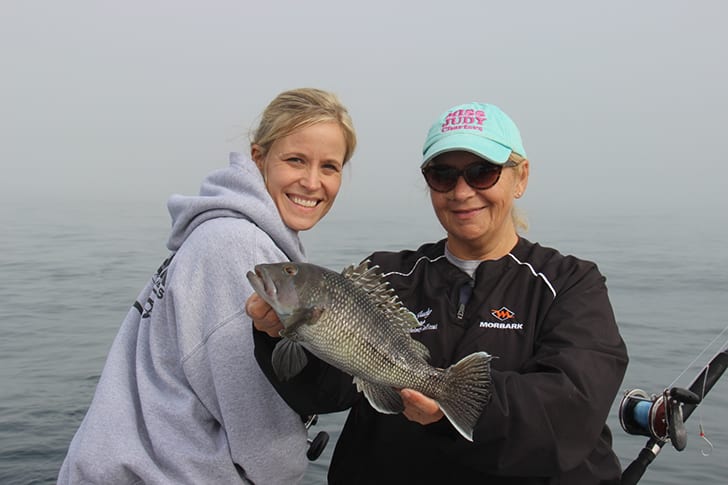 Ashley Houston  caught a nice black sea bass! Ashley is in charge of all the ground work, she mixes and loads the planes. Captain Deidra Jeffcoat is assisting! As you can see the foggy conditions followed us or we followed it! At this point with 4 hours into limited to visibility, I wasn't sure!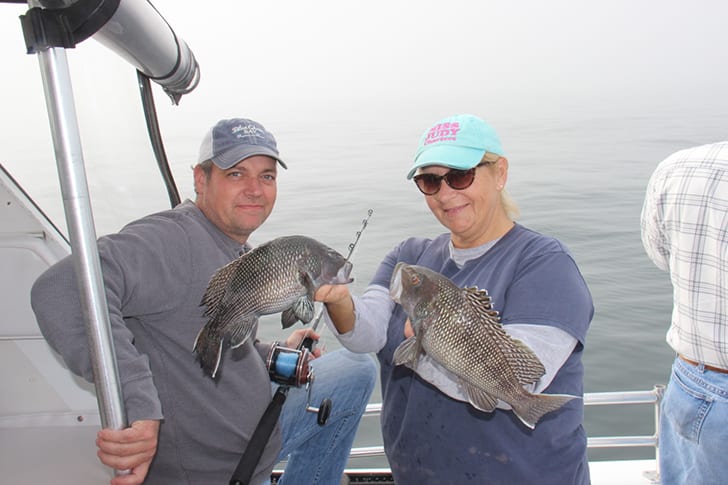 ---
Little Miss Judy's Believe It or Not!
It's time to do a little holiday singing! Brought to us by Captain Steve "Triple Trouble" Howell!
Talk about a blast from the past! Captain Kathy Brown and I (Captain Judy) along with Marilyn and very young Monroe are having a sit down with aged drink of Crown Royal Cask No. 16! An old time fishing friend Frank Murray (1950-2015) gave us this fine gift. Before you go crazy… and I know you wanted to ask…we only gave Marilyn and young Monroe a sip or two (just kidding of course)! Captain Kathy, Katy, and I did the most damage!
Well, Captain Steve "Triple Trouble" Howell has done it again! Steve came up with this holiday song for good reason. He has booked lots of offshore trips with me this year. And believe it or not, the weather gods have not let him fish yet. Well, as he said, "There is always a possible weather window next week!" And we are all hoping this is the case!
By Captain Steve "Triple Trouble" Howell! – Sung to "Let it Snow, Let it Snow":
Oh, the weather offshore is frightful,
But the crew is still delightful.
And since we're all stuck in town,
Pour the Crown! Pour the Crown! Pour the Crown!
Oh, the wind just won't stop blowing.
But Miss Judy's boat's still floating.
And since we're not going to drown,
Pour the Crown! Pour the Crown! Pour the Crown!
And when there's nothing that's left to pour,
We'll send the Mate to go get more.
And thanks to Miss Kathalene Brown,
We will have plenty more Crown!
Oh, the evening is almost over,
And nobody is close to sober.
So forget about paintin' the town,
Pour the Crown! Pour the Crown! Pour the Crown!
Happy Holidays from all of us at Miss Judy Charters!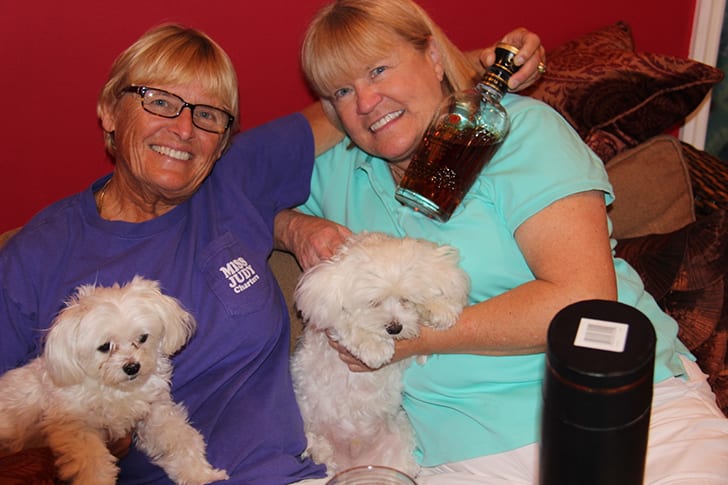 Captain Judy Helmey
Kicking Fish Tail Since 1956
124 Palmetto Drive
Savannah, Georgia 31410
(912)-897-4921 or (912)-897-2478
(912)-897-3460 [Fax]
[email protected]
You can find Judy's previous report here.