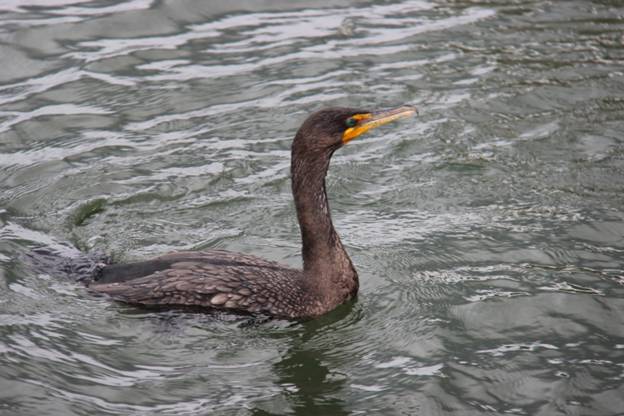 December 27, 2017 – Captain Judy's Fishing Report
Inshore Fishing Report!
Well, I got to tell you; our inshore water temps have been on a roller coaster ride for sure.  A couple of weeks ago as I was heading out to the Savannah Snapper Banks the water temperature in the creek and sound were about 51 degrees.  I was shocked to say the least.  And I am sure that the fish swimming in it were too!  We had a week of 51 to 58 water temperatures.  For the most part, which I thought was unbelievable, the fish bite, at least in some areas was not affected.  I receive several reports for inshore fishermen that couldn't find a fish to bite where other fishers did quite well! There was absolutely no rhythm or reasoning behind this bite pattern.  Then this past week, I wore shorts and the water temperatures went to 61 degrees, which turned the bite on, but only in some areas.
Now it is cold again, but water temps are still holding at around 55 degrees! The inshore fish bite is once again scattered, but doable.  That is, if you can avoid some possible rainy conditions and wait for the warming sunshine! All and all it is going to be a great week!
This is a cormorant, which I have always called a fish bird!  During cold water times the cormorant are "deep hole seekers" especially those located in the creeks. When cold water temperatures push wintering shrimp into deep holes these birds go into sort of a holding pattern. Normally about 6 birds will paddle in place either up or down current of the hole.  If you watch close enough you will find that they as a group have developed a feeding pattern.  Sometimes  two birds will dive at the same time leaving the latter ones paddling in place.  After a few minutes, they switch, and the ones on the surface take a diving turn.  And no matter what, it seems that when these birds surface, there is always something hanging out of their bill.   Why am I telling you this, because there are some nice large shrimp in them holes.  Get out your cast net and give it a try!
We are still catching some nice keeper spotted sea trout!  However, there have been days where all you could catch was spotted sea trout that were ¼ inch too short to keep!  The red fish bite has been very good, that's if you happen to be in the right place at the right time. Our captains have caught flounder, spotted sea trout, whiting, sheepshead, and black drum.  Our inshore bite has pretty much stayed with a fall/winter bite design. And now it is back to the colder temps and I bet the water temperatures are going to fall again!  So here's my inshore report… It doesn't matter whether it is cold or not – I suggest giving inshore fishing a try… Well, WHY? Because some fish are going into hibernation while others are not.  So there is lots of confusion, which means them fish got to eat!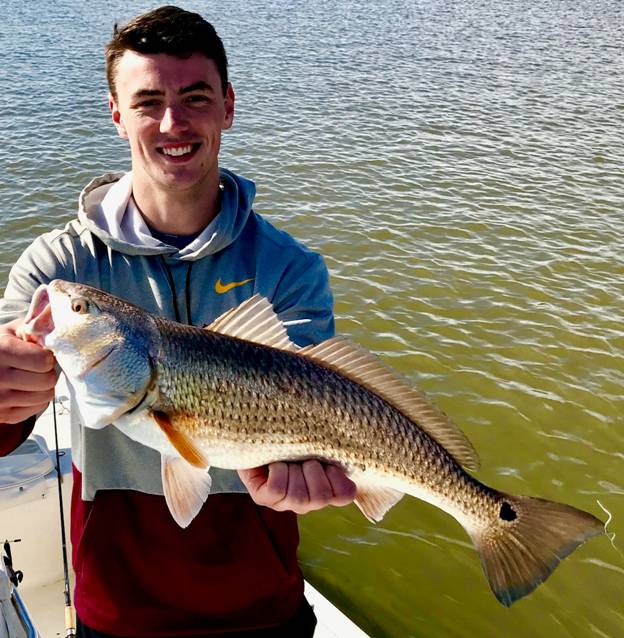 We are still catching shrimp in the creeks.  It is a mixture of white and brown shrimp!  For those fishermen that enjoy deep dropping in holes with the old cast net, it is your time to give this a try.  I have been seeing the cormorants hanging down current of the deep holes in the creek. Normally when this happens, it means the shrimp have started migrating and are holding deep in the holes.
While inshore fishing with Captain Kevin Rose of Miss Judy Charters and his father Greg, Mitchell McCarty caught this nice trophy red fish!   According to this story told Mitchell out fished his father two to one!
Artificial reefs report!  Offshore sheepshead season has started and for those that want to give this type of fishing a try.  It is fun and can be quite rewarding.  The offshore sheepshead season should last until mid March, 2018.
Savannah Snapper Banks
No matter when you go you really never know what you might catch.  However, if it is grouper that you are looking for … this season closes in January, 2018 and doesn't reopen until May 1st, 2018….
Gulf Stream
Yes it is a run and the weather needs to be perfect, but if you get a chance to go I suggest doing so!  During this time and until early spring off our coast we have a pretty serious Wahoo and black fin tuna bite.  Heck you might even catch a mahi-mahi, king mackerel, or even an African pompano!  The bottom fishing is very good from about 155 to 250 feet of water in.
Captain Judy Helmey
Kicking Fish Tail Since 1956
124 Palmetto Drive
Savannah, Georgia 31410
(912)-897-4921 or (912)-897-2478
(912)-897-3460 [Fax]
[email protected]
You can find Judy's previous report here.