February 5, 2018 – Captain Judy's Fishing Report
Fishing statement: To try to insure that fishing stays in the hearts of those that love it and to help the ones that are going too!
Captain Garrett Ross of Miss Judy Charters took Joshua Flippo of Rincon, Georgia and Jason Salzer, a visitor from Wyoming, had a great sheepshead catching day! On the fish cleaning table are eleven nice sheepshead that were caught while fishing inshore. This is what they kept, not what they caught. All they needed was enough for a dinner with family and friends. Joshua and Jason caught these fish while using purple back fiddlers as bait. Now this past Saturday might have looked like the perfect sunny fish day. However, the winds were howling and there was a raging 9ft tide. What does all of this mean? Well, it should have been one of those stay at home kind of fishing days. However, Captain Garrett Ross showed them the catching way! And what does all of this really mean? They had fish for dinner!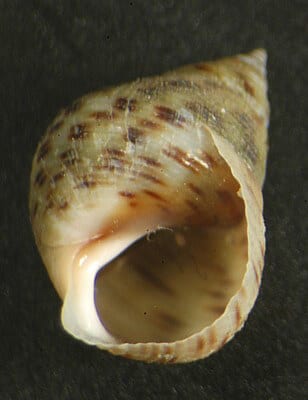 This is a periwinkle snail. Where do you find them? In the marsh why am I bringing this up? Well, I though you would never ask! This snail plays a big part when it comes to a red fish and their desires to eat something that comes wrapped in a shell. You can find these snails from the edge of the grass all the way to the bank. Why am I telling you about this? Because being a "snail watcher" just might be in your future! Why? Well, when the snails sense harm coming their way they climb way up on the grass! What does this mean to a fisherman looking for the whereabouts of red fish? This snail is high on the red fish's eating desires! Let's re-cap….where you got snails a swaying in the wind and hanging on to the tops of marsh grass YOU GOT HUNGRY RED FISH TRYING TO FEED DOWN UNDER!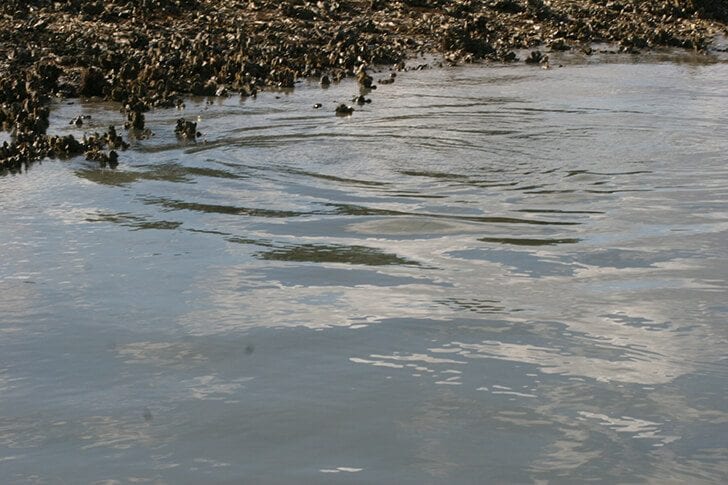 What was this? It called a red fish ring! What is a redfish ring? Well, when a redfish swims it produces a push, which results in a wake producing rings. I was standing with camera in ready go, when this school of rat reds flashed by. A couple of fish pushed into much too shallow water and had to back track. Then the whole school went stealth. Hey, at least I could still see the rings!
Cold Water Reds
With surface water temps reaching a balmy 51 degrees a somewhat of a fish thaw starts. Now we all know that if we have another real cold snap that this could all change. However, let's just focus on the NOW! Even though we had a late morning high tide stage this past weekend.. as soon as the water started leaving the grass the reds moves to their precise locations on the flats. Since we had somewhat of a warming trend, those fishermen that braved the strong winds and the 9ft tides had a much better catching outlook. Heck, after all the poor cold water reds got to move better, eat better, and swim better.
Inshore Sheepshead!
It is a known fact that they sheepshead is definitely a cold water fish. Heck, it doesn't seem to bother them at all. So therefore when they are hungry or when a fiddler just happens by they are going to grab it and suck the inside right out of it. Now sometimes the old sheepshead prefers to crush first and then eat. However, over my many years of sheepshead fishing I had seen this fish hit a fiddler so hard so fast that it can suck the insides out while leaving the empty shell still hanging on the hook. And believe me when this happen no respectable or smart hungry sheepshead is going to be interested in an empty fiddler shell. Heck, they might look at it, but they are 9 times out of 10 not going to hit it.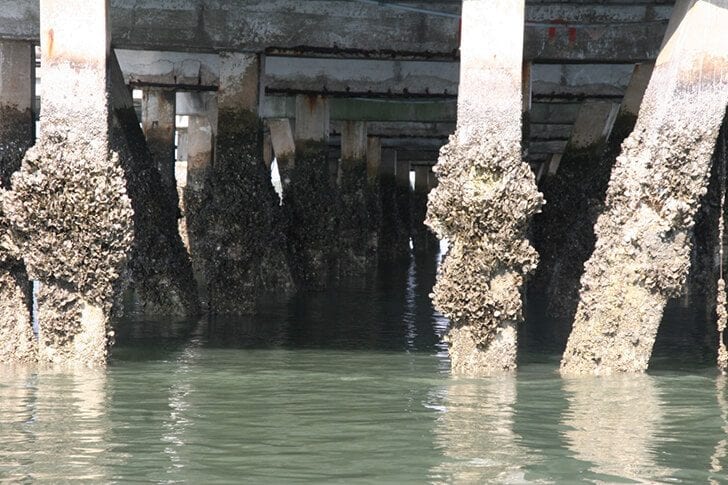 This is just an example of places to look for inshore sheepshead. They love to feed on marine life that has grown on any sort of vertical structure, underwater wrecks that you can't see, and rocks. Actually, just about anything that will support any sort of marine growth. And I am talking about whether or not it is exposed at low tide is not important. However, the best areas to target the inshore sheepshead are places that are still covered even after low tide such as trees, wrecks, debris, and etc. And I need to add that these places should only be known by you and the fish that feed around them! Now you know the rest of the story!
Artificial Reefs and Savannah Snapper Banks
I have people ask me all of the time if the fish are biting? And when is the best time to. And my standard answer especially for this time of the year is to just go. The bottom line is it doesn't matter whether it's your boat or mine it is just a great time to go fishing! The artificial reefs are holding some very nice sheepshead, black drum, trophy red fish, and flounder. The best bait is going to be anything from a purple back fiddler to dead shrimp to squid.
And if you want a longer fish day I suggest giving the Savannah snapper banks a try. There are lots of different kinds of bottom fish just waiting to bite your hook. You could find yourself catching black sea bass, vermilion snapper, white bone porgy, red porgy, knobbed porgy, and triggerfish. Now just so you know there are more bottom biters. I just got tired of listing them! And when you start fishing in this depth the water temps dictates what type of top water fish that might be swimming in it. So to the already long list of what might be biting on the bottom you could find yourself catching some nice top water fish.
---
2018 Inshore/Offshore Fishing Clinics
Saturday and Sunday, February 24-25, 2018
– $135.00 per person for inshore
– $150.00 per person for offshore
Time: 8:00am until 12:00pm noon (snacks and drinks provided by Captain Judy)
Place: Miss Judy Charters dock
202 Wilmington Island Road
Savannah, Georgia 31410
Call (912)-897-4921 for more details!
2018 Inshore Subjects and Handouts:
All those fishermen attending inshore classes on the boats in the water classes will receive what is biting best Inshore when 2018 fishing calendar! 2018 Tracking Fish Chart! Special techniques for targeting and catching red fish, spotted sea trout, sheepshead, and Flounder Trophy Reds & Gator Trout Tarpon Fishing Traditional adjustable and popping cork float fishing techniques, Learn how to take advantage and use the "Pecking Order" Basic Drifting & bottom fishing & 360 degrees line, Learn the value of rips, Best Times to catch your own bait and where to look, Structure and its value: Sand Bars, mud flats, oyster bars, rocks, docks, and rips, Suspended baits, pinching of baits (mashing) Live baits: mud minnows, shrimp, menhaden, and mullet, Triple tail catching techniques, Value Plus of trolling motors, Artificial bait techniques, Advantages of shrimp boats to fishermen, and Ask any questions that you might have and we will try to answer them! Captains on board will be: Captain Matt Williams, Captain Tommy Williams, Captain Garrett Ross, Captain Kevin Rose, and Captain Alan Collins.
2018 Inshore Handout Booklet:
My handout booklets are updated every year. It's has plenty of detailed fishing information on best tackle and bait to use, rig illustrations, drawings showing techniques for fishing around buoys, shrimp boats, and birds. Shows best times to target fish when and where by each month.
2018 Offshore Subjects and Handout:
Log Book Procedures, How to catch the best bait and when, How to keep your bait alive, How to cut your bait up, Baiting up techniques, How to rig up when using live and dead bait, Artificial Reef Fishing Techniques, old school rigging ballyhoo techniques, butter-flying bait, Best Bottom Rigs for this area and how to make them yourself, slow, medium, and high speed trolling techniques, how to rig for large bottom fish, advantage of shrimp boats to fishermen, best flat line techniques, Sheepshead fishing/anchoring techniques, offshore flounder techniques, cobia fishing made easy, how to fish live bottom, wrecks, and rips. And you can ask questions and take pictures. Onboard will be Captain Ken Kennickell, Captain Deidra Helmey Jeffcoat, Captain Kathy Brown, and Captain Judy Helmey will be teaching and telling some fine fish catching stories!
Fishing techniques for live bait Spanish sardines and cigar minnows, Spanish/king mackerel, large sharks, cobia, trophy red fish, sheepshead, flounder offshore, black fish, vermilion, triggerfish, as well as other bottom biters, genuine red snapper, grouper, amberjack, and Mahi Mahi!
2018 Offshore Handout Booklet:
My hand out booklet is updated every year. It's has plenty of detailed fishing information on best tackle and bait to use, rig illustrations, drawings showing techniques for fishing around buoys, shrimp boats, and birds. GPS fishing coordinates are included for west/south east live bottom areas located at artificial reef "J" and live bottom areas to fish at the North, Middle, and South Snapper Banks. There might be a genuine red snapper season in 2018; GPS coordinates furnished could help you find the fish that you are looking for! I say, "Why wait to learn, when you can find out now some of the secret top ways of fishing from the pros!"
---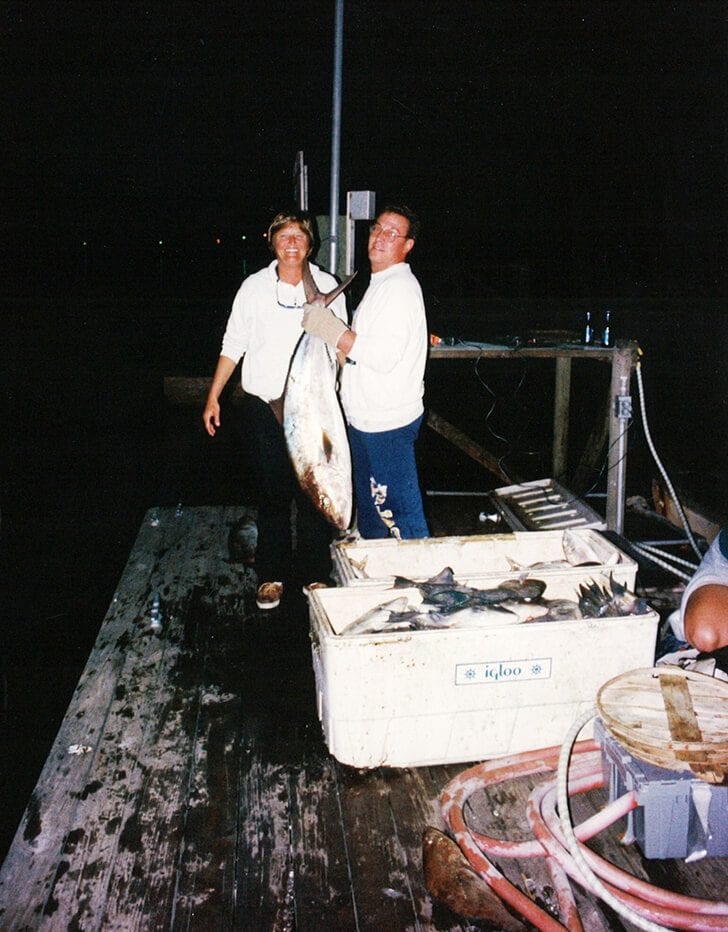 Now this is an oldie photo, but a darn goodie! Captain Judy and John Hubert (He has been cleaning fish for Miss Judy Charters for over 25 years! John is known as the fastest fish cleaner in town!) Oops, back in the old days electric knives were best operated while drinking beer! Just kidding!
Ok, what is in the igloo coolers..well, normally once we transferred the fish from our cooler on the boat it would fill about two of these 180 quarts coolers. The fish box on the Miss Judy Too holds about 600 pounds of fish. These dock coolers are holding trigger fish, vermilion snapper, red snapper (genuine), grouper (snowy, gag, yellow mouth, scamp, etc), sand tile fish, black sea bass, porgy (white bone, knobbed, red) and heck some fish that we never could indentify. Most of these bottom fish during this time frame were caught while bottom fishing at the Bi-liner Hole, Triple ledge or the South ledge. There were other places such as "944 ledge, Table Top, The Mountains, Trigger hole, and I have to stop sometime!
See the vertical galvanized pipe between me and John. Well, during this time, we had big state set of the art dock lights mounted on the top of these pipes at each end of the dock. Believe me when I say, "They were up there!" It was basically like daylight at night around our dock. And then we started getting lightning strikes just about every time a thunderstorm cared to pass! Lightning hit the dock, Miss Judy Too, and trees in the yard. Then there was one time that lightning hit this car in the yard so many times that no one would have believed it. To this day, why I didn't take a picture I don't know. There is one thing I am sure of and that's the insurance company did for sure. When lighting hit the car the first time it caused the horn to start blowing and it didn't stop until it killed the battery. And by the way it takes a long time for a car horn to kill your battery. I thought you might want to know that! Anyhow, it broke the wind shield and most of the side windows. The car exactly looked like it had a bomb thrown in it!
Gulf Stream Bite!
February is the month that all kinds of top water fish could be caught while strolling and trolling at the stream. The South Ledge has never let any of us down. It always seems to be able to hold the attentions of all kinds of fish from top, to mid column, and all the way to the bottom. Back in the day, when I fished this area a lot, I remember the building excitement that I felt while making way to the South Ledge fishing grounds. This feeling wasn't about if we would catch it was about what we were going to catch! The fact of the matter is this area no matter the time of the year never let us down. There seem to be always some sort of fish catching option. The secret knew exactly what that was! I know I don't have to say this, but I will and I did!
The bottom line to all of these fishing report and suggestions whether it is inshore or offshore is that if you don't go you certainly will not know!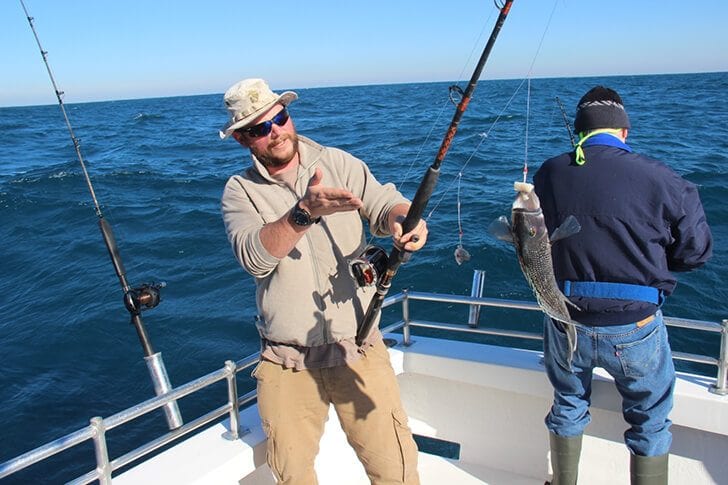 Connor – aka Rock Man Gooding – of Prescott, Arizona is holding up a nice black sea bass, which was lured in by the Electron Fish Attractor and then the small piece of squid finished the hooking up deal! I place the electron fish attractor on the leader first, then the red ball, and then the hook. I use this type of rig on most of my bottom rigs. Why? Sometimes 12 to 20 hooks all send signals are just too much!
There is only one thing left to say, "Pictures don't lie and neither do the fish! Why? They can't talk, but they can certainly eat!" There you have it!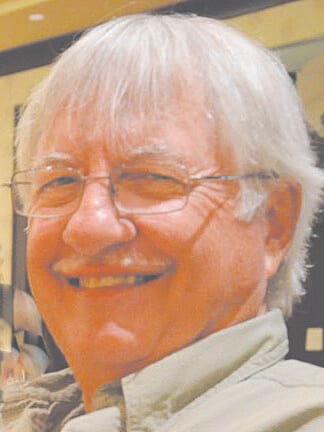 Freshies Report and it's a Salty Report Too!
Just do it!
My long time friend Bill Vanderford invented these lures many years ago. The best news is not only do the freshwater fish love them so do the saltwater ones too! A lure for all seasons with good reasons!
Bill Vanderford says, "The fishing season is on the horizon, so if you want an easy way to catch more fish than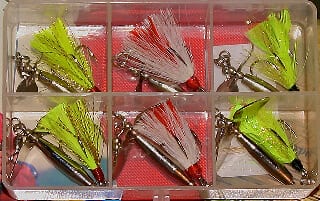 ever….the Swirleybird is the answer!" Captain Judy says, "Order some today!"
Little Miss Judy Believe It or Not!
Below is the only picture that I have of my father's wooden boat named after my mother "Miss Jerry!" And as you can see he did paint it "no passing lane yellow!" I know this for a fact, because the highway department gave him a 50 gallon drum full of this "no passing lane yellow paint!" In this story I talk about the top of my father yellow boat being painted emergency orange. This picture was taken before he painted the top with emergency orange. If anyone out there has a picture of my father's yellow boat, please contact me at my cell: (912)-429-7671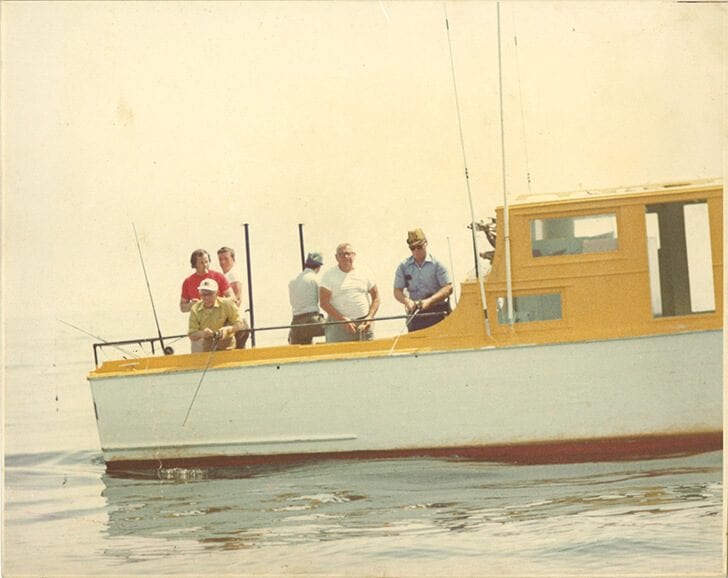 My first lesson on the importance's of color!
When I was very young and just starting out in the charter boat business I had a lot things that happened to me. There was fog of which I never thought was a problem until I had to navigate in it without the aid of my father. By the way, back in the old days we didn't have any chart plotters or radars to aid our navigation mounted on our dash. Believe me it was surely "navigation by the seat of your pants" at least in my case. My father just seemed to know exactly where he was at all times. In fact he even knew when a ship was passing. I never saw a ship I just heard it go by. They were always to close for me especially in the fog. It's funny how experience makes you more aware, because back in the old day's awareness surely didn't play a part with me. I just went fishing to catch fish. All that other stuff like fog and high sea conditions were just plain boring. At least until I was forced to consume some badly needed experience.
I will never forget this day as long as I live. This happened during the time while our boats were still tied up a Walsh's docks, which is located in Lazaretto Creek. (Tybee Island Georgia) My father had a charter this particular morning and he asked me to take it. I was happy to take it, because I loved to fish. It was a two part plus for me. I would also get to run his boat the "Miss Jerry," which was big 40-foot yacht. The only thing I didn't like about his boat was the color. He had painted it "no passing lane yellow!" And as if that wasn't enough loudness, he finished the top of the boat off with the emergency orange color.
After loading up the passengers, off I went to deep blue sea for a wonderful day of fishing. We arrived at our destination point, which was the "Old Black Fish Banks" and started our day of bottom fishing. As we all fished I noticed that cloudy conditions were moving in, but I never gave it a second thought. At least not, until what looked like clouds had moved right down to the water. They weren't clouds at all it was what I would long remember as an unbelievably thick hovering "'FOG BANK." I watched as it moved toward us. Upon completely covering the boat we couldn't see from one end to the other. I immediately told everyone that under the current conditions I wanted to head back to the dock. I pulled the boat around, got my compass on a 270 degrees heading and proceeded to the dock. Right before I left I turned my marine radio on so that it could warm up. After all during this time all radios still had tubes and it took minutes to get them ready to properly transmit.
As I approached what I thought was the coastline of Savannah Beach I started seeing lots of sea birds and close wave action off to my starboard. Unfortunately when returning home from the "Old Black Fish Banks" there wasn't any shallow water at least for a good 10 nautical miles. At this moment I knew I was in trouble, because I wasn't where I thought I was. The thought of running daddy's big boat aground was making me a little sick. So I decided to pick up the radio and make a call to coast guard. As soon as I made contact, which was in seconds, I felt better. However, I had to wonder what they could possibly do. After all the visibility was less than 50 feet. They asked the normal questions, which consist of how many on board, boat size, color, and where I thought I might be. That latter one was a great question; because all I knew for sure was that I was seriously off course.
Upon relaying that transmission my soon to be savior told me to exactly what to do, which was to take an immediate heading of oner-sixer-0. This means that I need to turn and head 160 degrees, which I did straight away. After a few minutes, the welcomed voice came back over the radio and told me to change my heading to two seven "0." You guessed it. My new heading of 270 degrees was now back to normal. Once again the voice inside the radio said, "Pull back, hold your heading, and slow you speed." I quickly pulled the throttle back and started idling in said direction. At this point I started wondering how they knew exactly where I was. So I asked. According to the coast guard voice over the radio they could see me just fine from a top of the lighthouse! I never joked again about my father's yellow boat with the orange top! I was around sixteen year old when this happened.
Thanks for reading! – Captain Judy

Captain Judy Helmey
Kicking Fish Tail Since 1956
124 Palmetto Drive
Savannah, Georgia 31410
(912)-897-4921 or (912)-897-2478
(912)-897-3460 [Fax]
[email protected]