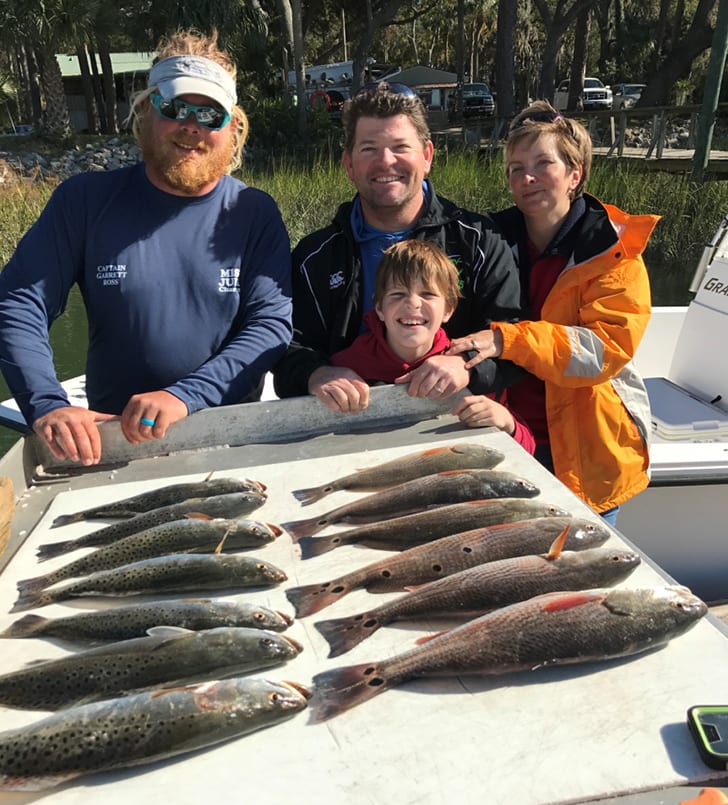 December 12, 2017 – Captain Judy's inshore fishing Report and Part Two of the Christmas Story!
Fishing statement: To try to insure that fishing stays in the hearts of those that love it and to help the ones that are going too!
Captain Garrett Ross of Miss Judy Charters took Dennis and Sandra Reidlinger along with their son Larkham age 9 on an inshore catching affair! This is one Savannah Family that loves to go fishing! And from this picture lot of catching can also be added! What did they have for dinner? Dennis prepared his famous fish tacos! Were they good? Heck yeah they were!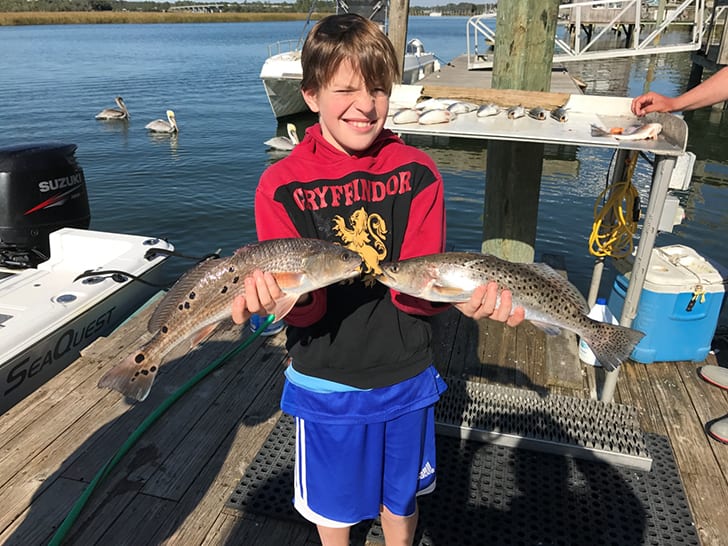 While inshore fishing with Captain Garrett Ross, Larkham Reidlinger (age 9) scored big time. He is holding and red fish and spotted sea trout. The red fish has an unusual scattered spot design. From the look of this design and going with the information told to me by my father… this fish decided if it wanted to escaped the jaws of a dolphin (the mammal, not a mahi) it needed to look like a school of fish not a single one. According to my calculations, and they might be a little off or even embellished, this fish is showing 14 spots some more dominate than others. What does, all of this boil down to using my father's version of red fish reasoning? My father always told me that for every time a red fish escaped an attack from a dolphin it produced more spots. And according to my father and now me, each spot kind of tells a story. Congratulations Larkham!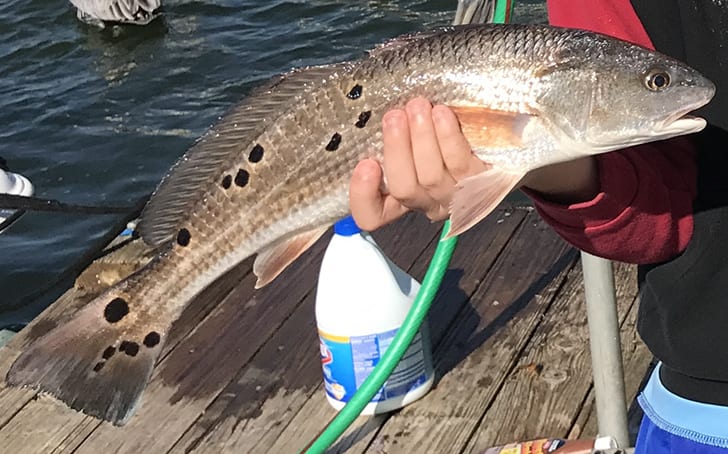 Here's the story Larkham Reidlinger red fish's spots are telling. Larkham's fish learned early that the closer its spots are to the end of its tail, the more likely it would be able to get away. Spots on this fish's tail represent eyes. And since a red fish's eyes are located on each side the predators stalking could easily get confused. For instance, the two spots that looks like a pair of small fish eyes sure would not interest a big dolphin! So therefore this fish was a smart one from the beginning. Well, at least when it came to staying clear of being a dolphin dinner. However, not so, when it came to avoiding fisherman Larkham! So now you know the rest of this fish catching story! Again:  congratulations, Larkham!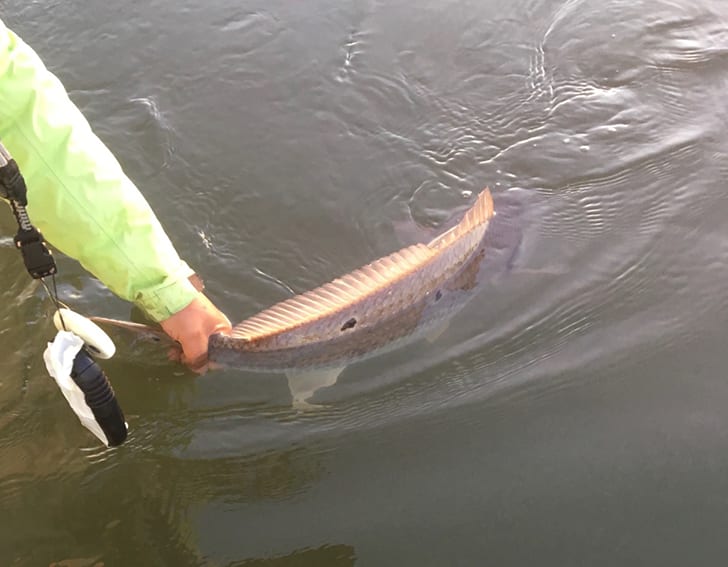 What was Captain Kevin Rose of Miss Judy Charters using for bait? Shrimp, trout trick lures on a 1/8 ounce jig head and Houdini colored Zoom Flakes on a heavy gauge EWG worm hook with no weight!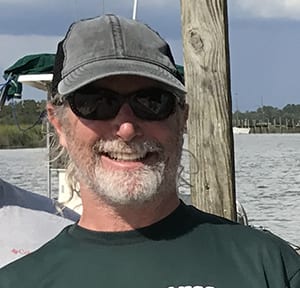 While fishing with Captain Matt Williams many years ago he offered up this grand explanation for backward water. After listening I came up with my own name, which of course is not a real word. But all and all it kind of stuck, so here goes….
Give this a try and let your cork show you the way to the fish!
Eddy-A-Tized Explanation and Meaning!
When an areas is "eddy-a-tized" it means the current that flows over it is opposite of the main body of water that is flowing by it. Before I go any further I would like to describe the area that we fished. It still amazes me that when I fish with someone else how much you can learn. Don't bother looking up "eddy-a-tized" up in the dictionary, because you certainly won't find it.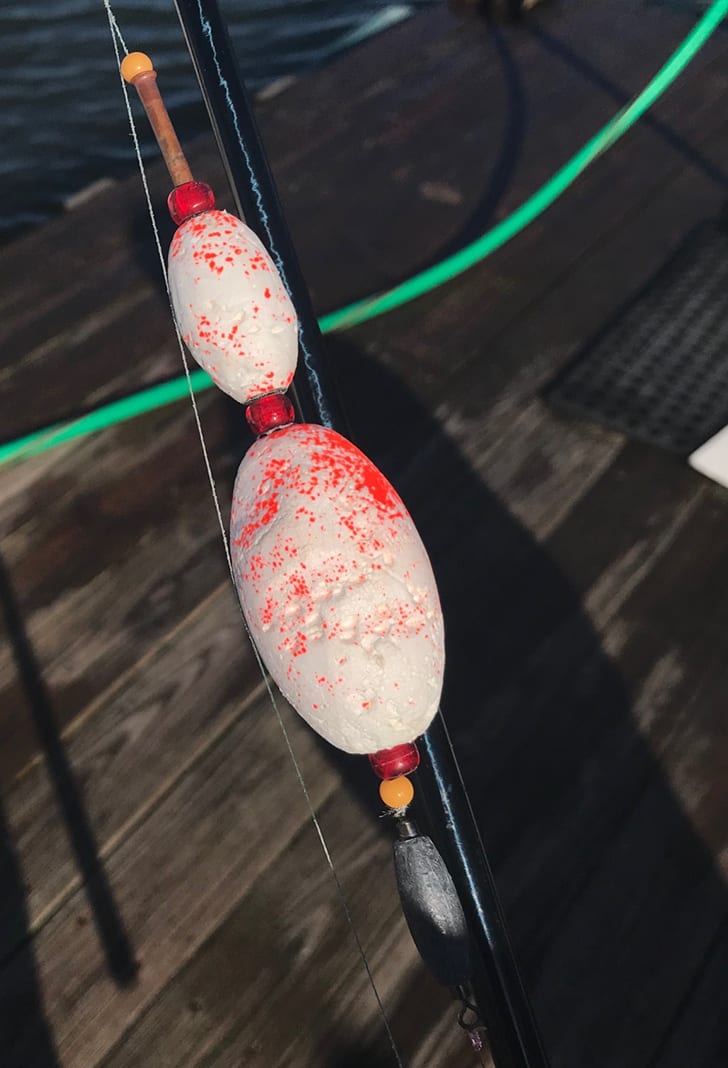 However, after this explanation it might need to be added. This word has been added to my list of "Judy-isms." When an area is "eddy-a-tized" it means that the current that flows over it is opposite of the main body of water that is flowing by it. Sounds like a mouth full, because it is.
I am not talking about a regular eddy that is formed where you have a slough emptying into a main body of water. The area that I am talking about is one that is caused when you have real deep river in the middle and shallow protruding banks on the side. The perfect example is the Savannah River, which is where we were fishing!
The area that we fish didn't have a straight bank; it was kind of broken with over hanging trees. As the incoming tide rushed through the deeper areas little by little opposite currents developed. I watched as the incoming tide made the current commonly swirl opposite over this perfect fishing area. When current changes such as this many imaginary walls are formed offering so-called safe havens for bait as well as fish to feed. The bottom line where there is fish there is fish!
---
2018 Inshore/Offshore Fishing Clinics
February 24, 2018 (Saturday) and February 25, 2018 (Sunday)
On inshore/offshore boats in the water:
$135.00 per person for inshore
$150.00 per person for offshore
Time: 8:00am til 12:00pm – snacks and drinks provided by Captain Judy
Place: Miss Judy Charters dock
202 Wilmington Island Road
Savannah, Georgia 31410
912-897-4921 for more details!
2018 Inshore Subjects and Handouts:
All those fishermen attending inshore classes on the boats in the water classes will receive a "What is Biting Best Inshore and When" 2018 fishing calendar!  Special techniques for targeting and catching spotted sea trout, sheepshead, flounder, trophy reds, gator, tarpon fishing, traditional adjustable and popping cork float fishing techniques, learn how to take advantage and use the "Pecking Order", basic drifting, bottom fishing, 360 degrees line. Learn the value of rips, the best Times to catch your own bait and where to look, structure and its value (sand bars, mud flats, oyster bars, rocks, docks, and rips), suspended baits, pinching of baits (mashing), using live baits (mud minnows, shrimp, menhaden, and mullet), triple tail catching techniques, the value of trolling motors, artificial bait techniques, advantages of shrimp boats to fishermen, and of course feel free to ask any questions that you might have and we will try to answer them! Captains on board will be: Captain Matt Williams, Captain Tommy Williams, Captain Garrett Ross, Captain Kevin Rose, and Captain Alan Collins.
2018 Inshore Handout Booklet:
My handout booklets are updated every year. It's has plenty of detailed fishing information on best tackle and bait to use, rig illustrations, drawings showing techniques for fishing around buoys, shrimp boats, and birds. Shows best times to target fish when and where by each month.
2018 Offshore Subjects and Handout:
Log book procedures, how to catch the best bait and when, how to keep your bait alive, how to cut your bait up, baiting up techniques, rigging up with both live and dead bait, artificial reef fishing techniques, old school rigging ballyhoo techniques, butter-flying bait, best bottom rigs for this area and how to make them yourself, slow to medium and high speed trolling techniques, how to rig for large bottom fish, the advantage of shrimp boats to fishermen, best flat line techniques, sheepshead fishing/anchoring techniques, offshore flounder techniques, cobia fishing made easy, how to fish live bottom, wrecks, and rips. And you can ask questions and take pictures. Onboard will be Captain Ken Kennickell, Captain Deidra Helmey Jeffcoat, Captain Kathy Brown, and Captain Judy Helmey will be teaching and telling some fine fish catching stories!
Fishing techniques will be taught for: live bait Spanish sardines and cigar minnows, Spanish/king mackerel, large sharks, cobia, trophy red fish, sheepshead, flounder offshore, black fish, vermilion, triggerfish, as well as other bottom biters, genuine red snapper, grouper, amberjack, and Mahi Mahi!
2018 Offshore Handout Booklet:
My hand out booklet is updated every year. It's has plenty of detailed fishing information on best tackle and bait to use, rig illustrations, drawings showing techniques for fishing around buoys, shrimp boats, and birds. GPS fishing coordinates are included for west/south east live bottom areas located at artificial reef "J" and live bottom areas to fish at the North, Middle, and South Snapper Banks. There might be a genuine red snapper season in 2018; GPS coordinates furnished could help you find the fish that you are looking for! I say, "Why wait to learn, when you can find out now some of the secret top ways of fishing from the pros!"
Thanks – Captain Judy
---
Captain Garret Ross of Miss Judy Charters took Mary and Byran of Blue Ridge, Georgia on an inshore catching extravaganza! The caught some, released some, and kept some! Mary and Byran are retired by the way! They picked Savannah Beach to camp for about a month. There is one thing for sure: they are lots of options for having fish for dinner at the old camp site!
Rich Bischoff and Rick Degraw both visiting from New Jersey had great catching time inshore fishing with Captain Tommy Williams of Miss Judy Charters. What did they catch? Red fish red fish red fish! Was the wind howling? Yes! Did it matter on this day? No!
---
"Little Miss Judy's Believe it Or Not"
"Christmas in the Fifties with Dear old Captain Dad!" – Part Two!
A little history about this Christmas picture.
To middle left is a picture of my mother Jerry, to the left is electric mantel clock, which ticked so loud it kept me awake on some occasions. The picture and the clock are sitting on an old style, but new to this time, photograph radio console. To open all you had to do was pull the handle in a down motion and a turntable would fold out. After my mother passed in 1956 we found $1,500.00 dollars in cash hidden behind the turntable. The black pig was a piggy bank, which only came with a coin slot. There was no door on the bottom side. So therefore after the piggy bank was full I got daddy's hammer out and you know exactly what happened then! The bicycle was a Schwinn bike, which was at the time top of the line. The doll that is standing under the tree is the one I drowned several times in my pool, but somehow she always survived this underwater without scuba tanks extravaganza!
Reindeer Snacks!
My father and I visited "Silver Springs," which is located in the sunny state of Florida. I was around 8 years old at the time and daddy was getting close to hitting the big six "O!" On our way to Florida Daddy explained about the "Glass Bottom Boats" that we would get to ride in at Silver Springs. I was excited, because daddy could always make a story lots fun. In fact his stories were so good that we didn't even have to go for that ride, because I felt I had already been there.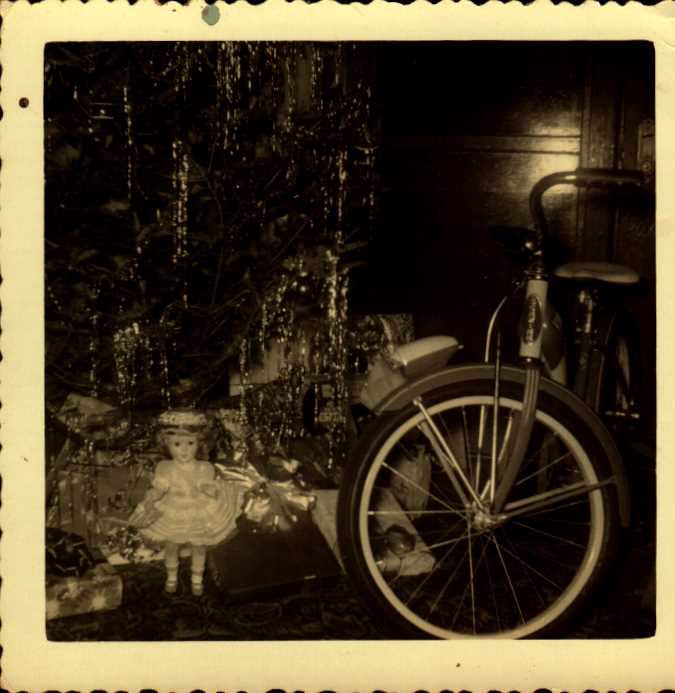 One we arrived we went straight to the area that had the "Glass Bottom Boats!" There was a line of people apparently with the same idea that we had. It was exciting. As the boat pulled up it look pretty normal too me. In fact the bottom below the water line looked just as normal as most boats. I didn't say anything, but I was a little disappoint at least until I boarded the boat. There was in fact a large framed area in the middle of the boat, which had a glass bottom. You could see everything under the boat. I know I had the "Big Eyes!" Before we left the dock I was being entertained. As we pulled away my eyes were glued to the glass hole in the boat. There were lots of fish, plants, and lots of bubbles. To my amazement there were mermaids dressed in scuba diving suits. That's where all of the bubbles came from. There wasn't a lot of color, but it was pretty interesting. After the ride we went over to the reindeer farm, which was a short walk away from the boats.
And of course, my father tried his best to explain to me why the reindeer were grazing in Sunny Florida instead of with Santa in the North Pole. And he mumbled this and that…but the only thing I got out of it was that they were all just on summer vacation just like me! So therefore let it be known that reindeer do their winters while working at the Pole and spend their summers vacating in Florida!
As we approached there were lots of deer all anxiously looking our way. Daddy said that they were probably waiting for us to feed them. As we went through the payment line I saw this machine with 5 Cents written on it. There appeared to be cookies in it and they looked like graham crackers. I was getting a little hungry so I asked daddy for a nickel. After getting the money I went over, got my cookies, and started my eating fest. They weren't very tasty, but what the heck I ate them anyway. As we walked to the reindeer area my father said, "Let's feed them." But then noticed he has forgotten to get any reindeer food. I was getting excited. Daddy went back inside to ask about the food and was told that there were machines all around with the food in them. All you needed was a nickel and you were in business. With that, I sure needed something to drink!
Thanks for reading and Happy Holidays! – Captain Judy and the gang!
Captain Judy Helmey
Kicking Fish Tail Since 1956
124 Palmetto Drive
Savannah, Georgia 31410
(912)-897-4921 or (912)-897-2478
(912)-897-3460 [Fax]
[email protected]
You can find Judy's previous report here and the first part of her Christmas story here.